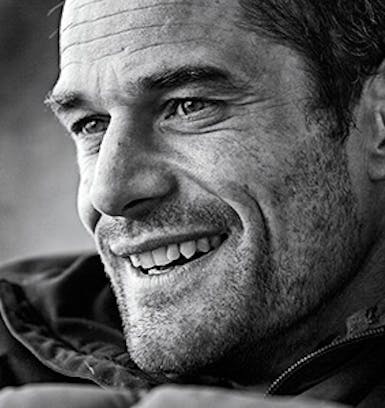 Pietro is a lover of mountains and wild, faraway places, places where he can experience "real clinbing", that is, climbing deeper into yourself. He started climbing in the '80s, when the internet was just starting and there were no cell phones. In order to climb deeper, he needs to be isolated in wild nature. Pietro finds the best memories of climbs are more intimate and powerful when you don't share them with the world. Even now, he loves climbing rocks, not because they are terrain for sport, but because they bring him somewhere. 
Discipline: Climbing
Hometown: Vicenza (near Venice, Italy)
Currently Living: Cortina d'Ampezzo (Dolomites)
Career Highlights: 
1987, first free ascent of Mare Allucinante (8b+); 1995, solo ascent of Zauberlierling, a 750 m trad route in the Cima Scotoni, Dolomites; 1999, fast repetition of Silbergaier, Ratikon; 2000, FFA of Hotel Supramonte, Sardegna; 2005, first and only repetition of Unendliche Ghesicste (8b+), Ratikon; 2001-2011, opening of several wild routes in Sardinia and in the Dolomites, first free ascents of several new routes.
When did you first start climbing/skiing?
I started climbing in 1983.
What do you most enjoy about your sport?
The empty space around you.
How do you define success?
Success is when you are truly happy with what you did or you are doing. Even if you can not share it with anybody.
What are you most proud of, either in life, your sport or both?
I'm very proud always if I do something that makes somebody happy!
Who are your heroes?
Simple and discrete people who go through their life with dignity. Now I am climbing with three blind young climbers…they are so strong…
What inspires you?
The wild nature for climbing, the silent and active people in everyday life.
What are your hobbies outside of your sport?
Reading, reading, reading, and in the last year road biking, I would have never thought some years ago!
What's your guilty pleasure?
Too many…(also the one not yet legal to talk about..)
What are your hidden talents?
Maybe driving a car…but I don't know, I will try once…
Tell us about your most favorite place in the world:
Sardinia, the wild island in the middle of Mediterranean sea, with those colors, rocks and with so many untouched wild walls to explore.
As a child, what did you want to be when you grew up?
A downhill ski racer!
If you could change one thing about yourself, what would it be, and why?
I would like to be less lazy. Also I would need two new knees…
Tell us about a time in your life when you have been scared:
The nightmare of everyone addicted to a sport—after every injury, scared that your machine is not working as you like…
Also once I had a forced bivy of three days on the west of Cerro Torre, without the chance of going up or down. With no food you start to think when you can do something…
Describe your perfect day: 
I had some, but the ones I remember the most are when I wake up in a portaledge above the Mediterranean sea in Sardinia and you  are so wasted  from the day before in opening a new route that…you are forced to have a rest day.
You have no other chance than doing nothing up there.
How would your friends describe you?
I am of the sign of Gemini. Maybe  my friends feel better than me about all my contradictions, I hope these are not too bad for them.