The waffles at Vatnahalsen are life-changing.
Petter Andresen, an entrepreneurial ski-bum with a knack for re-invention, dishes fresh waffles from a waffle bar set-up in his 1930's-style hotel living room. "All waffles and coffee are free for skiers. Even if the day was shitty, there's always something to look forward to!" the owner and host says with a wry smile.
I've just arrived at Vatnahalsen, a remote hotel outpost tucked in Norway, by electric train a couple of hours from Bergen. I'm accompanied by Giulia Monego, a Chamonix-based professional skier and guide from Italy, and Mattias Frederikson, the renowned camera wizard and Swedish-Canadian transplant and filmmaker Matias Myklebust. Daily trains arrive from Oslo and Bergen to Myrdal Station, where passengers connect to the local Flåm railway that descends nearly 3,000 feet at a 1:18 gradient (the steepest in the world!) from the mountains to the village of Flåm at the inner end of the Aurlandsfjorden—a branch of Sognefjorden. Construction began on the line in 1924, but the twenty hand-dug tunnels would take almost sixteen years to complete, delaying the railway's opening until 1940. It has been fully electric since 1944. Though established to facilitate trade between Norway and the rest of Europe, today the train is one of the top tourist activities in Norway in the summer months. Its popularity in winter may well increase once skiers discover that the train is the key to unlimited terrain and an incredibly welcoming hotel. 
Dressed in faded white New Balance sneakers, old blue Levis 513s, and a well-loved red sweater, Petter greeted us at Vatnahalsen station (our stop on the Flåm railway line) with the curtness of a seasoned mountain guide, but the unmistakable warmth of a genuine soul. He was accompanied by his thirteen-going-on-three-year-old border-collie/springer-spaniel Viggo, who rarely left his side throughout our visit. We unloaded the ski bags from the train and Petter packed them into a sled pulled behind an ancient snowmobile. We ambled up the short hill to the hotel, a quintessential red building cut from the pages of a tourist brochure. A hotel founded on waffles.
Standing at the hotel, mountains rose thousands of feet above us in every direction, big rounded masses carved intricately like the etchings on upside down vases. The longer we looked, the more ski lines popped out all over the place—couloirs, freeride terrain, alpine steeps and beautiful gentle terrain too. It's a backcountry freeride paradise, like a cross between Riksgrassen and Whistler. Below us, a long valley snaked 20km to Sogne Fjord, the electric rail line carved impossibly into its steep walls. It was hard to understand how this area had been overlooked by backcountry skiers until 2015 when Petter, who had recently moved to the area to farm raspberries, and a buddy decided to check it out.
"I knew about Flåmsbanan [the railway line]. And long ago I passed by on the train between Oslo and Bergen, I passed by Myrdal and thought 'maybe you could ski there.' Then when I moved to Lærdal a friend asked me if you could go up with the Flåmsbanan and ski there. We looked at some maps. So, I went up with friends and we tried it out. I had never even taken the Flåmsbanen before. It was 2015 and it was a very good snow year. It worked out!" Petter's eyes widen and his hands rise exuberantly as he describes his first-time skiing in Vatnahalsen. "Oh f**k, that was pretty cooool!" he beams.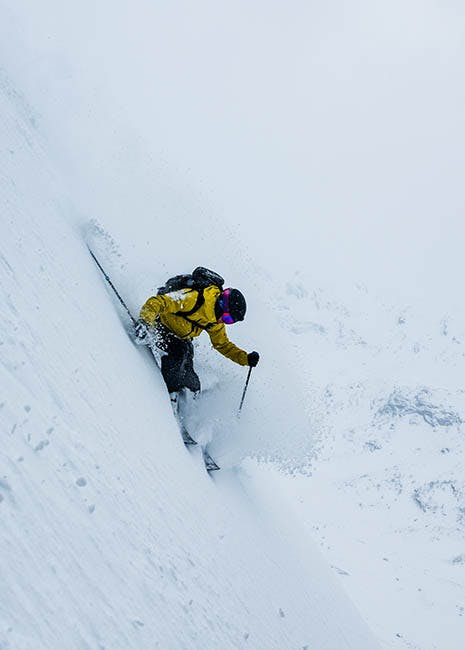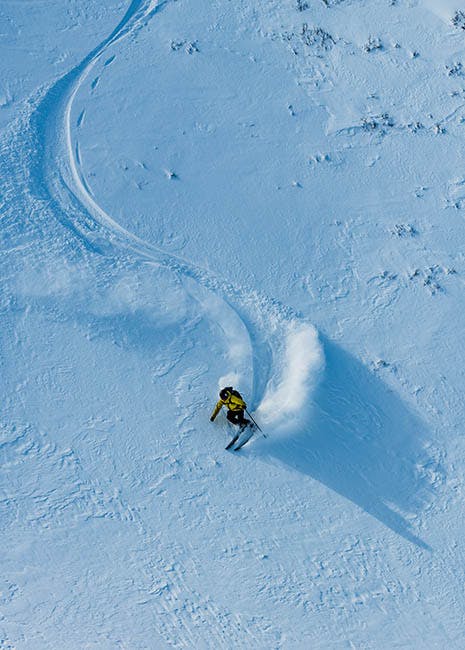 "I knew about the hotel but had never stayed there. After the first day, I called the owners and asked if we could come back the next weekend. We had a little gathering, and after dinner I remember saying; "I would never buy a hotel but if I would, it would be this hotel."
It feels appropriate that the path to owning one of the most unique ski hotels in the world is paved with serendipity and a little bit of magic. Born in Oslo, Norway, Petter learned to ski at a young age and has been passionate about the sport ever since; that background has been his compass. Though his journey in life is maybe best described as an entrepreneur, he's atypical in that for him it seems as if it is not about the money. He gets involved in different projects out of passion and now with the hotel he is back where it all started, with his love for skiing. 
"If you focus on making money, you are not going to succeed. For me it is about making people happy and having a good time." Petter says. 
"No one understood the beauty and potential of skiing up here. The local hotel owners weren't skiers," Petter muses.
"I was in the mood of getting into the tourism business. You could see this was an underdeveloped area—how could I make it more accessible for other skiers? … not thinking about being a hotel owner. I kept bringing more friends up for weekends and it became a small community at Vatnahalsen. In the fall 2015 I got a call from a real estate broker. The owner family Aksnes had been running the hotel for almost 40 years, an old school family hotel. Did everything on their own. The winters were almost totally empty but super busy in the summers. So, they made money in the summers and lost it all in the winter. They decided that they wanted to sell, and I got the chance to buy it." 
Together with his dad, brother and some investor friends, all of a sudden Petter became a hotel owner. Just like that.
Vatnahalsen is about the total experience, not just about the skiing. From hanging out with friends and the other guests in the main living room, to enjoying homemade waffles after skiing and sharing a beer with the other guests at night, the atmosphere is friendly and a genuine—like staying in someone's home. The staff is happy and that makes the guests happy—I can still hear the sound of the bartender's joyful, booming laugh whenever he spoke with a guest. You can't fake being genuine or coach it, either you have it or you don't, and Vatnahalsen has it in spades. It is simple living, no luxury, but the good food—often locally sourced—served together with all the guests like a family dinner provides a richer feeling than you will find in any five-star resort. Vatnahalsen provides all you need; no more, no less. No business rooms. Real value. Simple.
Giulia Monego sums up the feel of the place: "There are no other restaurants or bars, it is all happening at the hotel, so it is isolated and intimate. People socialize and hang out. New friendships are built easily, and it is very much back to the roots. Very disconnected and it is not about being cool or accomplishments. Nobody talks about how many vertical meters they have walked or how cool the runs you skied were. It is just about having a good time and enjoying nature."
As the ski industry amalgamates into larger entities providing a more uniform experience, as climate change makes us question how we approach the outdoors, and as our lives are further influenced by smart phones - it can be easy to lose sight of the simple connections and experiences that drew us to the mountains in the first place. Some people are looking for more than what can be offered by the mega-resorts, or five-star heli lodges, or new models for lower-impact activities. Perhaps this unassuming Norwegian hotel is leading the future of backcountry skiing, by rooting firmly in its past. Providing a slower, more authentic experience that is a rarity today. And even if you don't feel the need to find connection, the skiing is pretty damn good, and the waffles are always tasty.
--BD Athlete Tobin Seagel