Is there a reason why gear slings have seemingly gone the way of the tri-cam? Are the sleek, pressure-molded gear loops on your harness truly superior? Or is there a time and place for both in today's modern climbing world? In this Gear Myths, we examine the slow demise of a once crucial piece of climbing equipment, and search for the pros and cons of both racking methods. Will the sling prevail? Let's see.
Long before Tyler Willcutt had risen through the ranks to become BD's affable Athlete Manager, he was, simply put, a climbing dirtbag. And that's precisely where our story begins—with a young, wide-eyed, rock-dreaming, first-ascent sending Mr. Willcutt, sitting on his roommate Jimmy Webb's couch typing his first "professional" email to his new gear sponsor: Black Diamond Equipment. 
Dear Kolin Powick, wrote Willcutt at approximately 1:45 … in the morning. I have a brilliant idea for a new product.
While we won't fault young Willcutt for his enthusiasm, we can only imagine the massive eye-roll the inveterate Climbing Category Director "KP" had upon opening this gem of an email. But what followed can only be considered pure genius. 
The idea was to develop a gear sling with loops that were color coded to match the anodized lobes and colored slings of the BD Camalots. Simple enough, right? That way, you could organize your protection accordingly—with your gold 2's on the gold loop, blue 3's on the blue loop and so on and so forth. But the true ingenuity of the sling—and what's now become a bit of lore within the halls of BD—was its name.
I call it the Willcutt …
Because It WILL CUT your time in half, wrote Tyler. You see what I did there?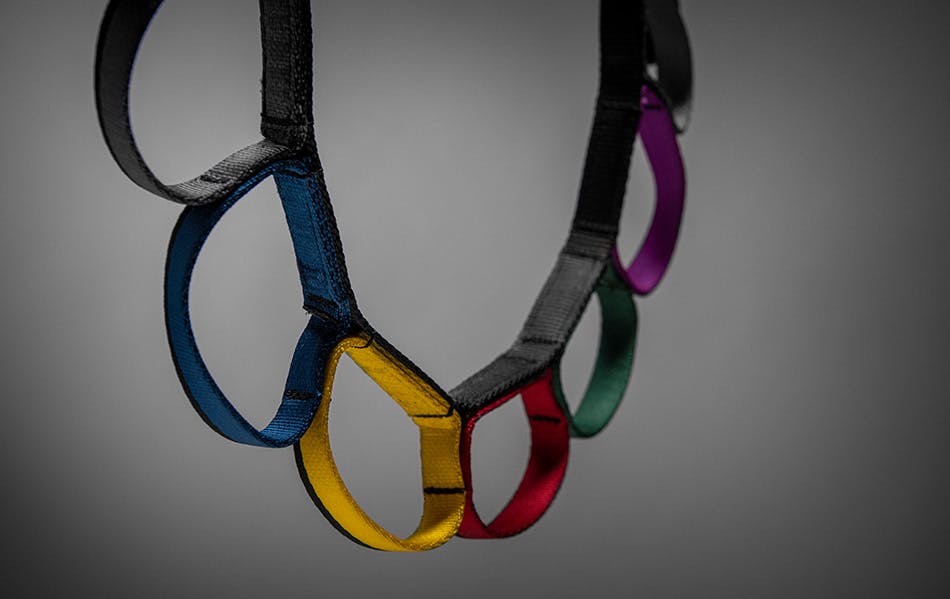 Though KP most certainly did see what the Willcutt had done, the sad truth was that the Willcutt Gear Sling hasn't yet come to fruition. 
In general, gear slings, and the use there-of, have been slowly going the way of the tri-cam. These days, you're more likely to see a beautiful padded BD gear sling adorning the wall of a gear room—its sole-purpose to hold (and store) your rack between climbing trips—than strapped to the muscle-bound shoulder of a climber jamming their way through the finger-locks of the Phoenix (5.13a).
 So, we can see why KP didn't jump at the opportunity to deploy a design team on the Willcutt. The demand simply wasn't there. 
But why? Is there an underlying reason for the slow decline of gear slings? 
In this Gear Myths we examine that question and search for whether or not gear slings still have a place in today's modern world of climbing—other than hanging on your peg-boarded garage wall—and if modern harnesses, with their sleek pressure-molded gear loops on the waistbelt, have all but eclipsed them on the rocks. Are there benefits to each? And more importantly, what do the majority of climbers prefer and why? 
GETTING LOOPY
We decided to chat with some of the top trad climbers on the BD Team to see if they could shed light on the issue.
First up was Babsi Zangerl. A Nat Geo 2019 Adventurer of the Year, Babsi is an Austrian machine, having climbed 5.14 on El Cap with the second ascent of Magic Mushroom, as well as taking down a slew of other hard 5.14 trad routes, including the third ascent of the spicy Prinzip Hoffnung (5.14R) and three other rare ascents of El Cap free routes El Nino (5.13c), Zodiac (5.13d) and the Pre Muir (5.13c). Surely, with all that trad-savvy big-walling under her belt, Babsi has pondered the very question we're asking. Gear sling or gear loops on the harness?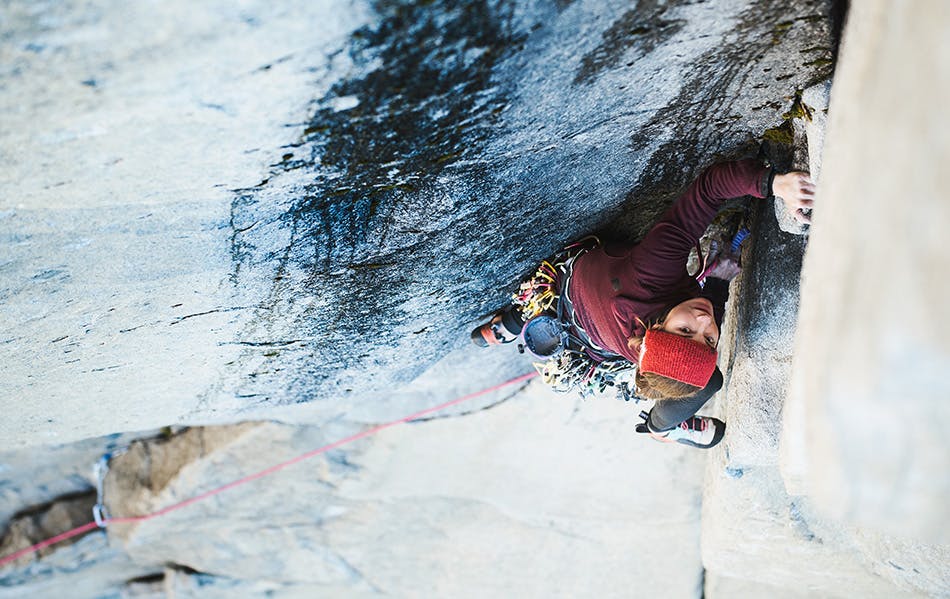 "I prefer the gear loops because the gear is placed on the side of your harness and it is not in the way," said Babsi. "If you use a gear sling it is always a bit annoying if the gear swings around your chest."
And though Babsi went on to explain that in general, she doesn't like the feeling of climbing with something hanging around her chest, she did have a quick aside:
"I used a gear sling for Prinzip Hoffnung. That was a long, hard trad climb in Austria. It was easier to get exactly the right order of well sorted protection for the climb. You always have the next piece of protection you need in the right order from the sling. Doesn't matter if you need the right or left hand for taking the gear. On Prinzip, the placements were bad and it was really hard to place the small nuts. All the micro nuts look very similar and I didn't want to mess it up having them on my harness gear loops and searching too long for the right gear. That was a 50m route, so a lot of different gear was needed. In that case the sling was the better choice."
For Babsi, however, this was a special case for the gear sling. In general, she says she "always uses the gear loops on her harness."
"The free movement while climbing is way better. Nothing annoying hanging in your way. Better style!"
Fair enough. Unless she's dialing in an R-rated fear-fest that takes a slew of sequential micro-wires, Babsi is a gear loop girl through and through. 
What about the rad tradster Hazel Findlay? Hazel started placing gear on the gritstone at an age when most of us were still using training wheels. Plus, she's British, so we knew she'd have an opinion.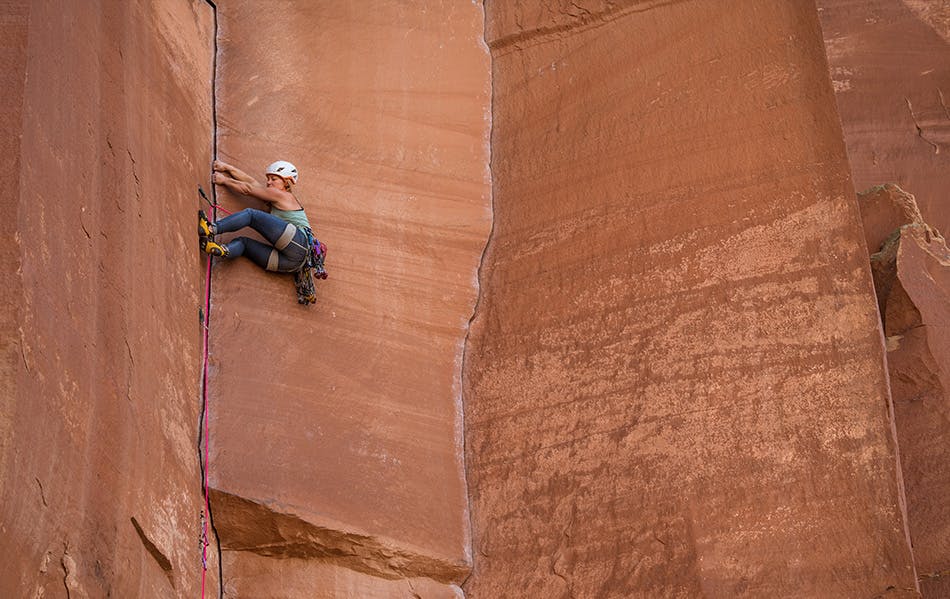 "I already have my harness so I don't need more options for racking," said Hazel bluntly. 
She explained:
"I don't like the way the sling swings around and usually sits to one side and on the shoulder."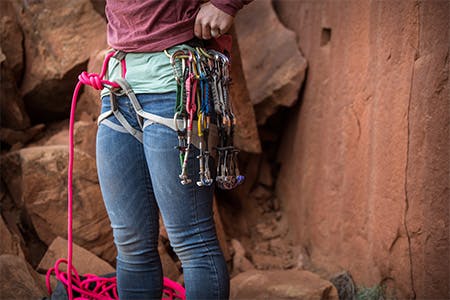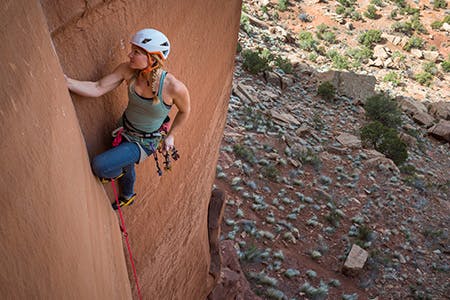 But were there benefits to the sling? 
"You can fit more on the sling, especially if you use the harness gear loops as well," said Hazel. "You can move the sling from one side to the other and you can take it off easily at belays to swap with your partner."
That being said, Hazel was quick to point out that using your harnesses' gear loops "encourages you to bring less stuff!" 
Spoken like a true Brit. 
Then she added:
"Unless you want to look super old school for some reason then you're going to look like less of a gumby without the gear sling."
Ouch.
OK, well, now we know where Hazel stands. Maybe she's onto something, though. Perhaps we should talk to the old guard. You know, a couple hard-hitting climbers who reminisce about the days of swamis and passive protection, booting up with EB's and white painter pants to send that GNAR 5.11. Actually, we didn't have to go back quite that far to find … yeah, gear slings were indeed alive and thriving in the old-school world. 
A CASE FOR SLINGS
We reached out to Doug Chabot, a veteran hardman, alpinist and general Montanan badass who's usually climbed three pitches of WI 5 ice by the time you're having that first whiff of coffee on a bone-chilling winter's morn. Doug, as we suspected, is and will always be a gear sling man.  
"For trad, I'm a fan of the sling, but I 'm in a shrinking minority I think," admitted Doug. "I have tried on many occasions to just use the gear loops, but usually get frustrated."
Doug broke it down into two major reasons why to him, the glory days of the sling are far from over. 
1. It allows me access to my entire rack no matter which way I'm facing (right side in, left side or straight) or no matter what hand is on a tool or in the crack. I am not flexible and having a right hand high in a crack means anything on my second right side gear loop is inaccessible.
2. It allows greater mobility because I can move it around to either side or in front of me if needed, like in a chimney or wide crack.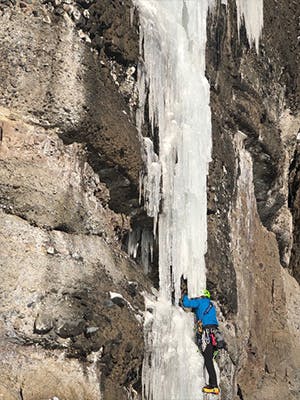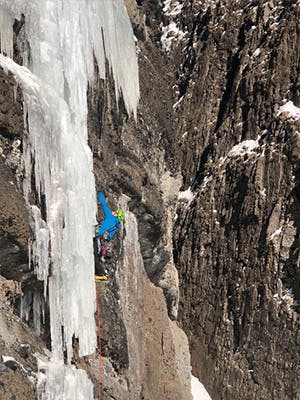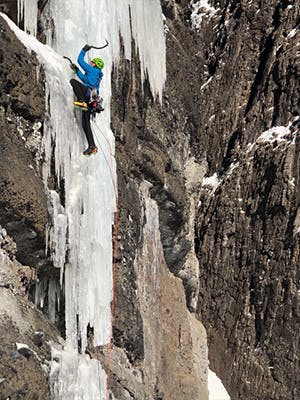 Aha! There seems to be a general theme here. Notice those subtle but crucial words like, wide crack, chimney, or hand on tool? Seems like Doug's preferred style of climbing may be the underlying reason why he still sticks to slings. He also pointed out that on multi-pitch routes, a gear sling is essential to swap leads.
"It takes too much time to swap it all when it's on your harness." 
And to counter Hazel's "gumby" comment, Doug added:
"A well-organized rack on a sling looks cool. On a harness it can look like a junk show because of cordelettes, tiblocs, PAS, etc. crowding it all. Fast, neat, passable to partners, versatile for all climbing situations = gear sling."
Touché.
Following Doug's lead (pun intended), we reached out to a few more alpinists, seeing if their shared tastes of style would prove that gear slings were only diminishing within the growing mass majority of climbers—that is within the community of sport climbers and modern rock-climbing tradsters—and the subsequent decline in the art of suffering, otherwise known as alpinism, correlates directly to the sling's demise. 
Matt Helliker, a British alpinist that never shies away from a sufferfest, quickly concurred. 
"I rack in summer on the harness, but in winter I like a gear sling," he explained. "Normally I rack wires, and a few quickdraws on the gear sling that I can grab quickly and a few longer pieces or gear like hexes for winter. It's also useful to have a gear sling when you have to 'dump' kit back onto the sling quickly, (if pumped, or just trying to find that piece that you can never find on your rack) and you're having to go through the whole rack to find that perfect piece in a tricky situation."
Jon Bracey, another Briton-turned-Chamoniard who rips it in the mountains, added to the cheeky dialogue. 
"For alpine climbing, the combination of having bulkier clothing, and a potentially bigger rack means I always use a gear sling in addition to gear loops," said Bracey. "My default system is stoppers and cams on the gear sling, plus draws on gear loops."
However, adding to the alpine theory, Bracey said that he uses gear loops while rock climbing, because the gear stays out of the way and is easy to access.
Could it be that the waning popularity of gear slings parallels the falling number of climbers who prefer an old-school style moving in the mountains, hence those key words again, like wide cracks, chimneys, or snowy mountaintops? 
CONCLUSION
We decided to consult the one person who's tracked this phenomenon more closely than anyone: BD's Climbing Category Director Mr. Kolin "KP" Powick. 
For KP, who monitors the rise and fall of climbing gear innovations for a living, the answer to why gear slings are diminishing has to do with a few reasons. 
"When I started climbing, you just used gear slings," he said. "This was multi-pitch trad climbing in the Canadian Rockies in the early 90's."
"It wasn't until much later, probably the 2000's after I moved to Salt Lake, when it seemed that everyone was racking on their harnesses."
One reason, according to KP, is purely trend—as in, like Hazel insinuated, racking on your harness became the "hip" way to do it. However, he also believes there's a couple of practical reasons as well.
"I think gear got lighter, you could fit more gear on your harness, and the gear sling—especially as you started climbing steeper stuff—ended up pulling you backwards, swinging around, and becoming less efficient."
However, the crucial bit of beta KP adds to this explanation is that the gear loops of harnesses have improved since those early days. 
"Speaking about BD harnesses, our gear loops are now pressure molded, so they keep their shape, and when you load them up, the gear doesn't all slot into a "V" like with an old webbing gear loop." 
And with modern harnesses, has KP made the switch himself to the loops? 
"I'm like an organizing-freak, so I like to have certain pieces on the front gear loop on my right side, certain pieces on the back, front left, back left. I like being really compartmentalized, so that's why I shifted from a sling to gear loops."
KP does add, however, that there's a time and place for gear slings. Particularly while cruising long multi-pitch routes. "It's just easier to pass the rack at the belays," he says. 
As for those crusty alpinists, he thinks they have a point in their tactics, while also mentioning, "you can't teach an old dog new tricks."
But there's one final question remaining. If KP is a self-described organizational "freak," why didn't he jump at the chance to bring the Willcutt to life since that was the chief feature of the visionary sling?
"Well, let's flash back for a second," said KP. "I always used a compartmentalized gear sling, never just the single loop, so I essentially switched from having those loops on a sling to on my harness."
"But the Willcutt …" he continues, "is interesting because it was pitched NOT as a gear sling for taking up a route, rather a gear sling for organization on the ground."
"But here's the deal," he summarizes.
"One, If I were to look at the number of gear sling sales over the last several years, we'd see a steady decline, because, as I said, I don't think people are using gear slings as much anymore. So, I'm not sure that the total volume of slings sold would warrant an additional version, and at a likely higher retail price that the Willcutt would command because of its more complex build when compared to a normal gear sling. Two, I don't think there's enough people wanting to organize their gear on the ground that they would pay for it. For sure some people would use it on a route, but that leads back to point one."
"That's why we haven't made the Willcutt … yet." 
Of course, when we asked Tyler Willcutt for a comment after hearing KP's final conclusion on the matter, he simply responded:
"So, you're telling me there's a chance?"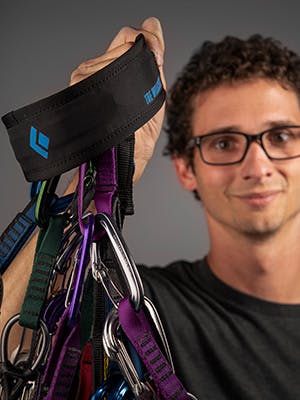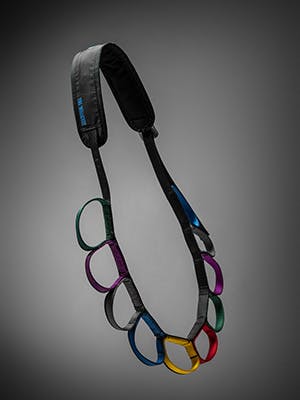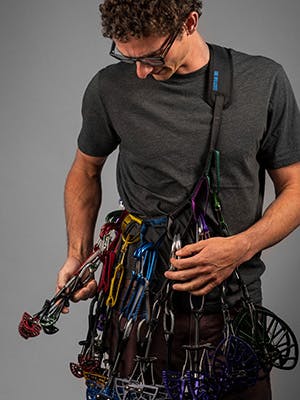 -- Words by BD Content Manager Chris Parker