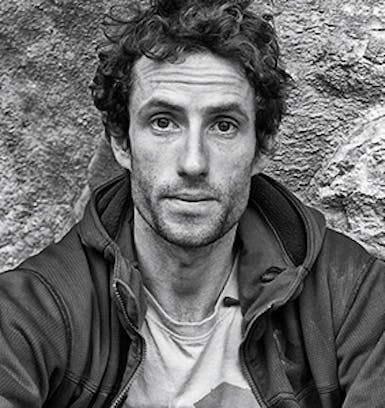 Patxi's approach towards climbing has evolved year after year since he started climbing at age 10. At the beginning it was only a hobby but nowadays climbing is what mostly drives him, what makes him happy and feel alive. Patxi find motivation in every aspect and every discipline. Competitions pushed him to train harder, to be in perfect shape, to give his best and has recently put a lot of his energy into this. Though he knows the next generation will unavoidably take over, he struggles to put this off as much as he can. He has had good results so far thanks to a large dose of self-learning and innovation of training methods, discipline and a lot of effort. But rock climbing continues to be his true passion—nature, friends, travels… After almost 20 years climbing, there he still takes any opportunity to travel and discover a new crag or revisit one where he has unfinished business. Patxi feels being able to climb the lines in the most beautiful places is a great privilege. He is strongly devoted to a "leave-no-trace" philosophy, to respect the environment and leave it he found it so that people will be able to enjoy it in the future.
Discipline: Sport climbing
Hometown: Eibar, Basque Country, Spain
Currently Living: Deba, Basque Country, Spain
Height: 174 cm
Career Highlights: 
Rock: First 8c+ onsight in history, several 9a+'s; Competition: World Champion 2009, European Champion 2008, overall Lead World Cup winner 2006-2007; Professional climbing trainer since 2012.
When did you first start climbing?
I was 10 when I started climbing. I used to go to the mountains with my parents a lot before that, but we didn't know any rock climbers at that time. My parents learned how to belay and I got hooked right away.
What do you most enjoy about your sport?
I would say I have gone through different phases as a climber. At the beginning every route was special, every trip was amazing, I could see myself progressing… After that, I got into comps, specific training programs and I could feel I had reached a whole new level. I really enjoyed noticing how every day I could climb one movement more. Now, I climb "a muerte", I travel, I try to make a living out of climbing by sharing all I have learnt through the years.
How do you define success?
Complete success for me is reaching a goal while enjoying every part of the process that gets you there.
What are you most proud of, either in life, your sport or both?
I am super proud of my family and friends, of my girlfriend and super happy because I have it all inside the amazing world of climbing.
Who are your heroes?
The people who never give up and try to develop their full potential. The framework is not important. In climbing, for example, I can tell you my girlfriend never gives up, it doesn't matter that there is a run-out, that she is really pumped or that the next hold is clearly super bad, she goes for it every time.
What inspires you? 
It could be a whole route, it could be just one movement. 
What are your hobbies outside of your sport? 
Surfing got my full attention for a while, and it still attracts me a lot. I live by the beach, so I get to surf pretty often, usually very early in the mornings so that I have a good start for the day.
What's your guilty pleasure? 
Cheese, ham and a glass of wine… which usually leads to a little more of chesse and ham, two or three more glasses of wine.
 
What are your hidden talents?
They must be hidden even for me… Seriously, and I have said many times, the most important talent I have (inherited from my mother) is to be very stubborn and a little bit masochist so that it is very difficult to dissuade me from doing or getting something that has installed in my brain.
Tell us about your most favorite place in the world:
I haven't been everywhere but, so far, I have to say that Cornudella del Montsant in Tarragona is a place that I visit year after year… I haven't missed it almost any winter. Now it is a perfect combination of rocks and waves in the nearby coast.
As a child, what did you want to be when you grew up?
As far as I remember, I have always wanted to be a climber. I can't elaborate more, it is as simple as that.
If you could change one thing about yourself, what would it be, and why?
I don't think I would change anything, but I have to admit that, pretty much as almost all climbers, I am a little bit selfish and sometimes I only think in routes, trips… but that's what makes me happy…
Describe your perfect day:
7:00, wake up in the van. 7:15, surfing in glassy waves. 9:00, abundant breakfast with a good coffee. 12:00, off for some climbing with good friends and a great project. 21:00, tasty dinner with a good glass of red wine.
How would your friends describe you?
I have asked a friend to answer that:
"If you want to climb to your max, have fun and listen to someone brainstorming without end, Patxi is the person you must have around."