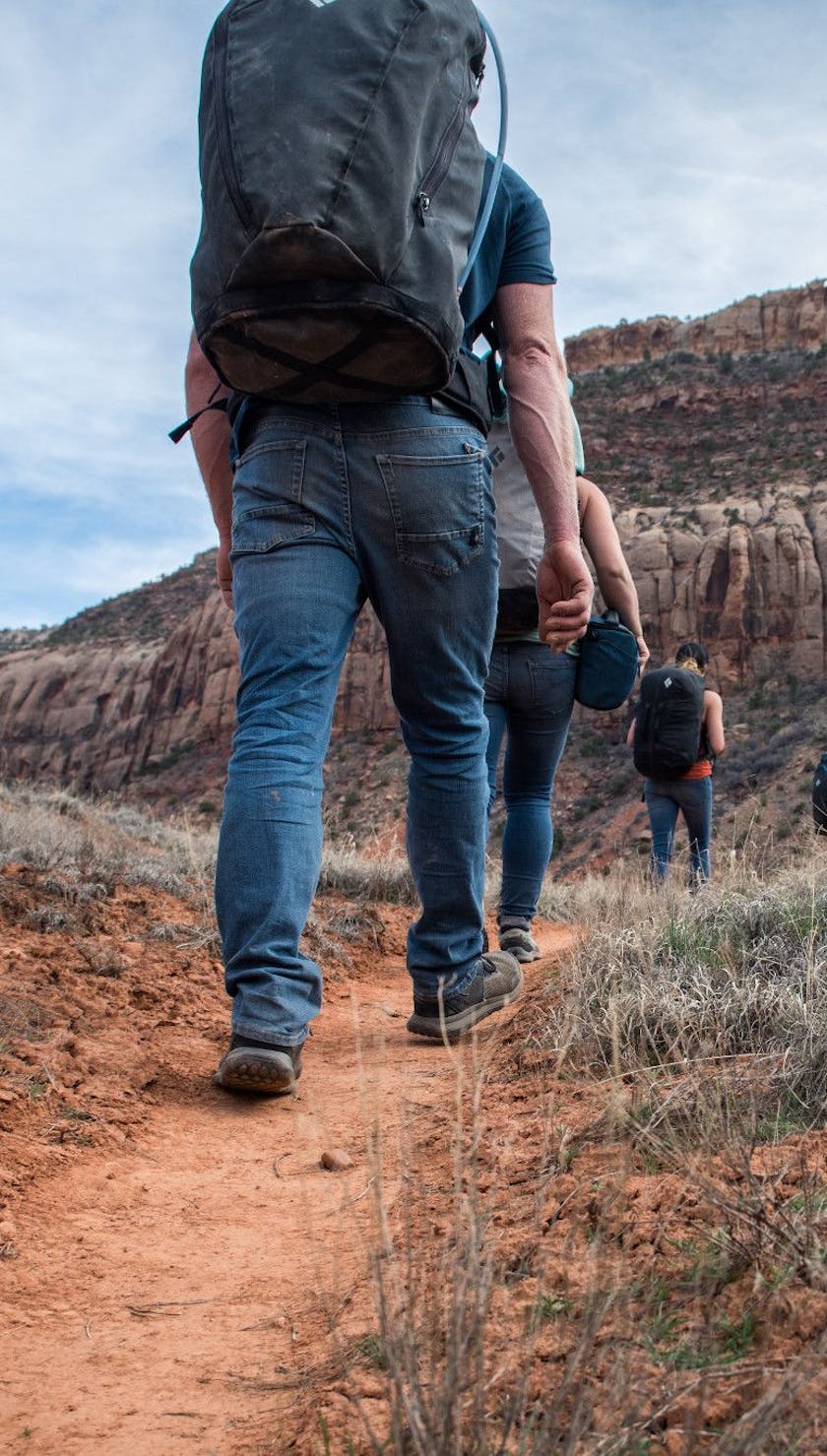 Photographer: Andy Earl
Athlete: Hazel Findlay, Daila Ojeda, Colette McInerney
Men's Forged Denim Pants
Be prepared to slip into a pair and never want to take them off … at least not for climbing.
Item # AP750020
Men's Forged Denim Pants Product Details
Redefining climbing denim one stem at a time, BD's new Forged Denim uses an innovative combination of best-in-class materials with climbing specific features to create the world's best climbing denim, utilizing Black Diamond's exclusive BD.FORGED design protocol. BD.FORGED is a way to create a true point of difference in every piece of apparel we make, for users that understand that their apparel IS an important part of their equipment. FOCUSED on climbing, OPTIMIZED to work seamlessly with BD harnesses and accessories, REGULATING temperature through its light strength-to-weight ratio, GEAR-CENTRIC as an essential piece of your arsenal to enhance performance, ENGINEERED fit and stretch to move with you to every degree, and most importantly DURABLE thanks to the Cordura™ fibers in the fabric. Through this process, we've created denim that is both extremely durable, yet unbelievably light and stretchy, designed to work perfectly with your climbing gear. Finally, our slim, tapered fit gives our denim a stylish yet highly functional cut, making the Forged Denim the ultimate climbing pant, and substantially different than any other denim available to climbers.
Men's Forged Denim Pants
BD.FORGED designed and tested to be the world's best climbing denim
Super durable Cordura Denim with unbelievable stretch, light enough to stay cool
Harness-compatible low-profile hardware
Integrated brush pocket
Slim, slightly tapered V11 Fit for pure climbing functionality
Weight: 610 g
Fit: Regular
Size: 28-38
Available in lengths 30, 32, and 34
Leg opening: 15.5"
Country of Origin: China
Tech Specs
Material

Cordura Stretch Denim (75% Cotton, 10% Nylon, 13% Polyester, 2% Elastane, 339gsm)

Display Weight

610 g

Size Range

28-38, plus 31, 33