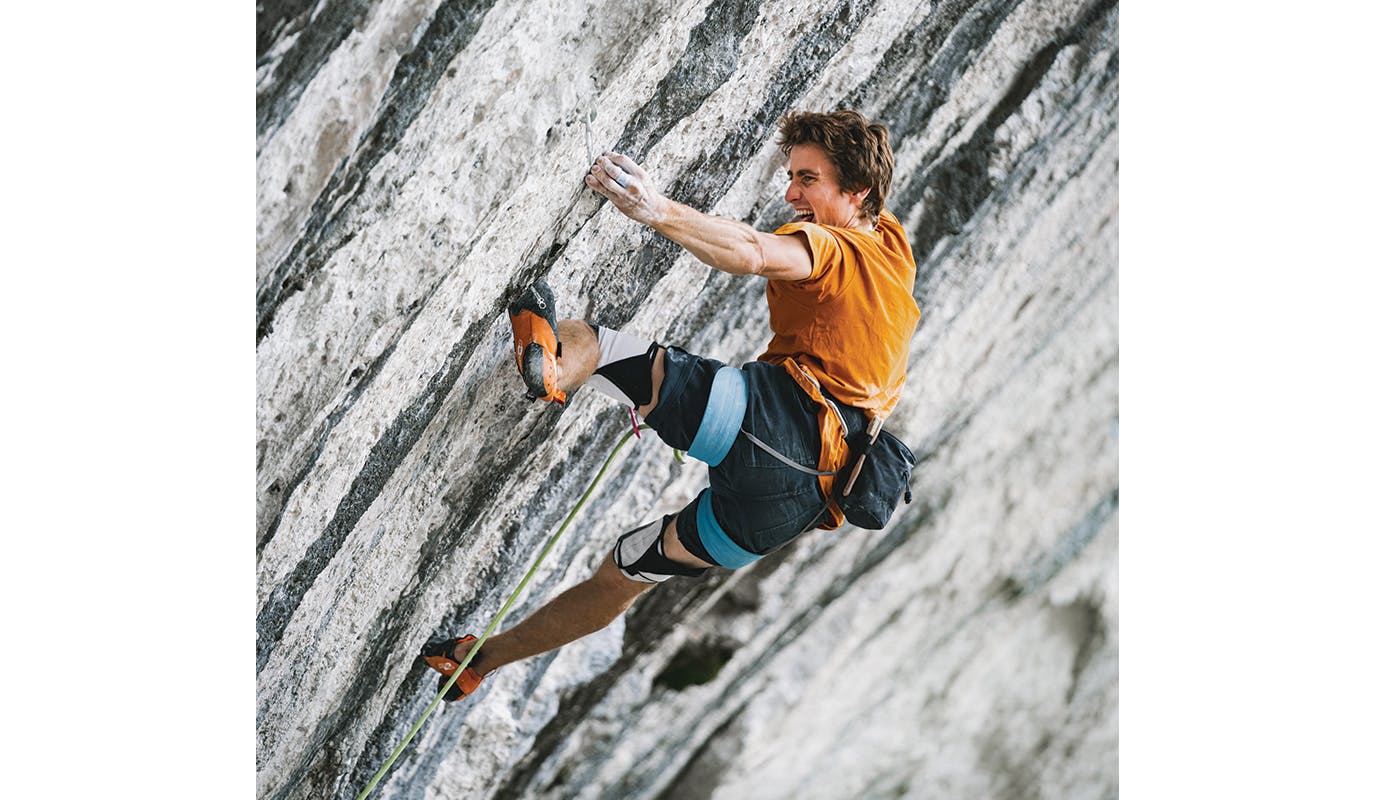 Bolting & Discovering the DreamLine
I bolted this route during the summer 2019. 
After making the first ascent of "La Rage Adam" (9b/+), I wanted another challenge, something even harder. I told myself that I needed a route that was really above my level so I could push myself. 
I needed a line that would motivate me to go back again and again, something beautiful, impressive, in an inspiring location. 
La Ramirole was the perfect place for that. It's a cliff that is in condition most of the year, not far from my house. The place is magical and makes you want to try hard. It's a cliff I know by heart. I've been climbing there for more than 10 years. If there is a place to take on such a challenge, it is here. 
Looking closely at the wall, I saw that there was a line right in the middle, through the huge cave, in a section with few holds. I told myself I had to try, even if it might not work. When I put the bolts in, I could see some holds. But I really didn't know what to think. The overhang was so big. 
The first few tries were laborious. I didn't understand anything. It seemed too big, too hard, too desperate. 
At the end of the 2019 season, I tried to find methods and understand the line. 
2020
I tried the route in July, August, September, October, and November. 
2021
I tried the route in July, August, September, October, and November. 
2022
I did it on my second trip this spring. 
I worked the route first during a 14-day trip in early April. I came back home to train for a week and returned for a second trip. 
I sent on the third day of the 2022 second trip.  
Sending Day 
It was 10°, windy, dry weather ... perfect conditions. 
However, I hadn't slept all night. I was stressed, and tired. 
But we were there, and the good conditions made me forget this feeling. Surprisingly, I felt light, flying on the holds in the warm-up routes. 
There was something there, I could feel it. I was in good shape. And with the incredible conditions, I felt I had my chance. 
But I had already had my chance so many times ... 
At the start of the route, I felt like I was flying, with no fatigue. I was on autopilot without thinking, like a robot doing the same task hundreds of times. 
I arrived at the crux and stuck the holds. Incredible. But at the same time, I had to stay lucid and not fall on the last 8c+ section. 
The Feeling After Sending 
When I got to the top of the last hard part, I didn't quite understand, I had so many doubts, I was so afraid of the last moves for fear of falling. I was there, the DNA project was done. 
I spent so much time doing the same moves, falling dozens and dozens of times in the same place. 
It's still hard to realize. 
Climbing in Winter 
I came in the middle of winter, it was -11° in the morning ... I broke off the icicles before climbing ... 
I thought that climbing with very cold temperatures (0° to -5°) would help me hold this left-hand pinch on the crux. 
As I almost never have my fingers numb, I thought it was a good idea to try this route in winter. 
However, I had underestimated two things: 
The first was the overall effect of the cold on the body. I felt all numb, and I moved slowly. So, the friction was good, but I wasn't moving as well or as fast between holds. I felt less comfortable. And then it was hard to rest for a second try. Since it was so cold, I didn't feel like waiting, and so I often didn't rest enough for the second try. 
The second unsuspected effect is the rapid change of conditions. One morning everything is frozen, another morning everything is wet, then it's windy ... I didn't know if the route would be in condition the next day. If everything was frozen, it was good, because the water didn't seep. If it wasn't frozen, but it was windy, then that was good too. But if it was thawed, without wind, then the holds were wet.  
Sometimes the key holds were quite dry, and I could try, sometimes not. 
It was hard to stay consistent without knowing if the route would be climbable the next day.
The Route 
DNA starts with an 8c intro of five quickdraws to reach a rest. 
Then there are some moderate moves to reach the first boulder crux at 8A (V11). 
It is a rather special bouldering move. You have to throw a right foot like in the modern bouldering competitions. Then you must propel yourself on a very, very far tufa. The physicality of the move makes it low percentage. It's really random. 
Then there is the second crux of the route is an 8A+ boulder problem (V12). This crux is really physical, with a left-hand pinch to hold in order to go to an undercling that often slips. This section is quite dependent on friction. The weather conditions play a big role. 
At the end of this crux, there is a rest that allows you to recover your spirits before setting off again for a last fight in a final 8c+. 
Low Carbon Impact 
Finding and bolting a project like this right next to home is a future solution. No planes, not too much travel. And one of the most beautiful lines in the world. 
Unrepeated Lines 
For more than 10 years, I have been making first ascents, which have not yet been repeated. 
2014: Pajarito 9a (5.14d) 
2015: A Muerte Bilou 9a 
2016: L'homme demain 9a+ 
2018: La côte d'usure 9a+ 
2019: La rage d'Adam 9b/+ 
2021: DNA 
The Effort in Numbers 
I spent more than 150 days on the route. I tried DNA more than 250 times. 
The Grade 
This is the big question.  
There are two possible scenarios, 9b+ or 9c. 
But before I decide, I'm going to weigh the pros and cons to have the clearest mind. 
I'll take different parameters to try to be as accurate as possible: comparisons with other routes, time spent, climbing style etc.  
The feeling: 
If I compare DNA with other routes I've done or that I've tried, it's really a step above. 
If I compare it with Move 9b/+, or if I compare it with Bibliographie 9b+, I have the feeling that this route is just harder. 
The time spent working on the route is also an indicator of the difficulty. I spent at least 150 days on it (I think it's closer to 200, but since I'm not sure, let's stay at 150). 
I spent about 40 days on Bibliography, and I was really not far from succeeding (I fell three times at the top of the route).  
I spent about 40 days on Move 9b/+ and succeeded in 2019. 
About 25 days for Mamichula 9b. 
About 50 days for Beyond Intégral 9b/+. 
DNA is clearly the route I've spent the most time on. 
Not only was I spending time on the route, but I was physically preparing myself for every session. 
It wasn't just going to the cliff and trying to see if it could work. I came with the strong intention of being ready. 
DNA is the route I put the most effort into. 
The last element to consider is the climbing style. La Ramirole is the cliff that suits me best, as I've been climbing this style for more than 10 years.  
The fact that DNA is 100% my climbing style should be considered in the rating. 
For example, the routes at Céüse, such as Bibliography, are not my style of climbing. Small holds and not much overhang. I'm not very strong. 
So, if I consider the fact that this route perfectly suits me, the fact that I put a lot more investment in it than in the other routes, and that I feel this route is harder, the 9c would seem appropriate.  
However, I still have big doubts. Would this route be the same difficulty as Silence (9c)?  
Didn't I spend all this time partly because of the first ascent process?  
Choosing 9b+ would be the safe bet. 
I've been playing it safe since 2014 at this crag by offering tight grades. And in the end, nobody has repeated one of these routes yet (in France, I've done more than 20 first ascents between 9a and 9b/+ that have never been repeated). 
Of course, proposing 9c is taking a risk. A risk to see the route downgraded.  
As there is currently only one other route in the world proposed at a similar grade, it's hard to be sure and confident.  
I have never tried a similar route with a similar difficulty to DNA. 
9c is my "proposition" for DNA, which now needs other climbers to give their consensus—to either confirm or adjust. 
This is the way for grading a route, the sum of the community's opinion makes the grade.  
Our sport is beautiful, we don't need judges, we are the judges. It's beautiful, but at the same time quite hard in this kind of situation, at the very cutting edge. 
That's why I would love to invite the world's top climbers to come and give DNA a go.