Maybe you've tried one of his routes, which span across the western US like constellations, telling the story of progression for hard sport climbing in this expansive country. Or perhaps you've just picked up a climbing magazine at some point in the last decade and seen a photograph that has stirred a deep emotion inside your soul, caused your palms to sweat, and inspired you to rope up again and again. Glancing at the byline, that ubiquitous name—Boone Speed—sits against the glossy page. The truth is that Boone, for many of us, is a living legend. From his routes and standard-raising ascents, to his photos documenting this game we play in the vertical, Mr. Speed has helped sculpt what this sport is today. This film, made by Mike Call, is the story of climbing's consummate artist.

There is an abundance of words out there these days. The world of words seems really conflicted this year, and I'm tired. Even sitting to write this feels hard. In this strange year we find ourselves, the pace is all messed up. The world was operating at baseline. Let's call that 5. Then COVID-19 effectively turned the world "off," turned it down to 1. And then George Floyd was murdered, and the world was instantly turned back "on." But, not to 5, but 10 and with a whiplash, and with so many words/statements/captions/arguments. I still feel disoriented most time.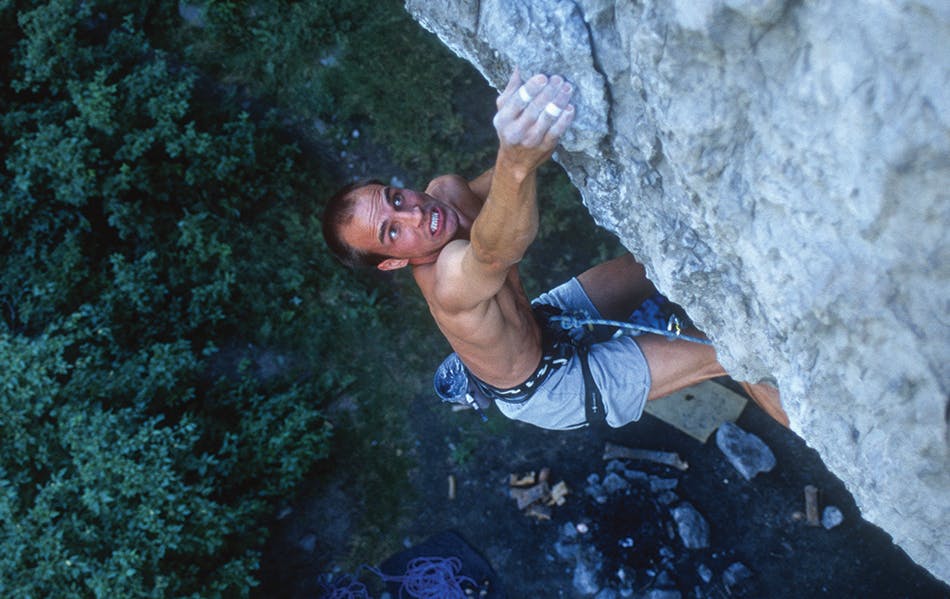 I had a couple of low points. After the most recent one, I resolved to get a little more primitive —Less words. Less thoughts. Less stuff. More images. More actions. Less saying. More making. There's that phrase: Talk Is Cheap. I read articles, tweets, Instagram captions, Facebook posts with such skepticism now. I'm like, "I'll see you in 5 years… and see what you're saying and doing…" I'm more interested in consistent and reliable presence. And that takes time and patience. It's like a body of work — life's work. When I was younger, it felt like burning bright and fast was the way to live, and with a loud voice always screaming "I'm this. I'm that. I believe in this. I support that." But now, I feel more like being dim, low, and steady. Calmer and quieter like being submerged in the water, rather than on the surface.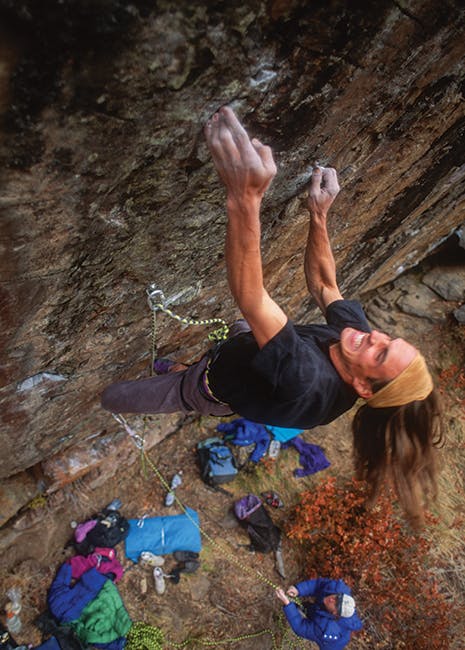 Boone Speed on One Move Wonder (5.13b). Photo: Kevin Powell
Boone Speed on Throwin' The Houlihan (5.14a). Photo: Kevin Powell
In a light speed world of modern media and technology where everything is screaming at you, and in a world where attention/time/freedom is the most precious resource; should we not be very suspicious of the most obvious, shiniest, loudest things? Should we not dig a little deeper? Take a little longer? Life is a marathon, but everyone is sprinting. 
This film has been in the works for a long time, but it's been the right time. A slow burn type of calm time, so that it has a better chance of doing what it's meant to do. The Lifer wasn't an easy or fast film either. Life is complicated enough, even before words. Picture stories are in some ways easier, yet in some ways harder. These films show an interconnected web of people — their stories — and for Russ (Clune) and Boone (Speed), these films show part of their bodies of life work. Also, the same is true for MC (Mike Call), though more subtly.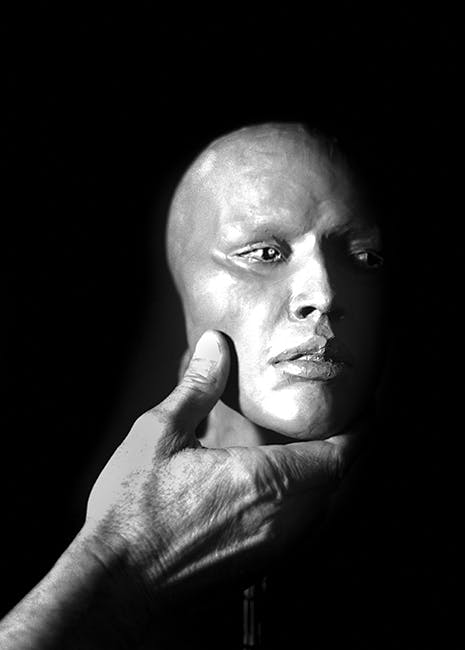 Sculpture by Grant Speed
Photo: : Boone Speed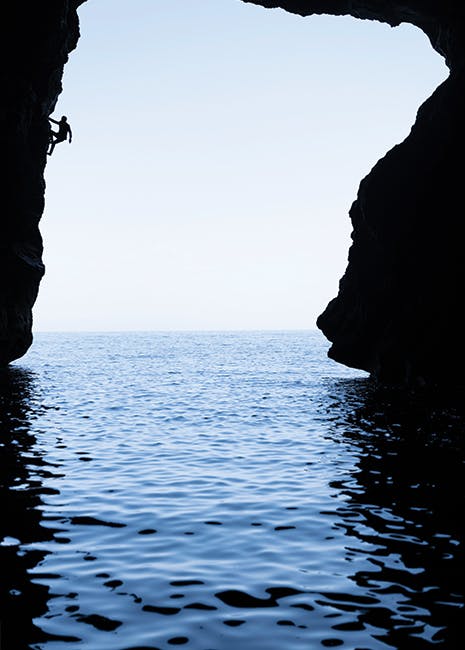 Chris Sharma climbing in Mallorca.
Photo: Boone Speed
"Artist" is a bit of an unsavory word for me. It's kind of a generic catch all, that doesn't actually say much, and isn't that helpful. Knowing that, however, it can be utilized appropriately. Right now, in this time, it actually feels pretty good. This vague umbrella term that needs further wording to clarify it, but that's not what we're offering here. We humbly offer this film. A series of images. A moving picture. Yes, and there are words in there too, but they support the imagery, and not themselves.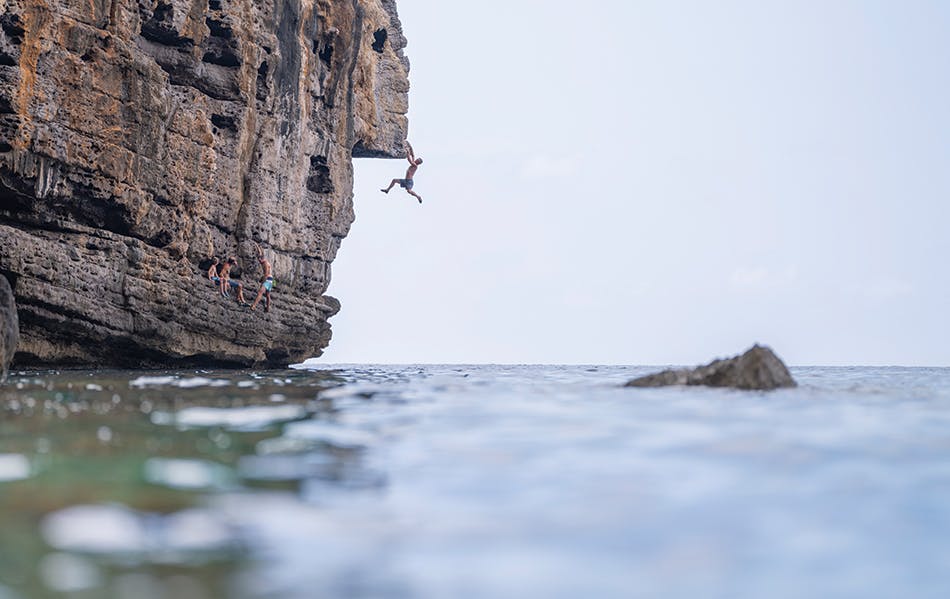 I know I haven't "said" (written) much about climbing, or Boone, or MC. So, I hope that you'll watch and listen to what is here and allow that to speak to you. These people are all too dear to me to try to fumble around and sum up in words right now. The web of life and work that The Lifer, and now The Artist, represent is so thick. I relish to think about how these films may be around, and unearthed long after all of us makers and characters are back to stardust. Until then, I'll carry a certain pride and gratitude in playing a part of creating and sharing these stories. This is mostly through a belief in the beauty of the web of life, as especially and tremendously expressed through our lens of climbing.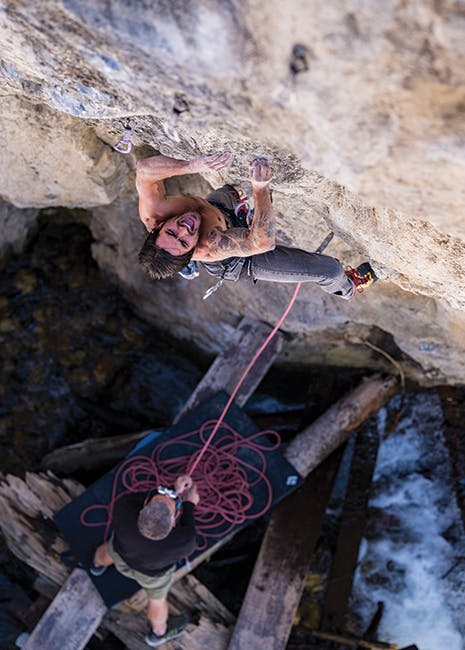 Sam Elias on the Big Smile, Narrows, Utah.
Photo: Boone Speed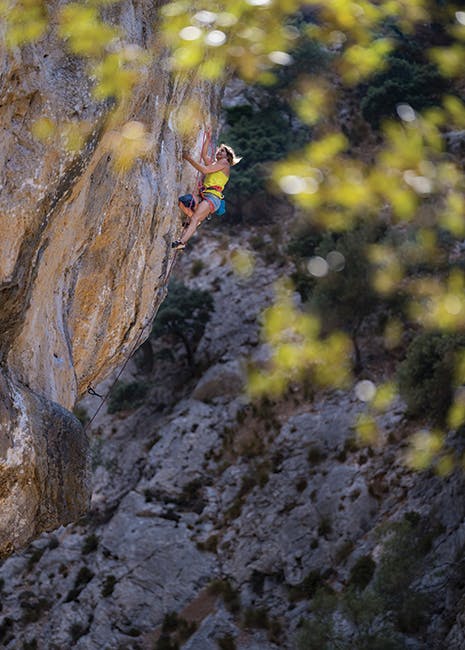 Bailey Speed in Mallorca, Spain.
Photo: Boone Speed
And until then, you can reliably know where to find us — Right here, continuing to try to let our arts and our climbing, speak for themselves — A thick little web of lives and connections many, many, many years in the making within the bigger web in which we're all woven.
— BD Athlete Sam Elias