"A dream is like a virus," he explains. "Resilient and highly contagious. Even the smallest seed of a dream can grow. It can grow to define you …" Recently, Sasha took a vacation and travelled to Patagonia to finally see for himself if the Fitz Roy of his dreams was everything he had imagined.
It's 7:30 in the morning and after two hours of approach from La Brecha to the bottom of Fitz Roy's south wall we feel perfectly warmed up. While racking I keep going over Californian route topo in my mind, trying to focus. A long day is waiting ahead, maybe even two. It's time to be fast, and it's time to go. Now. And at that exact moment my fists start jamming into the crack of the first pitch, a small involuntary smile stretches across my face and electricity shoots through my veins. It's been a long way to this moment and it's finally happening!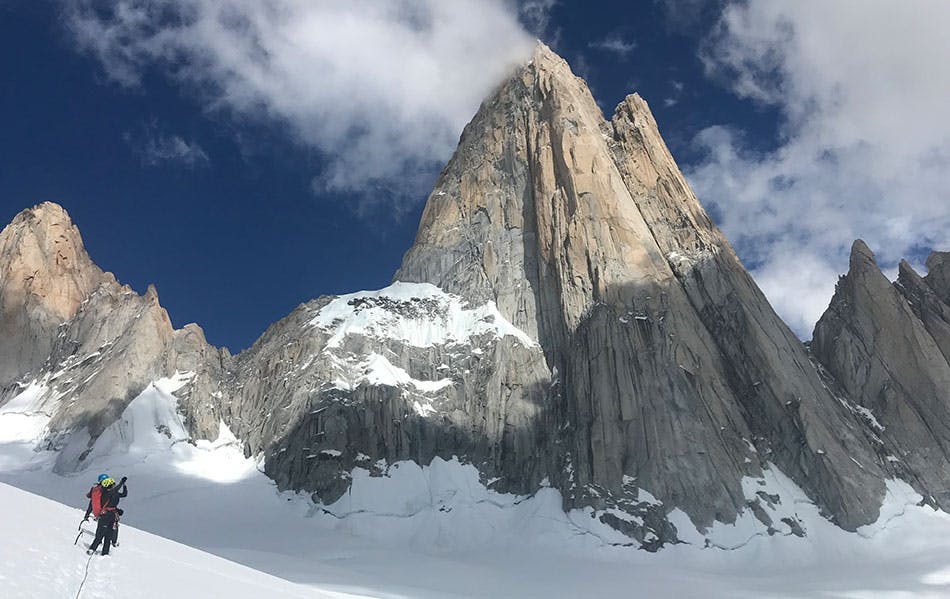 Looking back, it really has been a long journey to this moment. My name is Sasha and I work at Black Diamond Europe in Innsbruck, Austria. In a way, climbing had predetermined my career path. I've always been excited to contribute to the community by serving passionate people with world class climbing gear. I started climbing 15 years ago, falling in love with local crags in Crimea, Ukraine, my native country, and spending as much time outdoors as I could. I remember reading the fascinating "Climbing Fitz Roy" odyssey by Yvon Chouinard about this remote and probably not even existing, place called Patagonia with a picture of him on the cover climbing the crux pitch—a frozen rime-covered wall of the Fitz. This place seemed so unrealistic and illusive.
Over the years though, with every climbing spot checked off my list around the world, it has become more and more real and turned into reality when we threw our gear-filled heavy packs into the El Chalten dust at the bus station. A dream is like a virus. Resilient and highly contagious. Even the smallest seed of a dream can grow. It can grow to define you, get bigger and stronger and at some point, you subconsciously understand that all you had been doing and working towards was because of a dream—and led by the dream. To me this is still one of the most mystic and intimate processes that could be observed—to see how a dream is born, expands inside and leads to a real action with tangible items being involved like ice screws and cams.
Putting the philosophical thoughts aside, it was time to climb the mountain and we realized quickly, if you want to climb something in Patagonia, be ready to think big. There's no other size category in Patagonia, but huge. The approaches are long, the vertical gain is significant, the climbs are extensive and even beer bottles start from 1L and crisps are 1kg per pack.
Picking the right strategy for an assent can be as vital as your climbing shape. The weather becomes a big part of the game since the place is known for its furious winds and unexpected storms. Since good weather windows are rare and short, it eventually means that all the preparation work should be done during bad weather.
To climb the Californian route on Fitz Roy, we started to explore the area by placing a gear deposit at Paso Superior, which turned out to be a proper two-day mission with breaking the trail through deep snow on a glacier. But it was worth it. Even though it takes extra time and effort, it makes the ascents in big mountain regions substantially easier. Big mountains are not only about fascinating views and stunning walls, but first and foremost it is strategy and discipline. By having our gear and bivouac stuff placed at Paso, we were laying low in El Chalten like lions in the Savanah ready to pounce on good weather. When the latter came, we jumped out and attacked, pushing in one go from the village to la Brecha de los Italianos, picking up the gear on the way and gaining two thousand vertical meters to the South wall of Fitz Roy. What is called an "approach" in Patagonia could be considered as a distinct climb in other places of the world and it brings satisfaction of its own when accomplished.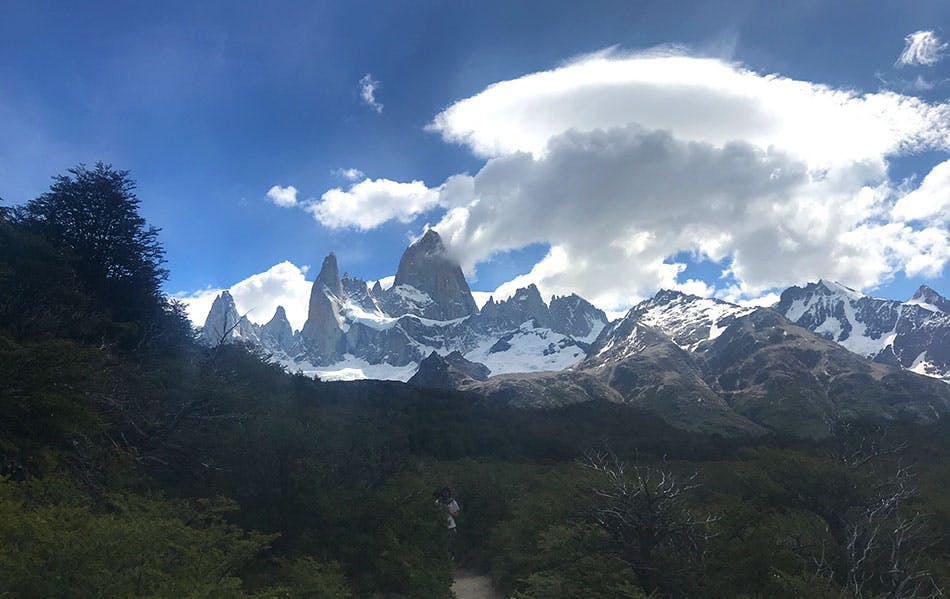 The next day, after brewing some coffee and concocting powdered food we started to scramble up to La Silla at 5 a.m. and at 7 a.m. went vertical onto the wall through an amazing labyrinth of world quality granite, sometimes completely packed with decent ice and snow. We climbed in a party of three which happened to be more efficient and easier than expected. All the weight could be shared between three people instead of two and it doesn't affect climbing velocity as the leader climbs with two half-ropes and then the second and third climber make their way simultaneously while having a TR belay of one half-rope each.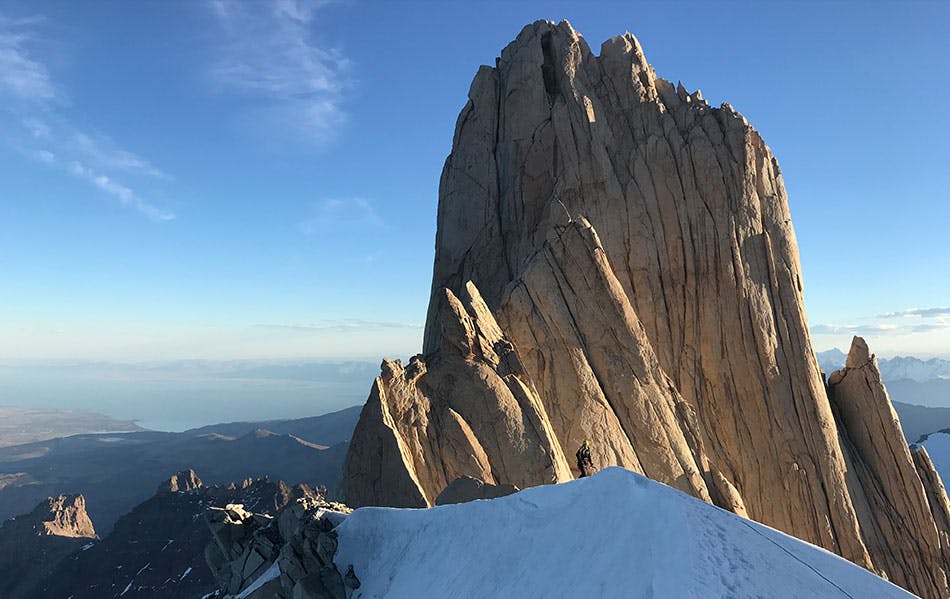 After roughly 14 pitches the route goes over the ridge and links with the Supercanaleta Route following the south ridge. The climbing is never extremely hard, but it has some fun steps, a couple of off-width cracks and challenging parts thanks to snow and ice in the cracks. No matter where you are on the route, it is always tremendously dramatic since the line hangs above the Torre valley with the Hielo Continental stretching endlessly and the lifeless glacier ocean napping in the background. It's hard to imagine something more epic than the view from the top of Fitz Roy when the weather gives you a chance to see something more than the tip of your nose. 
Struggling a bit with finding the way on the ridge, rappelling, traversing and climbing again, I reckon we set up our own version of the ridge-part of the route. Although it was always fun and enjoyable to climb, observing the sun escaping beyond the horizon it became obvious that we'll need to spend a night on the wall. We were thrilled to do so and mistakenly thought we were well prepared for it. The night turned out to be cold with us having just one sleeping bag for the three of us. We made something like a bench, insulating it with our packs and ropes and sat for a few hours with the sleeping bag on top of our shoulders and hugging each other as tightly as we normally hug our sweethearts.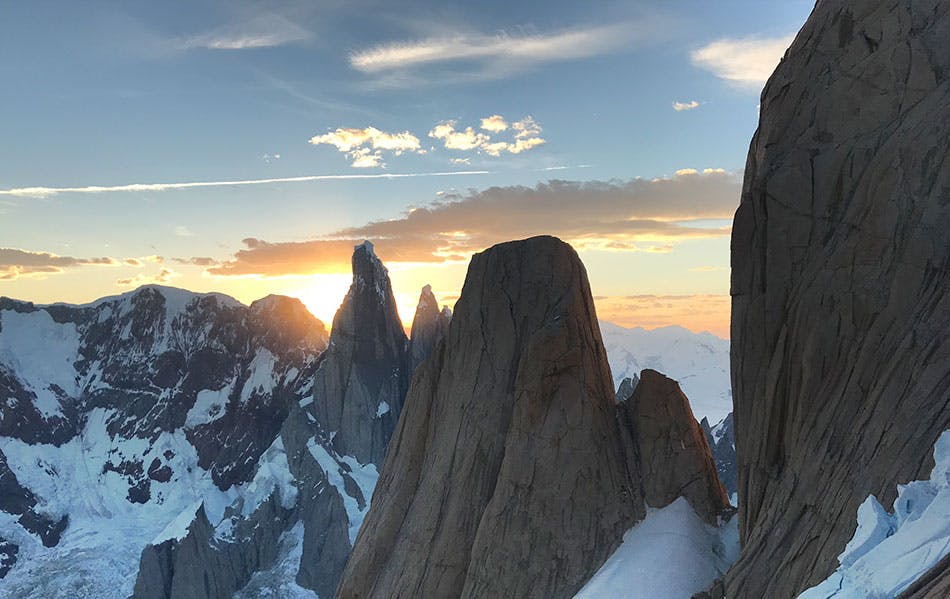 Without a doubt, a sunrise on the wall is way more appreciated than a sunset. The first kiss of light on your cheeks after a windy night feels like pure love and tenderness of mother nature to you since its simply something else that can warm you up instead of your own body. So, once we got un-numbed, we rushed the last 300 meters of a phenomenal rime field that looked like a giant 3d-mirror flooded with morning light and … topped out. I remember standing on the summit and waiting to feel something completely special and outstanding, trying to memorize every breath and every moment in my mind, but to my surprise nothing extraordinary came. Just a calm thought: Well, this is it.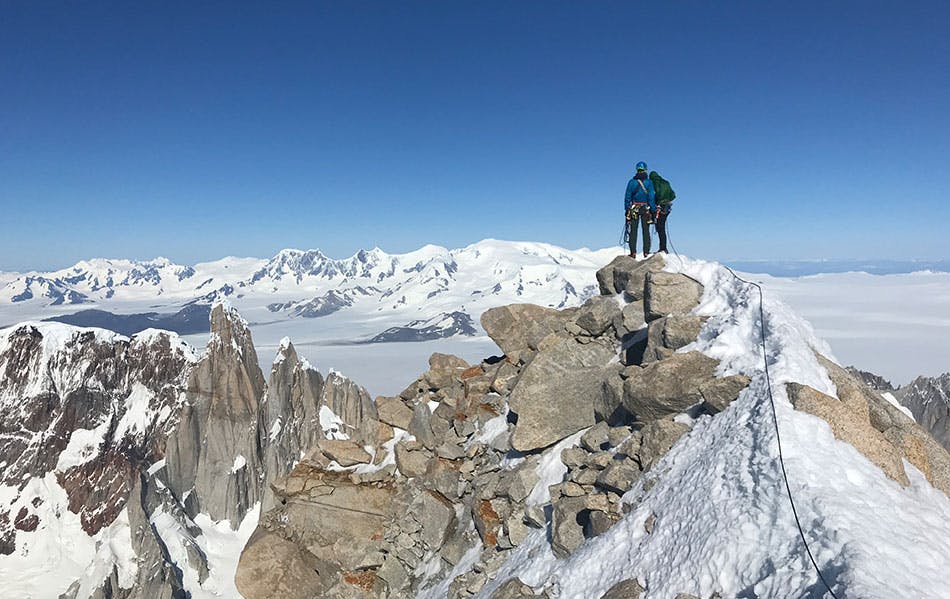 A goal is important to have, but it only makes sense to reach it because of the path. To me, it's all about the process, that could be long and intricate, the process of looking for answers inside yourself, self-determination and the process of maintaining a blue fire of passion inside your eyes and enjoying its burn in those of your buddies'. The process of absolute synergy with the environment around you gives you an understanding that is as clear as Fitz Roy's summit's blue ice—that you live for the moments like this. You live for climbing. #liveclimbrepeat #bdemployees