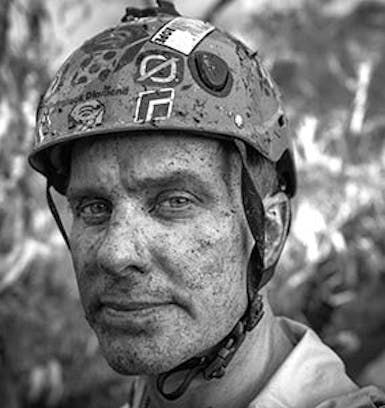 Mike Libecki has infinite passions: Two of them are obeying his obsession/addiction to exploring the most remote, exotic and untouched locations on the planet to climb big walls, towers, or alpine first ascents, traverses and other mysterious adventures (most of them solo), and being a dedicated father to his angel-daughter (he has won Father of the Year Award more than once). Libecki has planned and succeeded on over 55 expeditions and established multiple first ascents in such areas as Afghanistan, Antarctica, Baffin Island, Guyana, Greenland, China, Madagascar, Kyrgysztan, Uzbekistan, Tajikistan, Papua New Guinea, Russia, Venezuela, Yemen, Indonesia, Philippines, Polynesia, Africa, remote exotic islands and even unnamed spots on the globe. More than half of these have been solo expeditions and solo first ascents. He has a several passports with well over 100 stamped pages from around the world. When Mike is not climbing and exploring untouched Earth, he is a stay-at-home father, coaching his daughter's soccer team for five years, and he just took her on her first expedition to Antarctica (her sixth continent and 11th country). Mike lives near the mouth of Little Cottonwood Canyon in Utah with his daughter, dog, cats, parrot, pot-belly pig, chameleon, chickens and rabbits.
Discipline: Climber - Explorer
Hometown: Clovis, California
Currently Living: Cottonwood Heights, Utah
Height: 6'
Career Highlights: Nominated for National Geographic Adventurer of the Year, National Geographic Expeditions Council Grantee, two-time recipient of the Shipton-Tilman Grant/Award from W.L.Gore & Associates, four-time recipient of the Mug Stumps Award, two-time recipient of the Copp-Dash Inspire Award, two-time recipient of the Lyman Spitzer/American Alpine Club Award, three-time recipient of The Polartec Challenge Award, Athlete Ambassador of the Year Award from Clif Bar, The Sharp End Award from The Access Fund, Mountaineering Fellowship Award from The American Alpine Club, The Banff Centre Mountain Grant, The Helly Hansen Mountain Award from The American Alpine Club, winner of the Father of the Year at his daughter's school.
When did you first start climbing?
At 17 years old, senior year of high school. Though, basically when I was about 2. If you think about it, every person was a climber at some point, climbing on the couch or rocks or trees when they were kids, you know? We all were climbers of some kind, I think that some of us just never stopped.
What do you most enjoy about your sport?
Absolutely the amazing people I have met, all the amazing friends and my best friends, no doubt. The people I get to meet around the world on the pursuit for remote, untouched rock and first ascents. The adventure. The mystery. The organic enthusiasm. The sweetness of life. The feeling of being a soft, fragile human high on the side of a remote wall…. The pre-joy and joy….
How do you define success?
When there is joy and laughter involved.
What are you most proud of, either in life, your sport or both?
Most proud of being a father to such an amazing daughter. And my most proud trip was taking my 11-year-old daughter on her first ski expedition to Antarctica. So proud of her for crushing it!
Who are your heroes?
My grandparents. My mom. My family. My daughter.
What inspires you?
Mysterious, remote, untouched areas of the planet yet to be explored both horizontally and vertically. My daughter.
What are your hobbies outside of your sport?
Brewing beer. Animals—I love all of my dogs, cats, pig, chickens, potbelly pig and parrot.
What's your guilty pleasure?
Not really guilty, but I think you mean something like this: I eat A LOT of ice cream. A lot.
What are your hidden talents?
I dabble in a few arts here and there, a bit of banjo, juggling, beer brewing. Optimism, definitely am optimistic.
Tell us about your most favorite place in the world:
Antarctica, Baffin Island, Greenland, Franz Josef Land, Afghanistan…
As a child, what did you want to be when you grew up?
I don't remember wanting to be anything, strange. I was Spiderman four Halloweens in a row, so…?
If you could change one thing about yourself, what would it be, and why?
Well, I do want to open an animal sanctuary someday, so that could be a cool change someday.
Tell us about a time in your life when you have been scared:
HUGE rock all while rope soloing a tower in Afghanistan, closest to death I have ever come.
Describe your perfect day:
Skiing or hiking to traveling or anything with my daughter.
How would your friends describe you?
Obsessed? (Possessed, but maybe, haha.)