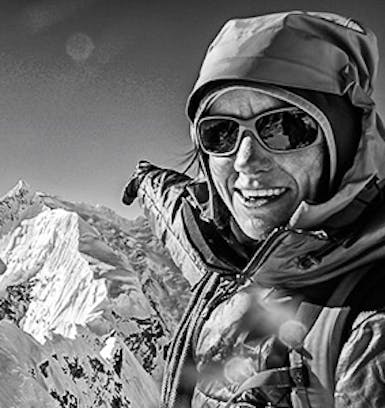 Ines Papert is one of the world's most accomplished climbers. She has traveled extensively and won numerous ice-climbing world champion titles, including overall first place at the 2005 Ouray Ice Festival. Papert continues to grow as a climber in an unorthodox way—being a successful climbing mother, or "mum" as she prefers. Now retired from the competition arena, she travels in search of earth's greatest treasures: Virgin alpine summits in the Himalayas, new ice lines in the Arctic, free multi-pitch rock routes all over the world. She leaves the comfort zone, in terms of exploring remote places and finding new alpine terrain. But she loves coming home and provides her 14-year-old son a challenging life.
Hometown: Bayerisch Gmain, Bavaria, Germany
Height: 170 cm

Career Highlights: 
FFA of Ritter der Kokosnuss (M12 trad/WI5), 2015; FFA of a new 8a route on Grande Cima, Dolomites , 2014; FA of the virgin Likhu Chuli 1/ 6719m in Nepal via the North face, 2013; FA of Schwarze Madonna (8a 300 m), Untersberg, Germany, 2012; FA of Sensory Overload (5.11+) Mount Asgard, Baffin Island, Canada, 2012; lluminati (M11, 200m) Wolkenstein, Italy, 2012; FA of Cobra Norte (WI5/M8/ED+), Kwangde Shar 6093m , 2009; FA of Into the Wild (M12), Icefall Brook Canyon, Canada, 2008; FA of Quantum of Solace (WI 7+/M7), EBO Great walls of China (5100m), Kyrgystan, 2011; FA´s in Iceland, Norway (Finnmannen M9+ trad), Scotland, the Alps; FA of Power of Silence (5.13a) Cirque of the Unclimbables, Canada, 2006; Second Ascent of Camilotto Pellisier (8b), North face of Grande Cima, Italy, 2007; FFA Symphonie de Liberte (8a), Eiger Northface, 2003; 1st place overall at the Ouray Mixed Competition and four-time Ice Climbing World Champion   

When did you first start climbing?
When i was 21 years old, almost half of my life now.
What do you most enjoy about your sport?
Eating afterwards. ;)

How do you define success?
When you come back home as friends…and when you are still alive.

What are you most proud of, either in life, your sport or both?
Having such a great kid (14 years old now) and being able to share mountain adventures with him. Regarding climbing, I am proud of each new route I´ve climbed.

Who are your heroes?
My son is my hero. He is so full of understanding, what the climbing/traveling means to me. 

What inspires you?
To see my son growing. In terms of climbing, remote places and unclimbed faces.

What are your hobbies outside of your sport?
Paragliding, backcountry skiing, biking

What are your hidden talents?
Climbing. :)

Tell us about your most favorite place in the world:
There are so many: Taghia in Morocco, Baffin Island, the Himalayas and of course Norway in winter.

As a child, what did you want to be when you grew up?
It's been all far away from climbing…

If you could change one thing about yourself, what would it be, and why?
Patience is one of my weaknesses. Waiting to heal an injury or waiting for better weather on expeditions/trips is super hard for me. One reason I have never gone to Patagonia.

Tell us about a time in your life when you have been scared:
i have been scared during a Baffin Island trip on Mount Asgard. Polar bears are so dangerous, as well as the river crossings.

Describe your perfect day:
Today…fresh powder snow, sun, cold temperatures.

How would your friends describe you?
You need to ask my friends, but most of them like when I am cooking and they like my motivation for climbing I guess.