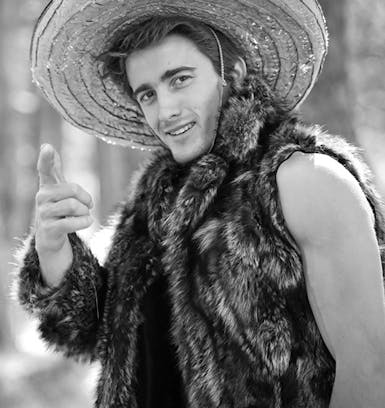 Discipline: Sport Climber
Hometown: France, south east, Aix en Provence
Currently Living: France, and in my caravan!
Career Highlights: 
Repetition of « Chilam Balam » 9a+/9b
27 routes between 9a and 9a+/9b
9 first ascents between 9a and 9a+
When did you first start climbing?
I started climbing outside when I was 12 years old with my mother. And after it was natural for me to continue harder as I can.
What do you most enjoy about your sport?
To find something who like impossible, and with time on and good training find it possible. I like to have a project which give you the way to train and to live. To be outside in beautiful places is really important for me. I enjoy travel, know new cultures, new people, see new way to live, sharing with other. To be alone sometimes (bolting, finding new crag) with the nature makes me happy.
How do you define success?
In general and for me, success means happiness, even if you can be unhappy during the time you work to become happy (like when you fall in your project, when you are training, when you work in life,..). To have success, you have to pass unsuccessful moments ;) Success can take many forms. For me and in climbing, I think when you are able to do your project (onsight, working route, compet, moutainering..) after an important preparation could be a form of success.
Who are your heroes?
People who are giving all they have in what they are dreaming. People who try again and again, people who go one more time even if they are done. People who are not scared to go in bigger, to go in harder than their level. For example, Adam Ondra, but also the guy on the 6a who will give all to crush it. Motivation is all in climbing and in life.
What inspires you?
To try something create by the nature inspire me. Try a project where the human only put bolts.In climbing, I find my motivation in beautiful project a little bit harder than my level. It shows me the way to train and to climb to progress. I need to dream in order to implicate myself at 100%. In life, it's the same, I need to dream.
What are your hobbies outside of your sport?
I like to walk in moutain, or in beautiful places (in case I find some crag ;)). I work or study during my time off climbing. I am sport teacher in High school. But I don't like to rest without doing something before. I can't stay in the same place during one day, I have to move, to create something, to find something new. Every sports are good during the rest days.
What's your guilty pleasure?
NUTELLA!!!
What are your hidden talents?
My motivation. I do really good crepes also (if you have nutella).
Tell us about your most favorite place in the world:
Verdon come first, there is so much potential, and nobody know about it. For exemple la ramirole is one of the best crag in the world with flatanger. All the south east of France is really good too. You can climb, but also be in amazing and beautiful places. For sure I like spain for the winter and for the routes. Norway is really nice to. But I want to know more places in the world.
As a child, what did you want to be when you grew up?
Proclimber.
If you could change one thing about yourself, what would it be, and why?
I prefer the term evolve, because all you have is good, you have just to use it on the right way. For me, if I could have more power in boulder. I need a long time to do the moves in a route. But when I have them, I do the route fast.
Tell us about a time in your life when you have been scared:
I was bolting alone in the Verdon from the floor in a big overhanging. And just before to arrive on the place to put the hancker I saw it could be possible to climb to go there. So I started to climb with the drill and all the staff. But 1 meter before to arrive I was totally stuck. So scared to fall because I was with a static rope 2 meters height the last bolt. Finally I could put a hook and a bolt.
Describe your perfect day:
Good friends, good projects to try, good fights, sun and a lot of laugh.
How would your friends describe you?
When I have something in the head, I can't leave it, I have to achieve it.