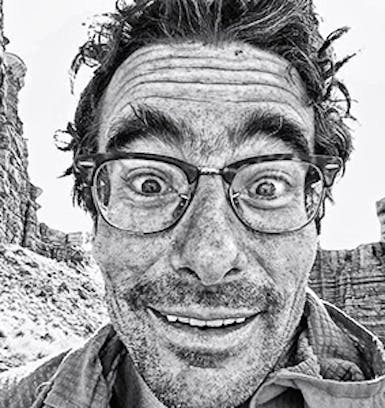 Cedar is a professional climber and filmmaker living in Boulder, Colorado. Cedar has traveled the world establishing adventurous and daring first ascents, often documenting these exploits through his writing and cinematography. He is a National Geographic Explorer, a Contributing Editor at Climbing Magazine and has won numerous awards for his films, including the popular Sufferfest franchise, which he also stars in along with his good friend Alex Honnold. For over five years Cedar was a member of the Yosemite Search and Rescue Team, and when he wasn't hanging out of a helicopter he was climbing his ass off. He got pretty good at it. Today, Cedar is one of the most recognized professional climbers in the United States, and he continues to push himself as a climber and creative. Cedar is a humble and approachable person, known for his goofy sense of humor and infectious lust for life, and he is always game for an outrageous adventure.
Discipline: Adventure Climber
Hometown: Tollhouse, Ca.
Currently Living: Boulder, Co.
Height: 5'10"
Career Highlights: 
I have climbed El Capitan free in a day, established traditional 5.13 first ascents in Yosemite and Indian Creek and pioneered difficult new alpine rock routes in places like Pakistan, the Bugaboos and Alaska. I continue to be a driven, passionate and prolific climber and storyteller.
When did you first start climbing?
I started at the age of 21 while working on a degree in Creative Writing at Humboldt Sate in Northern California.
What do you most enjoy about your sport?
I would call myself a lifer. I really love everything about climbing. The creative problem solving, the beautiful places it takes you, the athletic movement, the psychological barriers, the community and the fact that there are no rules, just guidelines.
How do you define success?
Success is living a balanced life. Life is most meaningful when you focus on collecting experiences and friends, not laurels and material possessions.
What are you most proud of, either in life, your sport or both?
To follow up with the last question, I'm most proud of the way I have prioritized my life to have some amazing experiences.
Who are your heroes?
Peter Parker and Clark Kent.
What inspires you?
Effort and hardwork inspire me. The beauty of nature inspires me. My dog Gus, AKA All Terrain Pug, inspires me. My parents are a huge inspiration—they are off the grid and eat probably 80 or 90 percent local.
What are your hobbies outside of your sport?
Well, filmmaking has become more than a hobby, it really is half my profession, but beyond that…. I have a little music studio in my basement, and I make all kinds of funky music down there. I've recently taken up running, and am running a 55k later this month, and I'm taking a paragliding course in a couple of months. I love dabbling in new disciplines.
What's your guilty pleasure?
I'm too shameless for guilt. I proudly eat gummies for instant energy.
Tell us about your most favorite place in the world:
My favorite place is the next place. There's nothing to resurge my love for climbing like a new beautiful place to explore…but if that's not on the menu…back to Yosemite.
As a child, what did you want to be when you grew up?
I wanted to be a doctor or lawyer and get very rich. Climbing ruined my life.
If you could change one thing about yourself, what would it be, and why?
I'm a TERRIBLE procrastinator. It's actually one of the secrets to my success though. I'm prone to long bouts of laziness followed by extreme fits of motivation where I try to make up for lost time, so I don't know if I would change it.
Tell us about a time in your life when you have been scared:
My pug, All Terrain Pug AKA Gus, got lost in the wilderness for seven days. I cried myself to sleep every night.
Describe your perfect day:
Good friends, good climbs, in a beautiful place perhaps topped off with a jam around a campfire and some aged Islay Scotch.
How would your friends describe you?
Supportive, goofy, all over the place, loyal, artistic and Wickedly Handsome.