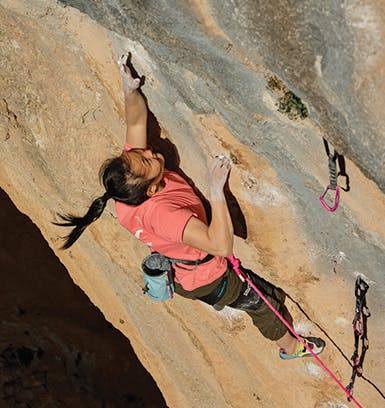 2018 – Redpoint of 'Bad Girls Club' 9a in Rifle, Colorado at age 14
2019 – Overall Lead World Cup Champion in her debut season on the IFSC Circuit
2019 – Asian Championships Lead and Bouldering Gold Medals
2021 – Lead World Championship Gold Medal
2022 – Redpoint of 'La Rambla' 9a+
Black Diamond ambassador Chae-hyun Seo was born into the climbing life. Her parents own a climbing gym in Seoul, and by age 14, the South Korean phenom redpointed her first 9a—sending Bad Girls Club in Rifle, Colorado. Chae-hyun has also established herself as one of the top competitors on the World Cup circuit, winning the overall lead gold in 2019. Chae-hyun still aspires to be an all-around climber, and routinely applies her champion-level skills to sport climbs and ice climbs around the world. In 2022, she climbed La Rambla—hitting the coveted 9a+ mark at just 19 years old—a glimpse of what the future holds.  

Discipline: Rock climbing
Currently Living: Korea
What does BD mean to you?

It is a brand that has always been a dream and a sponsor that can lead the process of growing as a world climber.
Favorite Products
Ultralight chalkbag: This chalk bag is lightweight and does not feel worn, and the chalk is evenly applied to your hand, so it is very useful when you need to chalk quickly when you are holding a bad hold while climbing.
Airnet Harness: When I wear the Airnet Harness, I feel like I have not worn anything, and my body seems to be lighter. I like the design, and it keeps me stable when I fall.
Shadow climbing shoes: The Shadow climbing shoes have a soft out sole, with excellent hook and-hook performance, and excellent grip when standing on the volume hold. It also keeps your feet stable and comfortable even if you climbing all day long