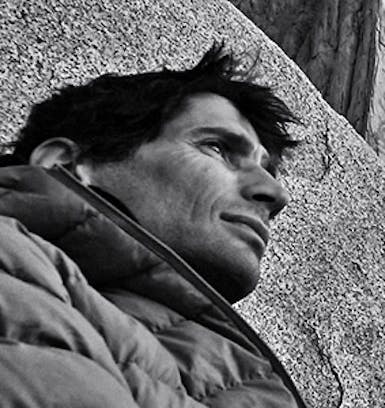 When Rolo was seven years old his family moved to the town of Bariloche, in northern Patagonia, driven there by the troubles that beset Argentina in the 1970s. It was lucky for him, because that area is a paradise of sorts, South America's answer to Switzerland as far as the scenery goes. Piste skiing led to backcountry skiing and that in turn led to climbing, an activity that immediately felt worth pursuing.
There weren't many role models in Argentina at the time and many aspects of the sport were for the activists to invent. Visiting climbers proved crucial. The locals were so eager to learn, they were like sponges. The general ignorance about alpinism played in their favor, because they were allowed great freedom. At age 15 Rolo traveled for the first time to the "real" Patagonia, climbing Aguja Guillaumet, the smallest granite tower of the Chalten Massif, with a partner that was barely one year older. That climb remains one of the biggest adventures of his life.
Later, climbing drove Rolo to the mountains of the world. He started traveling in 1989, when he turned 18, and hasn't stopped since. He has lived for extended periods of time in three different continents. These days Rolo splits his time between the Alps and Patagonia, living half of the year in each hemisphere.
Climbing has been the vehicle that has provided a sense of purpose in Rolo's life. That passion has shifted and changed over the years, but contact with the natural environment has continued to be the one thing that makes him content.
Discipline: Alpinism
Hometown: Bariloche, Patagonia, Argentina
Currently Living: El Chalten, Patagonia, Argentina – Dolomites, Italy
Height: Tall enough
Career Highlights: The first ascent of the Torre Traverse, the first ascent of Cerro Torre from the north, the first complete ascent of Cerro Fitz Roy's north face. Managing to set speed records in El Cap as a visiting foreign climber in the early 1990s. A fast lap of the Tetons' Grand Traverse in 2000—still the fastest time. The first link up of Canada's Polar Circus, Weeping Wall/Weeping Pilar and Slipstream. A fast lap on the Infinite Spur on Mount Foraker, AK.
When did you first start climbing?
In 1985. Started ski touring first, then eventually moved on to climbing.
What do you most enjoy about your sport?
Spending time outdoors is the one thing in life that consistently makes me content.
How do you define success?
Being content with whatever you may be doing is a success.
Who are your heroes?
All original thinkers, those who are unafraid of challenging the status quo, who are unafraid of being driven back into the woods even though they have a sat next to the king. The kind of people that are outsiders by design.
What inspires you?
The force of nature, creativity, resourcefulness, boldness, audacity.
What are your hobbies outside of your sport?
Writing guidebooks and guiding are hobbies of sorts. Although both are "work," I experience them very much as hobbies.
What's your guilty pleasure?
Sparkling water...
Tell us about your most favorite place in the world:
Aguja Campanile in Cerro Catedral, Bariloche, northern Patagonia. It is a four-pitch wind sculpted granite tower. When my time comes I want my ashes to be spread around it.
As a child, what did you want to be when you grew up?
As a kid I was too lost to have any intelligent or fixed ideas of what I wanted to become. That all changed when I started climbing.
If you could change one thing about yourself, what would it be, and why?
Our society's most troubling unexamined belief is thinking that success, "winning" and "harder" are important values. I see those beliefs as my biggest "blind spots." It is a constant exercise to remind myself that playing with passion is what actually matters.
Tell us about a time in your life when you have been scared:
Blowing myself up inside a van as a result of a gas leak was pretty scary. I still recall vividly the purple flame traveling through the interior, causing an explosion so strong that a window blew up and the edges of the doors bent outwards. Surviving that was quite lucky.
Describe your perfect day:
A day outdoors with friends with no big objective beyond the desire to play, engaged but with no serious purpose