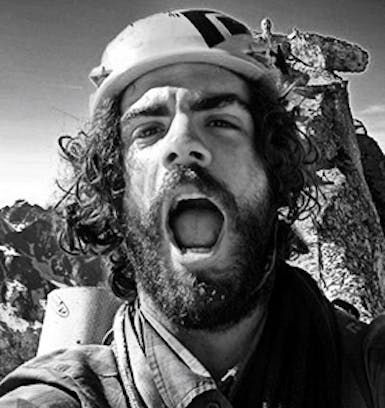 Paolo is a 25-year-old mountain lover devoted to telemark skiing. But he also loves climbing, alpine climbing and ice climbing… more or less anything that's possible to do in the mountains. In the last few years Paolo has skied some new steep lines near his home, like north of Mont Tresero in  winter, but in the summer he picks up his climbing shoes, some Camalots and drives to the Alps to climb. He is currently finishing his mountain guide course in Italy and is very excited to start to work and share his passions with others.
Hometown: Rovellasca, a little village close to Como in Italy
Height: 180 cm
When did you first start climbing/skiing?
I started skiing when I was three and a half years old. And I started to telemark about nine years ago. I have climbed since I was four or five years old. 
What do you most enjoy about your sport?
What I like most is the feeling of freedom from skiing. I continue to train my muscles to keep my spirit free.
How do you define success?
I think success is when you accomplish something satisfying, something that really satisfies you. the success you see in yourself, not what others think of you.
Who are your heroes?
Mmmm… probably my hero is a snowboarder, Xavier De La Rue. But the best one is Mickey Mouse, always smiling, doesn't work and has Minnie!
What inspires you? 
About Xavier, that is the future of the line, he can see the line that no one can consider.
What are your hobbies outside of your sport?
Outside skiing, climbing, ice climbing, alpinism and every sport where you are in mountains. Longboarding, I love to travel with a longboard.
What's your guilty pleasure?
Absolutely my guilty pleasure is red wine and good beer!
What are your hidden talents?
I'm not a bad cook…
Tell us about your most favorite place in the world:
I discovered my favorite place in the world this year. It is on the top of a multipitch that I opened in Val di Mello this summer, on the Qalido wall.  It's a wonderful place. Really quiet. With a 360° wonderful view, full of positive energy. 
As a child, what did you want to be when you grew up? 
A truck driver!!!!
If you could change one thing about yourself, what would it be, and why?
 My selfishness. My passions make me selfish sometimes with people who are close but who do not share my passions.
Tell us about a time in your life when you have been scared:
When I was fifteen and I was rejected at school. I was really afraid of my parents in those days.
Describe your perfect day:
My perfect day begins the night before. Because I need a big snowstorm during the night that dumps a load. I'll get up early and choose a place to ski with my friend, my real friend! And do a lot of tracks all day. Everywhere—woods, couloir, open space.. everywhere. When the sunset starts, do the last one line, in our secret place. Where we know that no one has dropped down before us. After that some beer, now with all our friends, girlfriend and parents, all together. A good dinner while it starts to snow to cover the tracks of the day before to create a new perfect day!