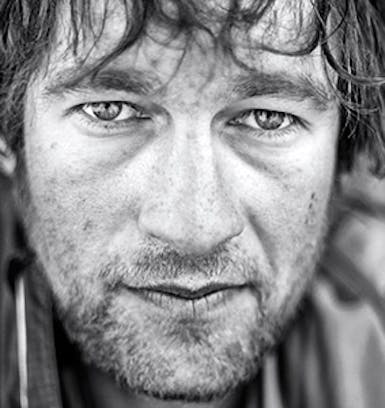 Discipline: Climbing
Hometown: Yosemite
Currently Living: Salt Lake City
Height: 6'2"
Career Highlights:

Bugaboos Provincial Park, BC:
Grade V first ascent: Soul Cinders, 5.11r C2, 20+ pitches on the South Howser Tower; climbed alpine style, camp to camp, in one day, with no hammer or pins.
Grade V free first ascents: South West Pillar, 5.12r, and Italian Pillar, 5.11+, 20+ pitches on the Minaret of the South Howser Tower; both lines climbed alpine style, camp to camp, in one day, with all pitches led and followed free.
Second one-day ascent of ll Along the Watchtower, VI 5.11+ C2 or 12b, 36 pitches on the North Howser Tower. Yosemite, CA:
Team free ascent of regular NW face of Half Dome, VI 5.12; Renan led all cruxes, which were followed free by Cedar Wright. They topped out in seven hours.
Higher Cathedral Rock, V 12b, onsight second ascent, first team free ascent.
Nineteen-hour link-up of The Nose of El Capitan, VI, 32 pitches, and regular NW face of Half Dome, VI, 23 pitches. Youngest team to achieve this enchainment. Free Ascent of the Freerider on El Capitan, VI 5.12+, leading every pitch.

Indian Creek, UT:
First on-sight free solo of Lightning Bolt Cracks, 5.11, North Six Shooter (featured in current climbing film Return2Sender: Parallelojams).
12+ onsights of Disco Machine Gun, Slice and Dice, Twin Cam.

Joshua Tree, CA:
Free solos of Spider Line (11+) and Hot Rocks (5.11c).
20 classic J-Tree 5.11s in one day, 5 classic J-Tree 5.12s in one day.

Other:
Ruth Gorge, Alaska: Alpine style free ascent of the west face of the Eye Tooth (to true summit!).
Khumbu Himalaya: Losar (half dome sized waterfall ice feature)
Canyonlands, UT: one-day link-up of Monster Tower and Washerwoman Tower, leading every pitch.
Southern Utah: Texas Tower ascent, led the notorious 11+ offwidth.
El Potrero Chico, Mexico: one-day free ascent of "El Sendero Luminoso," V 12+, with 12 pitches of 5.12, on-sighted two 12+ cruxes, led the whole route.
Cholaste, Khumbu Himalaya, Nepal: self-supported alpine-style attempt from north side
Red Rocks, NV: one-day onsight link-up of Cloud Tower, (original route) Levitation 29, (to top of crux pitch) Epinephrine. (topped out route)
Eldorado Canyon, CO: The Evictor, 12+r redpoint.
Trango Tower, Pakistan: "In a day" alpine style attempt. Led first 12 pitches of Eternal Flame free in 3.5 hours, onsighting to 5.12a at 18,000 ft.
Meru East Face, India: "New high point on the most tried and failed upon face in the Himalaya, 20 day epic with Conrad Anker and Jimmy Chin"
When did you first start climbing?
I started like most kids these days, in the gym, but I was always climbing trees and whatever I could get my hands and feet on.
What do you most enjoy about your sport?
The vibrant community and the places/cultures it in the world it connects me to.
How do you define success?
As far as expedition climbing goes, if you come back alive, as friends and with a good story to tell, that is more successful than a summit.
What are you most proud of, either in life, your sport or both?
Being able to integrate into most expedition team dynamics for long intense trips…as a climber but also a storyteller.
Who are your heroes?
Gandhi, Alan Watts, Terrence Malick
What inspires you?
Beautiful cultural and physical landscapes
What are your hobbies outside of your sport?
Mountain biking, skiing, filmmaking, art.
What's your guilty pleasure?
Coffee, instagram, movies
What are your hidden talents?
Ping pong, sideways slack lining
Tell us about your most favorite place in the world:
The Nepal Himalaya and the people there.
As a child, what did you want to be when you grew up?
I never had a preconceived notion and still try not to force my "career" in any one direction.
If you could change one thing about yourself, what would it be, and why?
I'd be a little more assertive and communicative in situations where usually I'd stay quiet to avoid conflict.
Tell us about a time in your life when you have been scared:
Atop the Shark's Fin of Meru with Jimmy Chin and Conrad Anker. Were were 17 days on the wall with seven days of food and coming really close the line….
Describe your perfect day:
Could be a day like I used to live in Joshua Tree during my dirt bag era. Start the day with a soloing circuit around the campground. Then come back to camp for coffee and breakfast and to grab ropes and gear to go cragging with friends. This is naturally all followed up by a big camp dinner and festivities by the fire.
How would your friends describe you?
Quiet, reserved, creative….
Photograph: Jimmy Chin