In August 2019, BD Design Engineer Brent Barghahn and BD Ambassador Nik Berry, along with fellow climbers Eric Bissell and Dave Allfrey went on a thirty-day mission to a remote area of Kyrgyzstan near Pik Slesova. Their goal was to develop and establish the first free ascent on the northwest face of the peak, a 950-meter route they named "The American Way" (VI 5.13a.)
Thirty days from start to finish seemed reasonable for the objective, but after a slew of delayed flights, the clock was ticking. Upon arrival in Kyrgyzstan, the team discovered their original 1.5-day approach trek had been rerouted due to deteriorating relationships between the people of Kyrgyzstan and Tajikistan and a significantly increased level of danger. Their new route would now take three days with 27,000 feet of elevation change. With all the setbacks, the team had eighteen days to complete their objective.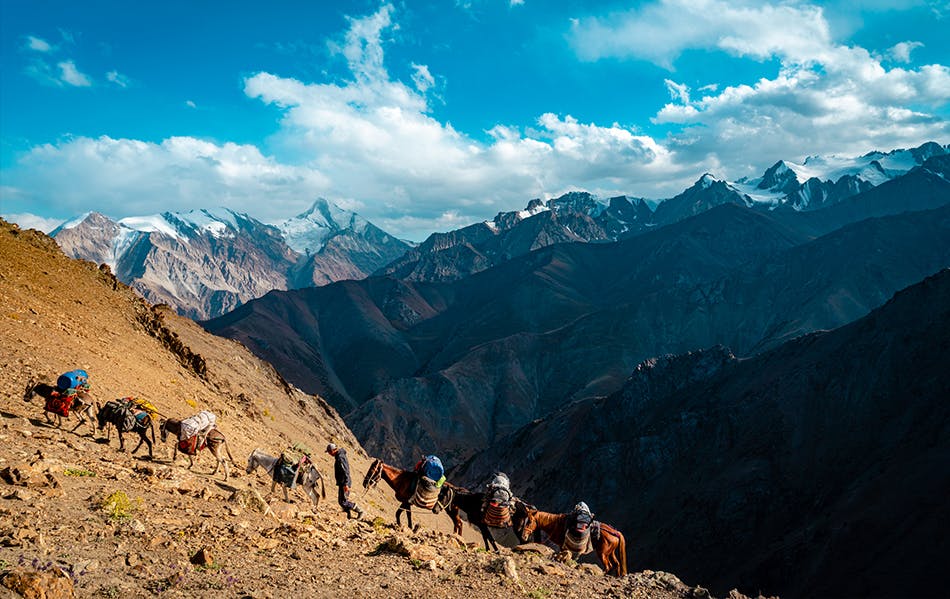 PERSPECTIVE: Q&A WITH BD DESIGN ENGINEER BRENT BARGHAHN 
WHY KYRGYZSTAN?
The long granite routes of Kyrgyzstan had actually never been on my radar. I never expected to go on an "expedition" being fairly risk-averse, and not enjoying the objective dangers of big mountain terrain. However, I was easily convinced on the climbing when Nik described sunny weather similar to Yosemite in November and promised that we wouldn't even touch snow!
HOW DID YOU GET INVOLVED IN THIS TRIP?
I was asked to be the team's fourth climber about a month before the trip. The three others had a clear goal of freeing this specific route and felt an additional person would help with the big wall toiling. I knew Nik, Eric and Dave from overlapping at various climbing destinations. My name luckily came to their mind as a motivated, younger big wall free climber with new routing experience. I was specifically on their radar as having a varied skill set, with contrasting ticks ranging from rope solo'ing the Nose-In-A-Day to recently getting the second ascent of Nik's 14a vertical granite mega line, Interrobang, in Lone Peak Cirque—an alpine area above Salt Lake City. I bought a plane ticket a few days after being invited, quickly solving all the logistical hurdles of being away for a month. I didn't want to miss a chance to team up with some of the premier climbers of today in my favorite genre.
WHAT WERE YOUR INITIAL IMPRESSIONS OF THE ROUTE THAT NIK HAD CHOSEN?
My initial impressions were that the face looked beautiful, but I had my doubts about the task being realistic. Nik had almost no information on the objective other than looking up at the line in-person on his last trip, seven years prior. We literally showed up with zero topos, and only a one-page photo of the wall with colored lines of routes, fully trusting Nik's judgement ... and all the route names were in Russian in the photo! Once we arrived, a little investigation from the ground with binoculars allowed us to piece together what was the free line up the major weakness, following an original aid route.
WHAT WAS THE PROCESS LIKE FOR ESTABLISHING THE ROUTE AND HOW DID YOU WORK TOGETHER AS A TEAM OF FOUR?
We took on the route in two teams of two, alternating tasks each day. Our free line mostly follows an existing aid route. The upper team would repeat the established aid pitches, fixing static ropes down for the lower team to swing around on. The lower team was then scrubbing holds, trying variations, and generally prepping the free climbing. As the bottom, steeper half of the wall was prepped, we began redpointing the pitches in order over a few days, then committing to a multi-day push on the wall to establish the easier upper half.
HOW WERE YOU RECEIVED AS AMERICANS TRAVELING IN KYRGYZSTAN, ESPECIALLY IN SUCH A REMOTE PART OF THE COUNTRY?
Everyone was amazingly friendly. The whole region did not feel militarized at all. We felt safe and welcomed, especially by the nomadic people who live in the mountains along our approach, and even under the faces we were climbing.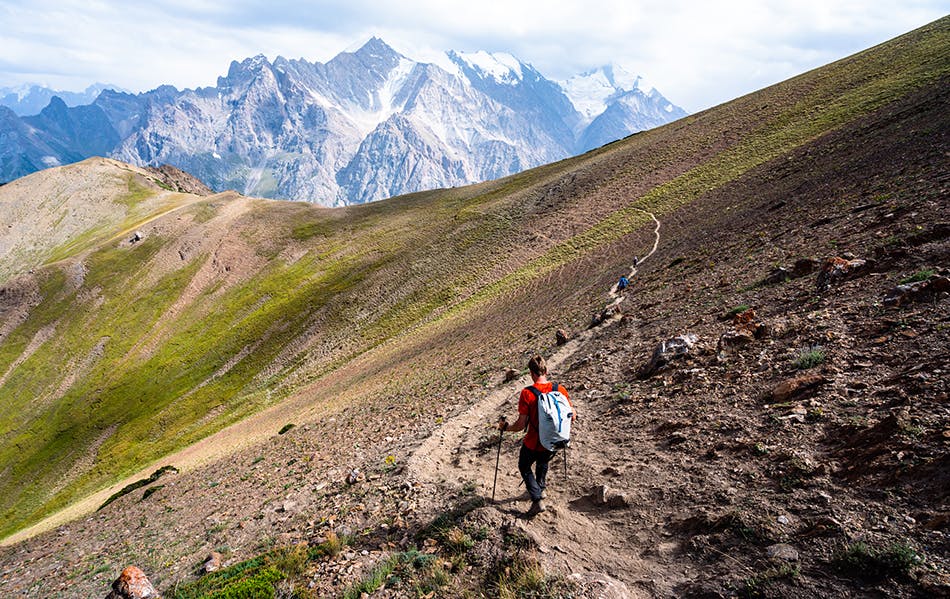 WHAT WAS THE MOST CHALLENGING PART OF THE TRIP FOR YOU?
I found the most challenging part to be the down time at camp, yet, at the same time, it was the most rewarding of the experience. With so much time resting at camp or waiting out bad weather, we became one with our boredom. I read a few books and journaled a bit. This was a welcomed detox from the bustle of urban life.
WHAT WAS THE HIGHLIGHT OF THE TRIP FOR YOU?
The coolest aspect of the trip was our team free ascent—sharing the task of redpointing each pitch with a group of good friends. It was unrealistic from a time standpoint for each of us to redpoint every pitch, even though it was within our individual climbing abilities. Instead, we decided to only have one person send each pitch but do them in order from the ground-up. Amazingly, we all pulled off our respective pitches on the first try of our send push!
WHAT WAS YOUR BIGGEST TAKEAWAY FROM THE EXPERIENCE?
One big takeaway was the value of having a dialed team for huge objectives like this. The on-route work all went incredibly smooth and we were able to build off each other's expertise. Nik, Dave and Eric are all experienced El Cap climbers that I look up to. This trip was a big step for me in affirming my technical skill and has inspired me to aim a little bit higher with my climbing goals in the future.
WHERE TO NEXT?
With my schedule limitations of working a fulltime job, I'll be climbing big wall free routes closer to home, mainly in Zion and on El Cap.
PERSPECTIVE: BD AMBASSADOR NIK BERRY SHARES HIS SIDE OF THE STORY
We were stressed since our timeframe just went from reasonable to unreasonable. 
After a week of travel, we headed to the base of Pik Slesova. The wind howled through us and left us all huddled around each other, shivering what remained of our energy away. Dave aid climbed the first two pitches. It is always a beautiful thing watching Dave in his element. Much like a gifted off-width climber makes groveling look graceful, Dave makes aid climbing look elegant. 
Eric Bissell and I swung around on the fixed ropes finding the free climbing variation since the rock was rotten and blank on the second pitch. After the first day we had figured out four pitches and bolted two of them. We felt like it was a huge success and team spirit was high!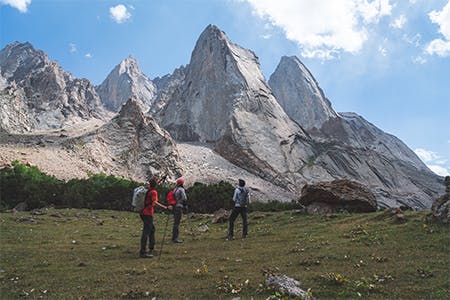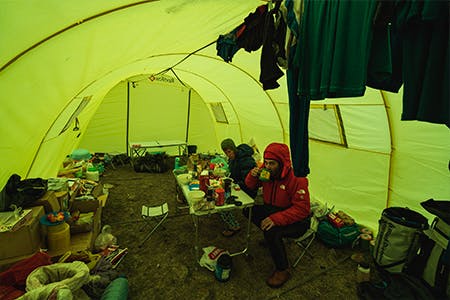 I got struck down with dysentery and spent the next day in the pain cave, while the rest of the team put in work figuring out the upper pitches. When Dave, Eric and Brent got down, it was great to hear them say that all the features linked together and the climbing was incredible. This news boosted my morale and I felt much better by the time I went to bed. 
There was a sustained headwall to the right and we knew it was the proudest line. Eric moved to explore this option but was shut down 20 feet into the traverse. We were forced to the left, which led into a gradually widening crack. I cleaned and bolted this 5.12b pitch, while Eric and Dave climbed the pitch above. 
After a rest day, Brent and I had a climbing day where we climbed the first four pitches swapping leads. These pitches were 5.11+, 5.13a, 5.12d and 5.12d.  
The first four pitches of "The American Way" are technical face climbing, which Brent and I enjoyed thoroughly. The following three pitches change dramatically to wide cracks. Eric and Dave took these leads and I graciously allowed it.
Pitch five we facetiously named "The Fireplace," due to a Google mistranslation of "chimney." Pitch seven is named "Kyrgy Monster" after the Monster Offwidth on "Freerider." Eric led this pitch and it was, without a doubt, the proudest lead of the trip. He grunted through the offwidth, then shifted gears and powered through the boulder problem exit. We all yelled and cheered as if we were at the base of the Project Wall in Rifle.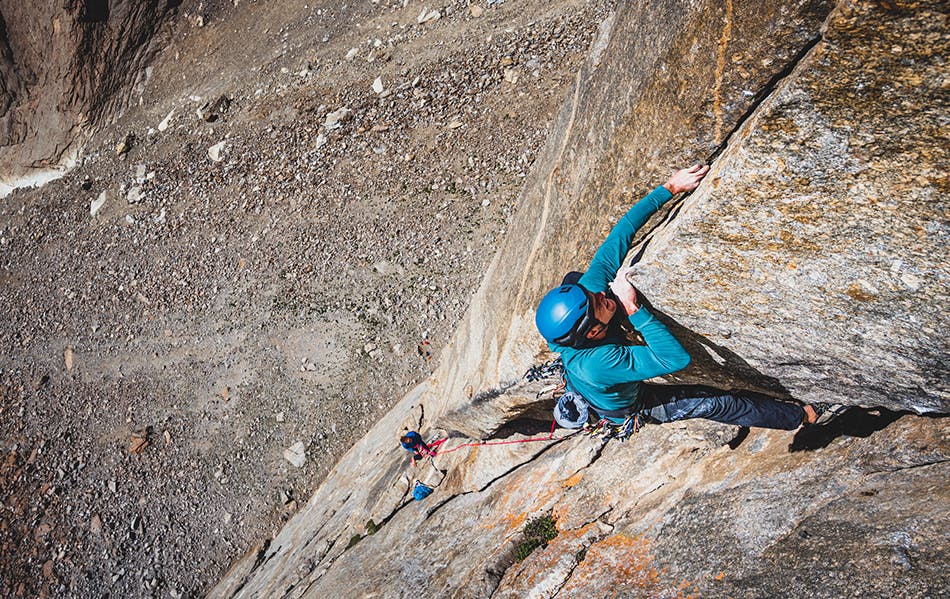 After two rest days due to cold, snowy weather, we returned for our summit bid! We climbed two pitches to a ledge we named "White Block Bivy." Dave and Eric quested up unknown terrain, trying to link the last large 'question mark' of the route. Eric encountered a huge flake that had shifted out from the face. This was obviously unsafe to pass. Eric then lowered and looked at a down climb to the right that appeared to have holds for free climbing. Light faded so we called it a day. The next morning Eric and I went back up to our high point. We bolted and cleaned the down-climb then Eric quickly deciphered the pitch at 5.12d. 
I took over and began climbing up unknown terrain. After two rope stretching pitches of 5.11 and 5.12a, Brent took over. All the features seemed to connect and things were going smoothly, but clouds were building and ground-up onsight climbing can be slow. At 6:30 Eric took over and we were all on edge. It's very difficult to discern features in the dark and we still had 750 feet of climbing to reach the summit. Our anxiety eased as Eric romped up two rope stretching pitches with obvious crack systems and ample gear. It was dark and snowing at this point, but we still had one pitch to tag the true summit. It went easily at 5.6 and we all basked in the glory of putting up an incredible route with great friends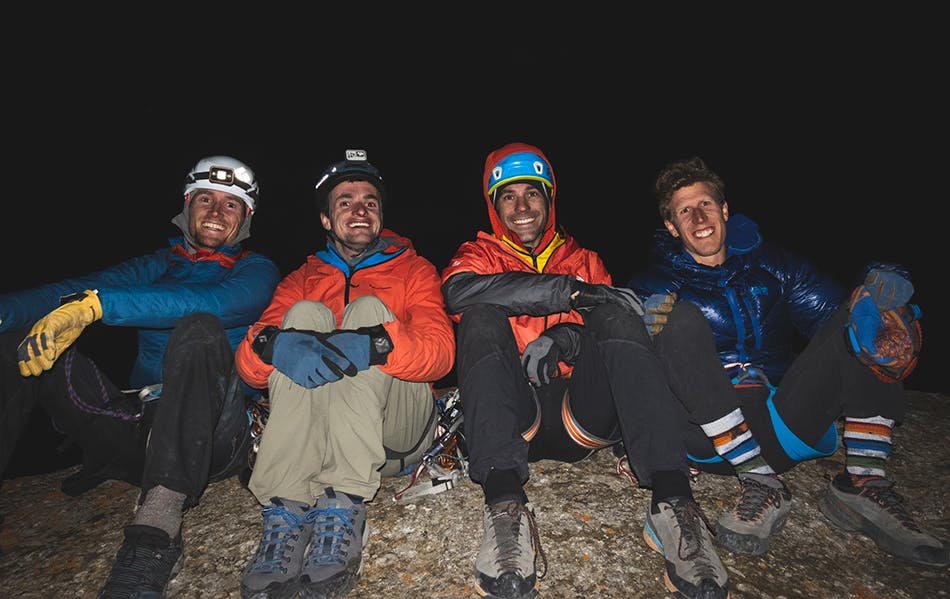 At 12 a.m. we arrived back at "White Block Bivy." We all enjoyed some well-deserved chili mac and Swedish fish with massive grins on our faces. 
This route has been in the back of my head since 2012, when Madaleine Sorkin and I went up the first two pitches. We quickly realized our 10 bolts wouldn't be sufficient to put up this beautiful line. I feel very fortunate to have had the opportunity to return seven years later with an All-Star team.
We officially made the first free ascent of the northwest face of Pik Slesova, naming the route, "The American Way" (VI 5.13a).