Black Diamond Equipment Issues Voluntary Recall for its Recon LT Avalanche Transceiver

You are currently on the EU site, click here to switch to the US site.

March 23, 2023 -- Black Diamond Equipment® is issuing a voluntary recall for its Recon LT avalanche transceiver to carry out a required firmware update.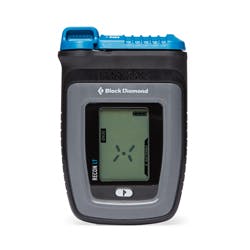 The Recon LT avalanche transceiver may unexpectedly enter search mode, despite the rotary switch remaining in its send position. This malfunction can be resolved if users update their firmware to version v1.3 or later. 

Consumers who own the Black Diamond Recon LT avalanche transceiver should immediately stop using the device and follow one of the options below:
Update your device by downloading the Pieps App for iOS or Android devices, connect your transceiver via Bluetooth, and then follow a few on-screen prompts. Click HERE for instructions to update via the PIEPS app.
If preferred, send your device to Black Diamond's service center to perform the update free of charge. File a claim HERE to send to a service center.
If preferred, Black Diamond will offer a full refund to Recon LT avalanche transceiver customers. To file a claim click HERE.


Affected Products 

All Recon LT avalanche transceivers manufactured and sold between May 2021 and March 2023 and having serial numbers with the first four digits between the range of 2119-2239 are addressed with this voluntary recall. The Serial number can be identified by connecting your beacon to the PIEPS app via Bluetooth.

This transceiver was sold as a standalone unit and as part of an avalanche safety set. The SKU's, UPC's and Descriptions of these products are below:
| SKU | UPC | Style Description |
| --- | --- | --- |
| BD1510070000ALL1 | 793661495475 | BD RECON LT BEACON |
| BD1510100000ALL1 | 793661512837 | BD ALPINE AVY SAFETY SET |
| BD1510110000ALL1 | 793661518532 | BD RECON LT AVY SAFETY SET |
Required Actions

Consumers should immediately stop using the Black Diamond Recon LT avalanche transceiver. The firmware for the Recon LT avalanche transceivers must be updated through the Pieps App which can be downloaded for free on your IOS or Android device. Alternatively, please contact Black Diamond for a full refund. 
For further information about the Black Diamond Equipment voluntary recall for its Recon LT avalanche transceiver, contact Black Diamond at +43 1 2537 459 333 from 9 a.m. to 5 p.m. CET Monday through Friday, or via email at warranty@blackdiamond.eu.
Frequently Asked Questions