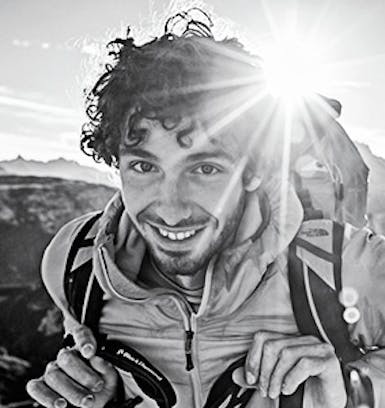 Jacopo was born in Merano, South Tyrol, but grew up in Bolzano. He first wore a pair of climbing shoes at the age of 11, when he participated in a youth climbing course. He immediately fell in love with it and from that moment climbing has been an essential part of his life. He dedicated the following years to training as hard as possible, and the hard work was rewarded with winning the Italian Youth Championship and the Italian Youth Cup in Lead and Boulder. Jacopo was selected for the Italian Youth Team and for the Italian National Team and started to travel worldwide to compete.
While continuing to develop his skills in competition climbing, he began to travel the world to climb and to discover for himself the different types and styles of climbing, looking for the best boulders or sport routes. He began to appreciate the social and cultural aspect of every trip, and to look for the best place or line, instead of just for the hardest. In the last few years he has grown more inspired and attracted by the mountains, so he is now focused on moving from sport climbing  to trad climbing and alpinism. His dream is to travel the world climbing on the most revered big walls and discovering new unclimbed faces. 
Discipline: Climbing… and all its different aspects!
Hometown: Bolzano, South Tyrol
Currently Living: Bludenz, Austria
Height:176 cm
Career Highlights: 
Sport climbing up to 9a redpoint and 8b+ onsight; Bouldering up to 8B/+; Trad up to E9/E10; Multipitch up to 8b+ redpoint and 8a+ onsight on gear; Ice up to WI6+; Italian Bouldering Champion, 2010
When did you first start climbing/skiing?
I started climbing when I was 10 years old, thanks to a climbing course in the little gym of my hometown. It has been love at first sight!
What do you most enjoy about your sport?
I always get to visit new countries and meet/discover a lot of new people and cultures. I feel more mature every time I come back from a trip.
How do you define success?
When you reached the goal you set in your mind by fair means, and you enjoy the process.
What are you most proud of, either in life, your sport or both?
To have taken the decision to follow my dreams, leaving what I call "the common life in the system".
Who are your heroes?
Everybody who keeps on inspiring me by pushing his/her personal limits, and keeps on following his/her dreams…without worry about age or what society thinks.
What are your hobbies outside of your sport?
Photography, traveling, skiing, running, routesetting.
Which are your guilty pleasures?
Chocolate, bread and coffee.
What are your hidden talents?
Hard question…I guess I still have to discover them.
Tell us about your most favorite place in the world:
South Africa! I love that country and its colors.
As a child, what did you want to be when you grew up?
Helicopter pilot!
If you could change one thing about yourself, what would it be, and why?
To be able to focus on one just goal at time. My head is often already on the next project when I'm still trying the one before.
Describe your perfect "relaxing" day:
Good friends! Wake up (not too early) in a a nice place in my van (which I still don't have ;) ), have a long breakfast in the sun, go climbing until it's dark, hike back with headlamps, cook dinner and hang out around a camp fire. Repeat.
How would your friends describe you?
I guess stubborn and helpful.