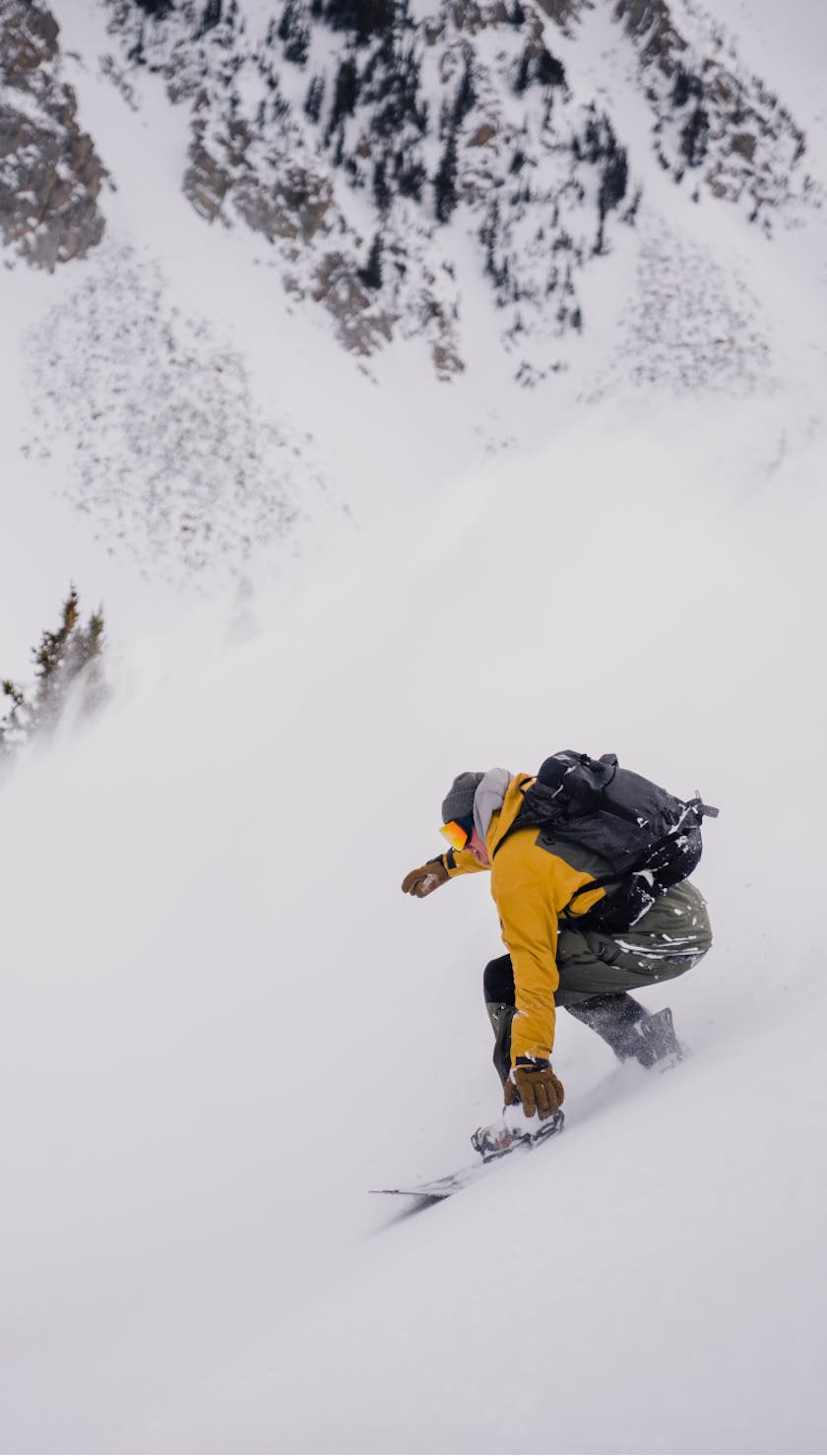 Photographer: Christian Adam
Athlete: Bjorn Leines
BD X Cardiff Co-Lab Splitboard
A RESPONSIVE BIG-MOUNTAIN CHARGER THAT DWELLS IN THE STEEPEST, MOST RUGGED TERRAIN OUT THERE.
BD X Cardiff Co-Lab Splitboard
Item # BD116001
BD X Cardiff Co-Lab Splitboard Product Details
Five years of testing and refinement, ten different iterations, and an untold number of days, mountain ranges, and descents. The Goat—a big-mountain charger that pro rider Bjorn Leines called the best board he's ever ridden—is the original Cardiff board design and is now better than ever. The Black Diamond x Cardiff Co-lab is a durable splitboard that can engage on icy sidehills, make surfy, high-speed turns, and take you up and down big, intimidating lines the world over. Original artwork by Kyson Dana, portraying the fearless mountain denizen who inspired this board.
BD X Cardiff Co-Lab Splitboard Features
PROcarbon layup uses a blend of uni-directional and triaxial 100% carbon fiber above and below the core for super light, responsive performance
Patent-pending HALFcamber™️ design (with camber underfoot on 60% of the deck)
RADiCAL SIDECUT™️ puts more edge on snow while touring and descending, while still maintaining premium flotation on deep lines
BOARDERpatrol™️ technology uses poplar stringer which fuses with the UNIwall seamless urethane sidewall to reinforce the edge and provide an incredibly damp ride
ENDUROcap™️ scratch-resistant dimpled topsheet for maximum performance and protection
Black graphite-infused sintered RACEbase™️ for maximized glide and easy repair
SWALEtail™️ recurved tails accommodate a variety of skin tail-clips, even those designed for skis
BIloba™️ chamfered inner edges of the split ski at both the tip and tail allow for hood free touring and damage free connection
Tech Specs
Weight

[150 cm] 2.53 kg (5.58 lb)
[154 cm] 2.70 kg (5.95 lb)
[158 cm] 2.84 kg (6.25 lb)
[162 cm] 2.97 kg (6.54 lb)
[166 cm] 3.08 kg (6.79 lb)


Turn Radius

[150 cm] 10.6m
[154 cm] 10.8m
[158 cm] 10.5m
[162 cm] 11m
[166 cm] 11.5m