On the crisp morning of August 28, BD Athlete Kyle Richardson set a new tempo on the grueling 8.8 miles and 4,500 vertical feet of Longs Peak. 
 "I even wrote the word Tempo on my arm to remind myself that when things got hard and uncomfortable, there's nothing else to do but keep pushing the tempo!" says Kyle. 
 Riffing on his background as a schooled jazz drummer and his passion for high mountain running, the rhythm Kyle chose to lay down that morning is FAST. And we're talking Art Blakey jamming bebop with Charlie Parker and Dizzy Gillespie in the late 1940's kinda fast. Needless to say, on his first serious effort, Kyle finished in a mere 1:55:40 (roundtrip), setting the new FKT of a coveted mountain running testpiece.  
"I'm all about finding the rhythm in things," says Kyle, who's featured in a new BD film called Tempo, which premiers next month at 5 Point film festival. (Check out the trailer above.)
We caught up with Kyle to hear more about what it takes to run a 14,000-foot mountain like Longs in less than two hours, and to learn why going hard in the mountains is something he's so passionate about.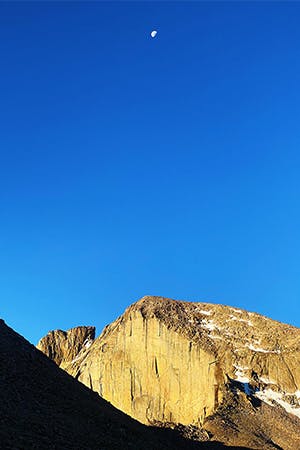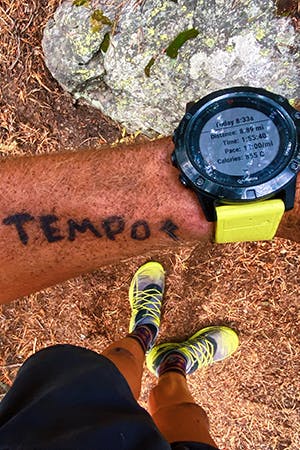 We caught up with Kyle to hear more about what it takes to run a 14,000-foot mountain like Longs in less than two hours, and to learn why going hard in the mountains is something he's so passionate about.
Q & A:
HAS THE FKT OF LONGS PEAK ALWAYS BEEN AN OBJECTIVE OF YOURS? WHAT MADE YOU DECIDE TO GO FOR IT THIS SUMMER?
No, to be honest. When I first started exploring Longs Peak 6 years ago, the thought that someone had run up and down in under 2 hours was crazy to me. I honestly wasn't at a point in my athletic career to even consider that time as a possibility. My drive for going up and down the mountain was rooted in exploration and adventure. I loved being up there and just wanted to learn the mountain and its stories. As the years went by, I started to think about the record more, but again never really took it seriously until this summer.
With the pandemic this year and all of my races being cancelled, I figured it would be a good summer to buckle down and focus more on pure mountain running and less on technical adventures and long days in the mountains. I focused on getting up as high as possible and logging a bunch of miles running up and down 14ers, and more specifically Longs Peak. At the start of summer, I set an arbitrary goal of just running my best effort on the hill. Whatever that be. Set a benchmark for yourself and then go from there. Andy Anderson is a legend in the mountain running world and I doubted that I could even test myself with an athlete of that caliber. I just wanted to see what I could run. I decided to just go for it after some encouragement from my buddy and adventure partner Anton Krupicka. He quoted Wayne Gretzky and said, "You miss 100% of the shots you don't take", so I set my eyes on a date and locked in the effort.
LET'S TALK LOGISTICS REALLY QUICK. WHAT IS THE ROUTE FOR THIS FKT AND PREVIOUS FKT'S?
The details. One of the reasons I love Longs Peak so much is that there are so many different and unique ways up the hill. While the Keyhole route is the most known (and standard hiker's trail)—Longs has many secrets and challenges. Ranging from 4th class to 5.14. This variety makes it different from pretty much different any other 14,000ft peak in Colorado.
The basic stats:
8.8 miles and 4,547 ft of elevation.
The route I used when setting the FKT was the North Face / Cables Route.
Here's a brief history of the route fromSummitpost.org.
WHAT WAS YOUR PREPARATION FOR SUCH A FULL-ON EFFORT?
My preparation for an effort like this started with just logging lots of miles in the Colorado high country. I spent more days above treeline, running up to 14,000ft, than any other year of my life. I focused on uphill running, but also getting the legs used to technical descending and lots of quad pounding. Might sound more complicated than the reality. I simply just tried to go running in the mountains as much as possible.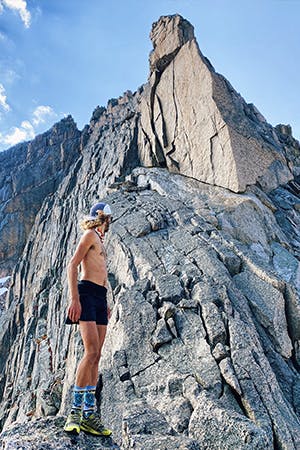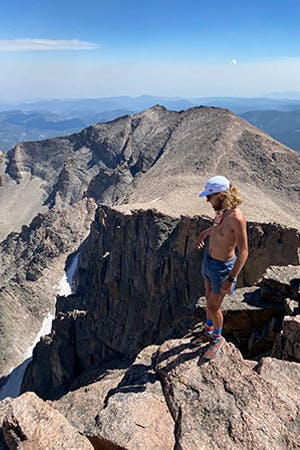 WAS THIS YOUR FIRST SERIOUS FKT EFFORT ON LONGS PEAK?
Yes. I had some previous semi-quick ascent and descent times on separate occasions to gauge my fitness, but no real serious round-trip efforts.
WHAT DO YOU KNOW ABOUT THE PREVIOUS RECORD? DO YOU KNOW ANDY ANDERSON [PREVIOUS RECORD HOLDER] AND HAVE YOU EVER RUN WITH HIM? 
I thought his time was untouchable. Seriously. Andy was a Longs Peak ranger and knew the mountain like the back of his hand. He lived up there. That was his place. Chris Reveley's time of 2hrs and 4mins was set in 1978 and stood for 23 years, and then Andy came along and lowered the time to 2hrs 2mins in 2011. Andy then came back the next year and shattered his own time in 2012 lowering it 1hr 56mins. After setting the record on Longs, two weeks later Andy went to the Grand Teton and beat Kiliian Jornet's record by a minute. Andy had proven at that time he was one of the best mountain runners in the world.
I know Andy virtually. We have exchanged messages but have never met in person or gone for a run. I'm hoping to change that in 2021.
HAVE YOU EVER SPOKEN TO ANDY ABOUT WHAT A NEW FKT OF LONGS WOULD TAKE?
Andy was beyond supportive. He was so excited and happy for me. He is the cream of the crop and it was an honor when he sent me those messages. We never really discussed what an FKT would take on Longs. We went back and forth to try and discuss which was harder … a fast uphill or downhill. Of course, Andy still holds the ascent record at 1hr 14mins 8s (while I clocked a 1hr 17m 53s ascent time) and he explained that running uphill is much easier. I disagree, haha! 
HOW DID YOU CHOOSE THE DAY TO GO FOR IT? 
The window for going fast on Longs Peak is short. There is basically a 2 to 3-week window in August where all the snow is gone and the "Cables" section is dry (the 5.4 scrambling near the top). If you wait too long, things could start to ice up and slow you down.
Colorado dealt with some historic forest fires this summer and created a pretty unhealthy breathing environment. This factored into my indecisiveness about going for the FKT. I had gone up there two weeks prior and the smoke was thick and gnarly. It made me feel pretty awful and the thought of getting your heart racing in that environment made it tough to commit. Luckily, the winds shifted and a bit of cold front blew in two days before I planned to make an attempt. The smoke had cleared and everything worked out.
The conditions up there were perfect when I went for it. It had rained the night before, which made the trail tacky and fast. It was cool and calm, ideal for a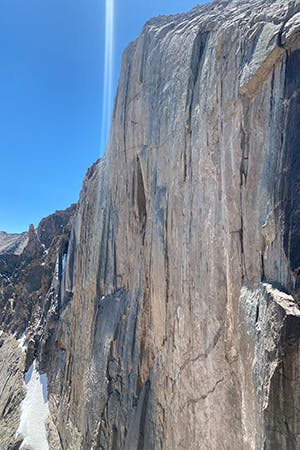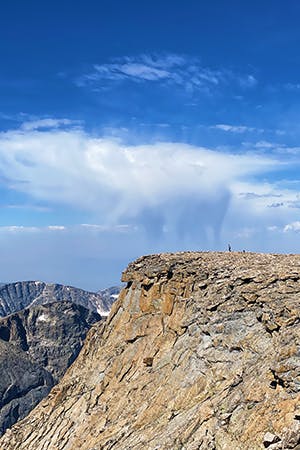 FOR THOSE WHO HAVE NEVER TRIED ANYTHING LIKE THIS, WHAT DOES AN EFFORT LIKE THIS TAKE? ARE YOU PUSHING YOURSELF AS HARD AS POSSIBLE RIGHT FROM THE BEGINNING? ARE THERE MOMENTS WHEN YOU CAN "RELAX?"
Right from the start it's pretty much full gas. I knew it would be tough to match Andy's ascent time, so I really had to give it everything right from the beginning. There isn't much time to relax. Running uphill requires an engine and is quite painful. Pushing up against what you can do and sustaining that for over an hour is hard! The downhill requires much more finesse and agility, which doesn't tax the lungs like a hard uphill does. The downhill requires laser sharp focus. Running down from the top of Longs is highly technical. There basically isn't a step on the mountain that doesn't have consequences. You are constantly picking your way through the boulders and talus, dodging trees and branches, and not to mention the two pitches of 5th class downclimbing near the top. You have to be on it mentally the entire time.
ON THIS ROUTE, WHICH INVOLVES VARIED STYLES FROM PURE RUNNING TO NEAR VERTICAL SCRAMBLING, WHAT ARE YOUR USUAL STRENGTHS AND WEAKNESSES?
I'm fast on the uphills, but not THE quickest. I think when I can piece together a fast ascent PLUS a fast descent … that is my strength. I feel like I'm at my best in the half hour to 2-hour effort realm. I struggle more with the longer stuff. Joe G [BD Athlete Joe Grant] can attest to this. Trying to keep up with him on epic long tours through the hills is extremely difficult. It's a different kind of challenge that I'm looking forward to exploring in the years to come.
ARE THERE PLACES WHERE YOU HAVE TO ESSENTIALLY "SOLO" ON LONGS IF YOU'RE MOVING THIS FAST?
Definitely. There is no way to run a time like this if you bring a rope and pitch out the crux. It's just a fact. The cables can be very serious, especially if the conditions aren't good. It's almost always wet or icy 11 months out of the year. So, you need to be careful and have the part solid before trying to go fast.
DID YOU HAVE ANY SETBACKS DURING THE EFFORT?
The only real hiccups I had were two falls on the descent. Both of which happened in spots where there weren't a lot of hazards. Sure, I could have rolled an ankle or broken a bone or smashed my face … but I popped right back up and kept hammering it!
DID THE FALLS SLOW YOU DOWN?
Andy Anderson told me that if you aren't falling on the way down, you aren't going hard enough! These weren't huge falls for me and I'm sure I only lost a handful of seconds. In the moment though, they really suck your momentum … or sometimes enhance it! The first fall I had was while sidehilling down a grassy slope. A foot slipped and I went for a barrel roll and popped right back up, this fall might of actually helped me get down the hill quicker! The second fall was down in the woods. I caught a toe and went slipping sliding down into the pine needles. This was in a super tight section of trees, but luckily didn't hit anything and again was able to pop right back up.
HOW DID IT FEEL TO HIT STOP ON YOUR WATCH AT THE END?
Ah, so good! So satisfying and surprised. I immediately collapsed onto the ground and laid there for a couple minutes. I was in disbelief honestly. I couldn't believe I had closed the gap so much on the descent and even put time on the record. There were a bunch of hikers around asking what was up and wondering if I was okay. Sort of hilarious actually. 
YOU'RE A MUSICIAN AND DRUMMER. WHEN YOU'RE PUSHING THIS HARD, DO YOU HAVE A PARTICULAR SONG OR BEAT IN YOUR HEAD? 
My theme for the day was tempo! I knew I had to keep pushing the tempo the entire outing to really pull off something special. I'm all about finding the rhythm in things. Listening to my footsteps and heartbeat—latching onto the movement and propelling myself up and down the hill. I even wrote the word Tempo on my arm to remind myself that when things got hard and uncomfortable, there's nothing else to do but keep pushing the tempo! 
YOU MENTION IN YOUR BLOG THAT YOU WERE HAVING "FUN" DURING THE EFFORT. LOOKING BACK, DO YOU STILL FEEL LIKE YOU WERE ABLE TO ENJOY THE EXPERIENCE DURING THE MOMENT? 
Totally. It was so much fun! When you are so close to the edge of what you can do, giving something your best possible shot, the outcome is always rewarding regardless of whether you got the record or not. There is something extremely satisfying about laying it all on the line and seeing what you can do. Giving something your best shot is so much fun! Everything happened to click up there and I was able to run a fast time. I've been up Longs Peak 16 times this year and I have memories to take away from each of those outings. It's not always about going fast, but it's super fun to test yourself every now and again. When I'm going as fast as I can, I tap into a state of flow that is hard for me to reach in any other way. My physical and emotional state is right at the surface and I feel like I'm in 100% complete control and present with my surroundings.
IS THAT WHY FKT'S MOTIVATE YOU?
My draw towards going fast in the mountains is rooted in the connection with the landscape. Going fast requires intimate knowledge and respect for the place. It requires practice and dedication. The love I have for the mountains and being outside is my foundation and will always be what gets me out the door.
I love setting goals for myself, but I know that it will require focusing on the process and being present with the land. I think often times we overlook the process and quantify our experiences by whether we succeeded or failed. I find I learn the most about myself during the process. I grow when I spend the time learning the details of the mountains and just being out there because that is what makes me happy.
It is motivating to see what people have done before me. I think it's human nature to be curious about our own potential. I'm always curious about how fast I can do something, but that has never been my sole motivator. I think going after something like an FKT or objective sets the stage for you to bring out your best self. Going for an objective is an opportunity for you to set the new standard and style. It is an opportunity for you to inject your own creativity into the world. How I run up Longs Peak may differ from how other people do it. There are many ways to get up the mountain. What can you bring to the table? What is compelling to you? Grab those ideas and run with them.