In the iconic mountain town of Jackson Hole, Wyoming, a group of motivated high school teachers have started a movement that's shifting the paradigm for avalanche education. Over the last few years, they've been teaching an avalanche awareness class that leaves students with the knowledge needed to thrive in the intermountain west.
On a Wednesday morning, Trevor Deighton—an Exum Mountain Guide, American Avalanche Institute Instructor, and science teacher at the Jackson Hole High School—stepped into his bindings and let his skis glide through the crystalline snow covering the Teton mountains. He was making turns before work in the pre-dawn light, though he wasn't the only backcountry skier on the mountain. As he descended down through the pines and powder, other headlamps could be seen cutting through the dark.
Deighton and his partner reached the parking lot, and as they racked their skis, a few of the other headlamps came into view, and trickled down into the lot.
Turns out that Deighton wasn't the only one heading to school, because the other five backcountry skiers on the mountain that morning were students.
"Sixty percent of high school seniors and 60 percent of eighth graders are going into uncontrolled avalanche terrain," says Deighton of the student body in Jackson Hole.
"My job as an educator is to help students be career and life ready—and career and life ready in Jackson Hole, Wyoming, and in the intermountain west is having an understanding of avalanches."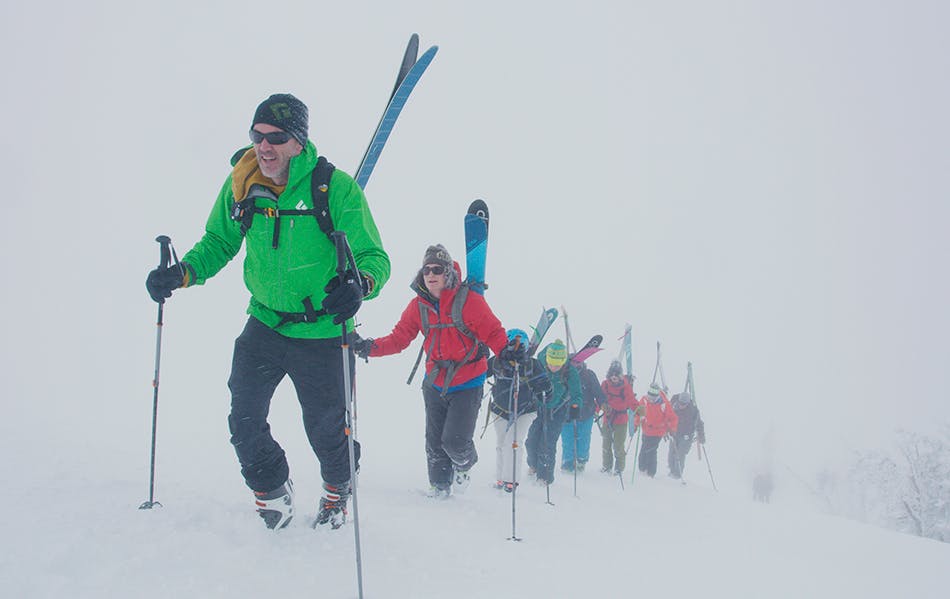 As Deighton explains, whether you're a backcountry user or not, avalanches are part of life if you grow up in the mountains. In fact, you can't drive to Jackson from anywhere else in the world without passing through avy paths. That's why he and the faculty of Jackson High have created a cutting-edge avalanche education program.
"Every student that graduates from Jackson Hole high school gets the level 1 curriculum—the classroom portion of it," says Jackson Hole High physics teacher and Exum Guide Garrick Hart. "And any kid who would like to, for free, can complete the field work for a certified level one course through the American Avalanche Institute."
Since the program's inception, Jackson Hole High School has had over 2000 students complete an avalanche awareness curriculum. And over 300 students have gone on to complete a full level one avalanche course.
"These programs are the legacy programs," says Sarah Carpenter, an instructor for the American Avalanche Institute. "This is where we have the potential to have the biggest impact."