Built from hand-peeled timbers and adobe brick, Rolando Garibotti's small cabin sits on a main street in the wind-swept tourist outpost of El Chaltén, Argentina. The house's sturdy frame is a necessity in these parts—at nearly 50° south, El Chaltén sits in a sort of atmospheric line of fire, where ocean-bound storms circle the globe unimpeded by land, gathering momentum before smashing into the tip of South America. Near the door, a small, hand-carved sign reads "World's Worst Weather," but inside, it's warm and serene, and a kettle on the stove boils water for maté.
This house has long been a sort of informational stronghold, where alpinists from around the world seek council on everything from weather forecasts to what gear to bring on a particular climb. There are countless unknowns for the many who come looking for adventure in Patagonia, and Garibotti, known almost universally as Rolo, likely knows these mountains better than anyone alive.
"For many years this house had a revolving door. Part of the deal of writing the guidebook was to get some peace and quiet in here," he says with a smile.
The book he's referencing is Patagonia Vertical, the first proper climbing guide to the Chaltén massif that he published with his girlfriend, Dörte Pietron, in 2012. Over 20 years of experience in these mountains and a deep interest in climbing history evolved into the website Pataclimb.com, an online compendium of route info that formed the foundation for Patagonia VerticalBut publishing a highly detailed, full-color guidebook has done little to stem the incoming tide of climbers, both here in Rolo's kitchen and in the mountains of Patagonia. It's a curious move for a man who has dedicated his life to the pursuit of adventure. But one look at the granite peaks out his window, and it's not hard to imagine why he'd want to share this place.
"When I have somebody very inexperienced walk into this house and ask for information, I always have to take it with care, because it might be myself at 15 about to have an experience that is very important to their lives."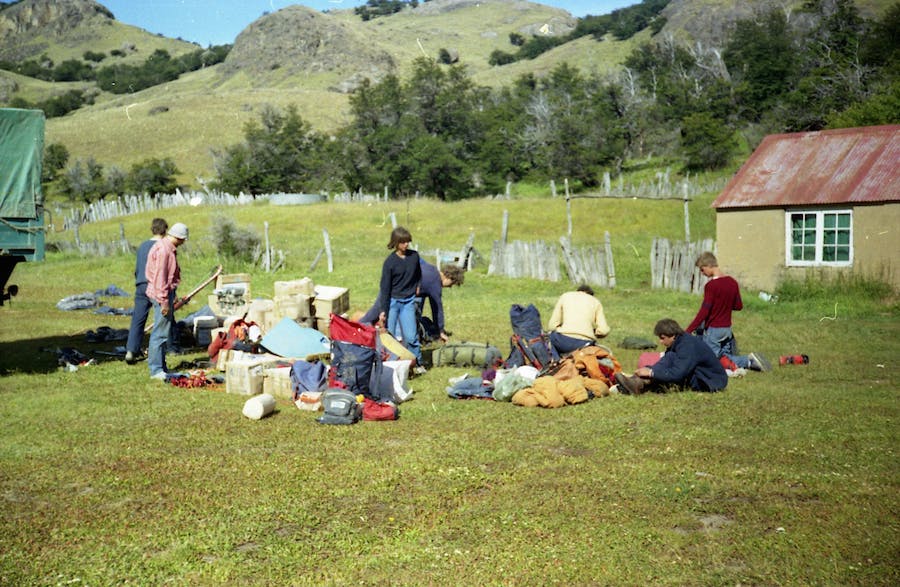 Italian by birth but raised in Bariloche, Argentina, Rolo first came to El Chaltén with his parents in 1982, as a 10-year-old tourist.
"We were here for four days trying to see the mountains, we didn't see them, and we left."
This first taste of the now notorious Patagonian weather did little to deter him, and five years later he returned as a fledgling climber. Although El Chaltén is now a bustling tourism hub, at the time a single house was all that stood. He and his friend Ernesto, both of who has been climbing for just over a year, spent two and a half days climbing Aguja Guillaumet. "I'm not sure why that objective seemed like a good idea," he says. "I had gloves my grandmother knitted, a sleeping bag that my father had made. We got caught in a storm during the descent, lost a rope and had a very windy and snowy second bivy."
He still credits the climb as one of the greatest adventures he's had in the range. "That experience was momentous for me—if I hadn't that experience it's possible that I wouldn't have kept climbing." He returned periodically throughout the next decade, and by 1994 he was spending a substantial part of every austral summer season in Chaltén.
On the wall above the long wooden countertop in Rolo's kitchen, a seemingly benign collection of sticky notes gives a storied glimpse into his history with this place. The words hastily scrawled on the notes like a grocery list—Torre, Maté Porro, Vientos—are actually abbreviations for some his notable climbs in the range, accompanied by correlating temperature and weather data for each particular weather window.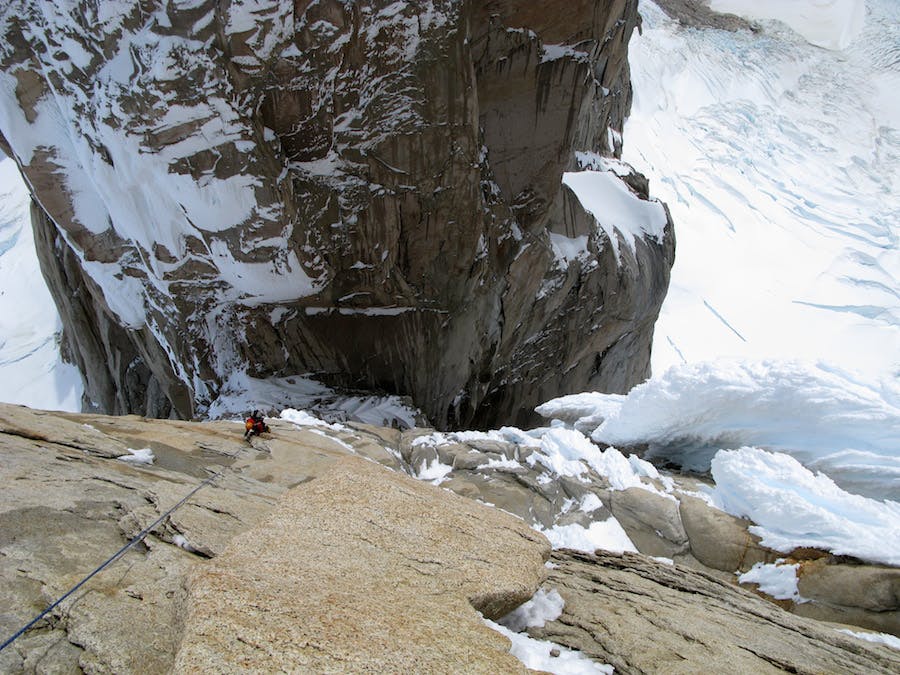 Like a painting slowly composed over nearly three decades, Garibotti's knowledge of the area is a vivid and detailed depiction of what it takes to have both success and longevity among these icy granite spires.  
In 1996 he and Doug Byerly were the first to climb the complete north face of Fitz Roy in alpine style, which at the time was a major departure from the common approach of using fixed ropes. Nine years later, with Ermanno Salvaterra and Alessandro Beltrami, they completed the much-tried first ascent of the north face of Cerro Torre, a steep, wild line of rime ice and granite. This new route, El Arca de Los Vientos, was the final question mark in the monumental and much-tried Torre Traverse, which Rolo and Colin Haley finally completed over three days in 2008.
"Climbing a new line is an opportunity to have a grand adventure," he says. "You can make a mountain as big or as small as you want. You can make it very small if you bring fixed ropes, a 10-man team, a helicopter to bring your stuff to the base and a power drill for the blank sections. Or you can make it really big—two buddies, just the packs on your backs, and off you go to climb."
Rolo has shown a near lifelong devotion to "making it big," and although he says the mountains of Patagonia are too technical for fitness to be much of a factor, the common thread in his climbing career has been a seemingly singular focus on speed and efficiency. He has acquired stacks of record-setting ascents from Yosemite to Alaska, but is perhaps best known in the US for his speed record on the Grand Traverse, a 10-peak linkup in Wyoming's Tetons that covers 14 miles and 12,000 feet of elevation gain with climbing up to 5.8. In August of 2000, Garibotti sprinted the Traverse in an unfathomable six hours and 49 minutes, a record that still stands today.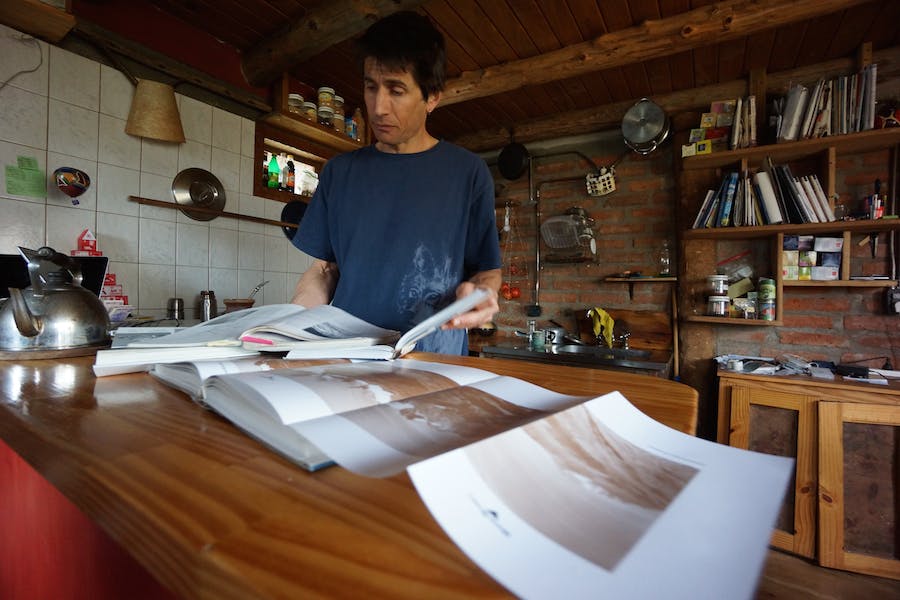 "It's actually from a dragon."
The long, glassy scar snaking up Rolo's forearm is one of the first things I noticed when I shook his oversized hand in the wooden entryway of his house. His deeply receded eyes expand under his long, angled eyebrows as a wrinkled grin softens his normally stoic demeanor. He laughs.
 "Yeah, it's a little-known fact about me, but I'm a knight."
Although he's kidding about the dragon (the scar is actually from a cooking gas explosion inside his van that nearly killed him and his girlfriend), he isn't about being a knight—in 2009 Rolo was made a Cavaliere dell'Ordine della Stella della solidarietà italiana by the Italian government for his climbing achievements abroad. He is quick to marginalize the honor, but it's a fitting distinction for a guy who, whether he has intended to or not, has become the advocate, elder statesman and some might say, protector of Patagonian alpinism.
"I've never liked being a tourist. I enjoy much more my relationship with places I have a lot invested in," he says. "I don't know if it's spiritual so much as it is familiar, like a closer relationship with family members."
And over the years, he has cared for these mountains as such. In 2000, Rolo was an integral part of blocking a private land grab within the park that included the north side of Cerro Fitz Roy. In 2004, he and the late Bean Bowers managed to get a proposed climbing fee program overturned. In 2008 and 2009, he and a group of volunteers donated 4400 man-hours to repairing and building trails within Los Glaciares National Park.
"You have to contribute and be proactive if you want to be heard," he says. "There is such a thing as voluntary self taxation: contributing to the places you love when you feel the need is there."
Highly regarded by many for his activism and outspoken devotion to alpine style, his refusal to be complacent with things he feels strongly about hasn't garnered universal admiration. With the unwavering respect of some has come the ire of others. One of his truck tires was recently slashed in the middle of the night, something he suspects is related to his support of Jason Kruk and Hayden Kennedy's 2012 decision to remove bolts from the Compressor Route on Cerro Torre. Despite not being physically involved, Rolo's vocal support of Kruk and Kennedy has made him a target. It's no doubt an issue that has become a foundational part of his existence here, and a collection of antiquated pitons from Caesar Maestri's 1959 attempt and several that were removed from the Compressor Route hang on the kitchen wall as proof. After two years, however, it seems a fairly comfortable cross to bear.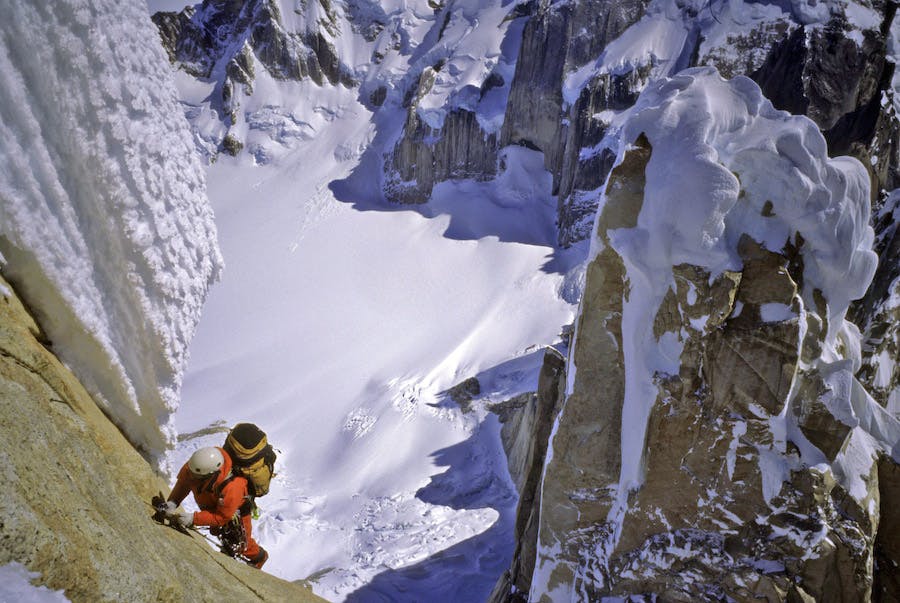 "I think that honesty is between you and the challenge," he says. "Anybody can climb in any style they want and they'll likely have a great personal experience, but I think one of the core values of alpinism, historically, was to have somewhat of a fair and honest fight," he says. "Without the fair fight, climbing becomes pointless. Why would you be attempting something difficult and then be using all these means to make it easier?"
His ideals might be construed as rigid, but it's obvious that Rolo could not be more amenable when it comes to sharing his vast accumulation of knowledge. Sometimes, he says, he worries about being too encouraging in the pages of Patagonia Vertical.
"Basically I never tell people no. I'm nobody to be telling people not to go here or there," he says. "I've always disliked people who put their preconceptions in my way." But high-angle rescue and helicopter support are non-existent here, a fact that continues to separate this place from modern alpine climbing playgrounds like Chamonix.  
"People come and they see that the Supercanaleta is 5.9 and 85 degrees and they think, 'Oh, I can do that,' and they have no clue how to judge the rest of the environmental difficulties."
If an increase in accidents is the symptom, then crowds are likely the condition, something his guidebook, improving weather forecasting and modern amenities will only exacerbate. The Chaltén massif, despite its quality and density, is but a miniscule slice of this jagged landscape, and Rolo doesn't seem to fret about the future of adventure, for himself or for the many who dream of climbing here one day.
Through the crème-colored linen curtains of Rolo's living room, trees bend in the indefatigable winds and we gaze out at the cap-like lenticular clouds hovering over the unyielding summits of Fitz Roy and Poincenot.
"We have almost 1,500 miles of Patagonian Andes, we have endless mountains that are unmapped, uncharted," he says. "All I need to do is leave my door, hike for a day and a half and I'm out there. And if I leave the sat-phone I will have no forecasts, and if I leave all the books behind … I'll go and have a proper adventure."