Going from the hangboard to a scary 16-foot run-out at the crux of a 5.14c might sound a little extreme. Then factor in a month-long mandatory quarantine, plus a self-imposed ethic of NOT toproping the run-out crux on working burns, and you're down-right asking for trouble. 
Unless you're BD Athlete Babsi Zangerl. 
"I had the feeling it could be a great experience to try hard," says Babsi. "There were definitely moments where I thought, it would be less work and more comfortable to just use a clip-stick but, at the end I was very happy that I didn't."
This runout wasn't the only thing Babsi braved in the last couple of months. As a radiology assistant, she prepared for the onslaught of COVID-19 in her small mountain town while working shifts at the hospital and waiting for the oncoming storm. Luckily for her community, they have flattened the curve and have begun venturing back outside again.
Now, Babsi is more motivated than ever, and has taken her newfound psych to her own backyard crags, where she has quickly dispatched two of her hardest redpoints. 
We caught up with Babsi to learn more about her quarantine training secrets and her latest sends.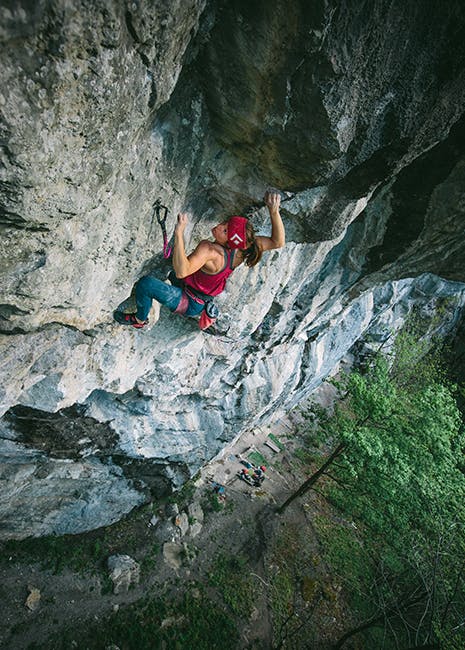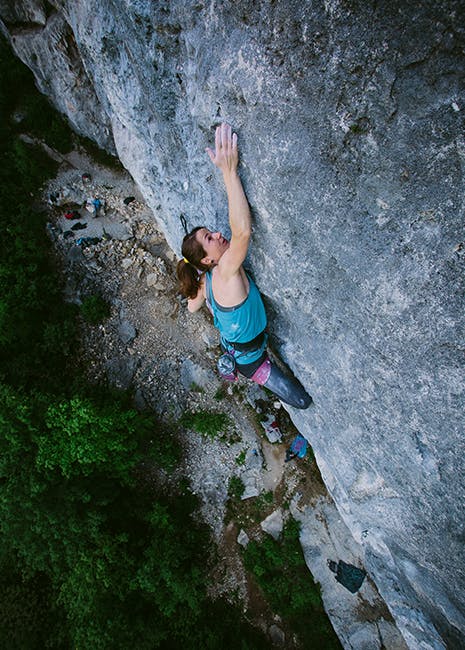 Q&A:
YOU JUST DID TWO OF YOUR HARDEST ASCENTS RIGHT OUT OF QUARANTINE! WAS IT ALL THE HANGBOARDING? WHAT'S YOUR SECRET?
First of all, the quarantine time in Austria was not as long as in many other countries. So, we stayed at home for one month before we got back to rock climbing. I can't explain how lucky I feel that it seems we have flattened the curve here in Austria (at least for the first infection storm) and I deeply hope that people will stay healthy. Nobody wants to go back into lockdown. 
But anyhow it didn't really feel bad to stay at home for a while. We got some things done like cleaning up our gear room. We spent lots of time with our puppy. Of course, we missed climbing a lot and we tried to stay fit with some hangboarding and core exercises. But this was max 1.5 hours of training per day. So, there was plenty of time for other things.
There were definitely days where it was hard, especially on the sunny days—when you look to the mountains and you can't just go. But we gained tons of motivation. As soon we got out again—we felt more motivated than ever and the projects around home kept us busy.
DURING QUARANTINE, DID YOU ALSO WORK AT THE HOSPITAL?
Yes, I had to work in the hospital as a radiology assistant. But most of the time it was very quiet there. Some weeks ago, I was really nervous about this unknown future with the virus. I knew that my part-time job at the hospital could change to more than full-time with very short notice. In preparation, the hospital was cleared of all the regular work we do. So, there are none of the cancer screenings or accidents we normally get. The hospital prepared 100% for COVID-19. 
It felt very scary to think about all those other patients with bad conditions who still needed treatment, but everything was postponed unless it was very, very urgent. The last month, I've had a few shifts but I actually had less to do compared to before. We are in the lucky situation that we have enough capacity to admit many additional patients. Now, there are definitely many infected people in the hospital, but we are fortunate that our hospitals can still handle the situation relatively easily.
WHEN WERE YOU ABLE TO START CLIMBING AGAIN?
 A few days after Easter.
AND RIGHT OUT OF THE GATE, YOU STARTED TRYING UNLEASHED (8C+). WHERE'S THIS ROUTE AND HOW LONG HAVE YOU BEEN TRYING IT?
The route is 15 minutes from my home, close to Bludenz in Vorarlberg. I tried the line last year for a few days. This year it took me about a week.
YOU MENTIONED THAT THE CRUX HAD A LONG RUN-OUT?
Yes, this climb is a pretty old-school bolted line. So, there are quite long run-outs. The run-out at the crux, in the middle of the route, is big—approx. 5 meters (16 feet) with the hardest move right below the draw. You have to climb a long hard sequence between and you can't just grab the next quickdraw and figure out the moves on top-rope. I mean you can, but then you have to fix a rope from the top or use a clip stick. I tried my best to not do that. I had the feeling it could be a great experience to try hard and it felt like clipping the chains when I finally got to clip the draw after the crux. 
It took me three days (with many falls) to find the right beta and just climb to the next draw last year. There were definitely moments where I thought, it would be less work and more comfortable to just use a clip-stick but, at the end I was very happy that I didn't. I think it is good training for big walls and it felt even more rewarding after I got past this hard boulder. It was a great process. 
WHAT GAVE YOU THE MOTIVATION TO PUSH THROUGH?
I was really motivated to try hard, train on the route and I really enjoyed giving my very best on the go's. It was so good to climb on rock again.
One time I fell very close to the top. But somehow, I wasn't really disappointed. I enjoyed the process the most. If I know the moves and I can give proper go's, have good fights, that is my favorite stage of a project. Of course, if it takes too long and I don't stop falling then it starts to get frustrating:-) After you climb a hard route you normally don't go back. So, I felt really happy that the game was still on.
NEXT WAS JACOPO'S FIRST ASCENT: INSTRUCTOR (8C+/9A). WHAT FASCINATED YOU ABOUT THIS LINE?
I belayed Jacopo on Instructor last year. It is a 45-meter line. The route is very steep. I am pretty bad in this style but I was just curious if I could do some moves, so I started to work on it. It's always a good challenge to work on weaknesses and get better in different styles of climbing. Before the quarantine I spent some weeks in the south of France and I climbed only steep routes. I think that was good preparation for this one.
HOW LONG DID YOU HAVE TO TRY IT?
Seven days.
WHAT CLICKED FOR YOU ON THE SEND?
I kind of trained on this climb. I tried to climb long sequences again and again to gain some power. And every single day, it felt a bit better. At the point where I was able to connect all the single sequences, I was confident that it will work out sooner or later. At the end it was a mega fight to the very top. 
HAS THE LOCKDOWN AND PANDEMIC HAS MADE YOU APPRECIATE ROCK CLIMBING EVEN MORE?
For sure! I think motivation is the most important key to trying hard routes. We were so happy to climb on rock again. I have to say I wasn't super psyched to keep on hangboarding at home. It is always the same and started to feel kind of boring after a while.
After the first day out on rock, I felt so tired because we climbed as much as possible. Only a few people were at the crag, and we didn't know if we will have this situation again in times where you have to stay distanced and where you can't go to crowded crags. So, we tried to get the most out of those climbing days. 
YOU NORMALLY TRAVEL A LOT TO CLIMB. NOW WE'RE ALL FORCED TO EXPLORE OUR OWN BACKYARD. WHAT'S IN YOUR "BACKYARD" THAT YOU'RE PSYCHED ON?
We are very lucky here in Vorarlberg/Tirol. There are about 20 different crags and some smaller ones, which are kind of new. All within 1 hour of driving. So, there is always something to do. But anyway, I hope that we can go higher up into the mountains soon … to check out some bigger walls.
FINALLY, WHAT ADVICE DO YOU HAVE FOR CLIMBERS WHO ARE STILL UNABLE TO GET OUTSIDE?
I hope for everybody that it is at least possible to get out for a little run or hike.
If you have to stay full-time inside that is for sure very stressful. We always had the luck to get out for a run/hike.
It helped a lot to have a daily routine … like putting in some hangboarding or core exercises in the morning and then there is plenty of time left for other things like cooking, getting work done, chilling, watching good movies, reading books.
We cleaned up our gear room and it took us two full days! This is something which was always planned but we never really found the time to get it done. Sometimes I had really unproductive days as well, but I think I really needed that. 
We travel a lot normally and we are always on the road or at work if we come back from trips. It definitely felt good to take some time to slow down. I think this is a good opportunity for that.