"You're going to South Korea!" Russ Clune enthusiastically repeated back to me after I did indeed say I was going to South Korea for a climbing trip with fellow BD athlete Hazel Findlay.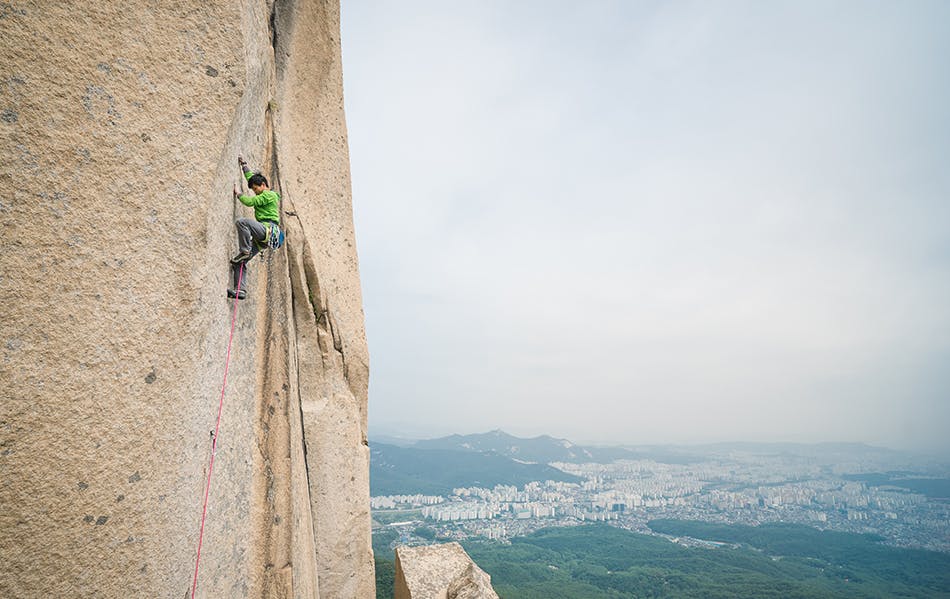 "If you see Ho-jin Jung tell him I said hi!" I hated to break it to Russ that the chances of me running into a climber he had rendezvoused with on the granite cliffs outside of Seoul over 20 years ago was highly unlikely. Instead I smiled politely as Russ continued to boast about his past trip, love for the island and the plentiful rock there.  He explained how during his trip back in 1985 the rules of Korean trad climbing where still being laid. Many routes were still being aided and had yet to be free climbed. Russ arrived full of his usual New York candor and fresh out of Yosemite's bustling free climbing scene. Under the guidance of Ho-Jin Jung, Russ was invited to try a number undone lines, many of which he established first free ascents of, and in the process he created a life long friend with Jung. 
Fast forward to 2019: South Korean climbing is well established on an international scale and claims some of the top climbers in the world. Hazel Findlay and I arrive in its capital Seoul in various forms of dishevel. I from the international travel and time change, Hazel from being deep in the wilderness of Mongolia establishing first ascents for the month and a half prior. One thing Hazel had harped on from the beginning of this trip's plan was there was to be no plan. When I mentioned to her how is was quite common in Korean culture to essentially over accommodate visitors (at least to American standards) Hazel's adventurous spirit pushed back, assuming any kind of micro managing, organizational notebooks or grid dinner schedule would undoubtedly be a buzz kill. After spending close to a year living in Asia, I still had huge question marks about cultural accuracies, but I did know most of the time it was better to go with the flow and let the host do what they do best, and that's host. Luckily Hazel broke quite easily and besides leaving her folder in the room most days she followed the plan and we both went along for the ride. 
We immediately headed about four hours south from Seoul to catch some cooler temps and bouldering in the small fishing town of Jinan. Wookyung Kim and Soohang Lee from BD Korea had agreed to be our guides, helping us translate, taking us to some of the best climbing areas around and perhaps most importantly enlightening us in the fine delicacies of Korean food culture. In Jinan we spent the next day shaking off the jet lag and travel by bouldering our skin away on a hang full of moderates dotted along a lazy river where you could take a midday dip when the temperature got too high. Knowing we only saw a fraction of the bouldering, it was easy to imagine plenty more rock and challenging problems in this zone, but the bigger cliffs were calling and time was ticking.

Eager to get eyes on as much of the luxurious granite we had heard so much about, we planned our next five days to visit new peaks and areas almost everyday. We headed to Do-Bong, Insubong, Bukhansan as well as Seo-rak san mountains. 
Commuting from our city center hotel in the Hongdae District of Seoul to the nature filled views of the climbing areas like Insubong Peak and Sun-inbong Mountain always felt surreal. As we hiked to the pristine granite domes, the city below us would slowly shrink then suddenly sprawl out as we got our bird's-eye view of the controlled chaos below.
Like any granite junky, Hazel was flabbergasted as soon as we arrived at the first area. Fine lines cut the smooth granite straight to the heavens. Dead vertical walls and bulging buttresses allowed for anything from off-widths, to wide cracks to splitter hands and finger jams. Though I'm not a crack connoisseur myself, I do know good rock when I see it. The walls of Sun-inbong and Insu Peak were as good quality as any lines I had seen in the States. 
We climbed a handful of single pitch lines, the most notable being Kokiri (5.11b) or Elephant Rock in English. But on many days during our trip multi-pitch was the name of the game. Summits of these monster pitches placed us on the tops of epic mountain peaks with more mountains visible in the distance, leaving us only to wonder how many more walls there were to climb.
Though we were diving deep into the traditional routes of the Korean climbing community, Hazel was encouraged to present a video and teach a few clinics at a local climbing gym, which meant we also had a chance to meet with up-and-coming phenom and competition climber, Chaehyun Seo.  Not only had she already sent 14d/9a outdoors at age 14, but in the months following our meet up with her in Seoul she took first place at her second World Cup competition securing a place for herself in the Olympics. Many have wondered about the special sauce Korean climbers have been taking the last years while they continue to dominate competition wins. What I saw were highly motivated communities that stemmed from the top down. They didn't segregate or pronounce any one aspect of climbing to be more important than the next. They were all climbers in it together who strived to push themselves and the sport as a whole to the next level.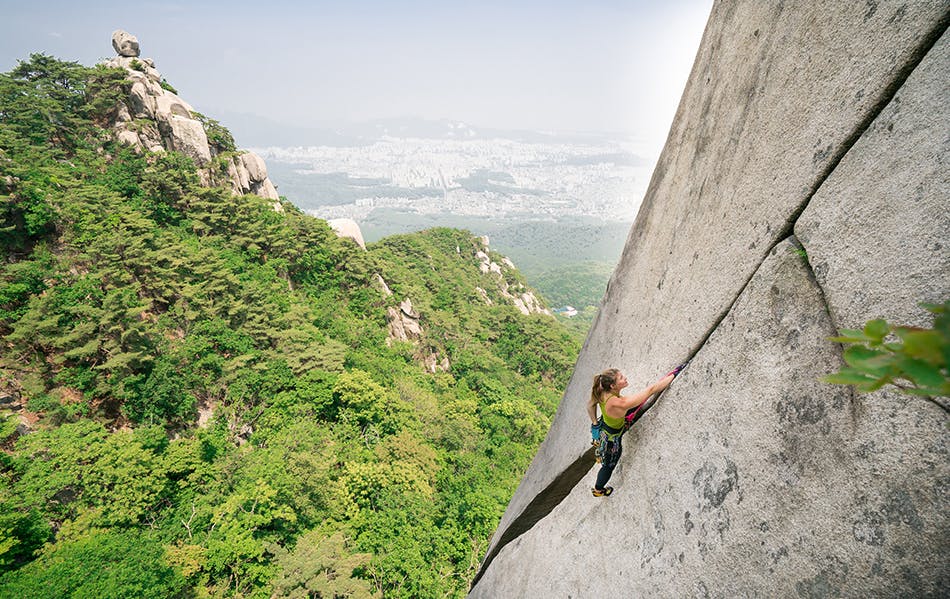 On one of our final days, Wookyung and Soohang proposed a group climb of the famous "Chouinard A" route at Insubong Peak with some employees from the BD Korea office. At first we felt a bit apprehensive about so many people climbing on the same route, with language barriers at belays and trying to capture some media at the same time. Our worries were quickly dismantled as everyone there was an expert climber with even one of Korea's professional climbers Myounghee Lee joining us for the day.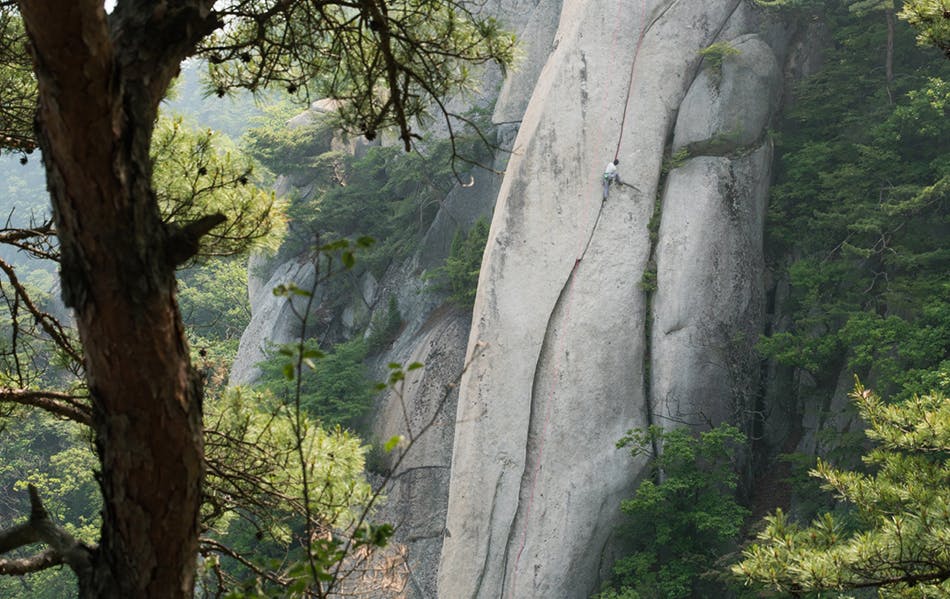 Once back on the ground I got more candid with some of the in-house BD Korea team, as a few of the older climbers told me about the history of the area and countless days and weeks they had spent on these walls while camping in the forest below, which was now forbidden. As I chatted with one of the older members he started telling the story of American Russ Clune's trip to Seoul many years ago. He echoed the similar tales of an exciting time in Korean Climbing, the onslaught of new free-routes and the beginnings of lifelong friendships. Ho-jin Jung, now the president of Black Diamond Korea and still an avid climber today, asked if I could tell Russ he said says "Hi" next time I see him. I flipped my phone around and we took a selfie together, which I then sent to Russ right there from the base of the route. 
-Colette McInerney