The perspective of difficulty is forever changing. With new ascents, new feats of strengths and new discoveries constantly raising the bar, a climber's perception of what's possible is always shifting. But perhaps the greatest proponent behind the ever-evolving standards of what's truly challenging lies within one simple act … that of giving it a darn good try. As BD Athlete Carlo Traversi writes, "the depth of your will can only be explored through experience." Check out this amazing film documenting Traversi trying his ultimate challenge—to climb a V14, 5.14, and a 14er in one day.
I remember first considering this challenge back in 2013 and not really being able to fully comprehend the scale of it. Back then, I only had a few experiences climbing on the Diamond and each one of them left me at a point of complete and total exhaustion. Just imagining adding more time and effort onto a Diamond day seemed outrageous. Over the next few years I found reasons to dismiss the possibility of it. However, I was never able to convince myself to the point of erasing the idea from my subconscious. Those thoughts you hide poorly always seem to find a way of surfacing over time.
The summer of 2016 was already committed to the Colorado alpine. In what capacity and to what extent, I didn't know. Fitness was the top priority. I've found that the best way to make jumps in physical capability is to find things that are difficult for you, and then make them an everyday part of your life. At the beginning of the summer, hiking to the top of Chaos Canyon to go bouldering (around 7 miles roundtrip) felt like a serious undertaking. So I started going up there everyday. Within a few weeks my mind and body had adapted and it felt like a casual commute. I also climbed the Diamond a few times early in the season and the experience slowly started to feel less draining and more normal.  
I've never been a fan of sticking to one discipline in climbing. The ability to be proficient at all of them is more alluring to me than being the absolute best at one. After a summer of constantly jumping from trad climbing, to bouldering, to sport climbing, I started to feel comfortable and motivated by the idea of combining each discipline into a mega day. 
But having those feelings is one thing. It's a much different story putting it all into action. How would 23 miles of hiking affect my ability to climb? How would I maintain motivation throughout the day? How could I maintain focus and enjoy the day despite the inevitable suffering?  
The depth of your will can only be explored through experience. The only way to answer all those questions swirling around in my head was to try. I scheduled the day out and tried my best to plan for all the potential variables. Weather would be the biggest concern. Fortunately, as the alpine season winds down, so do the chances for thunderstorms. I picked a 0% chance of precipitation day at the beginning of September and committed.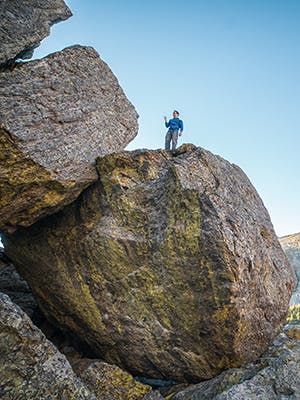 Left Image: Ian Glass
Center Image: Cameron Maier
Right Image: Chris Alstrin
The 3 a.m. alarm felt like a nightmare, especially after heightened nerves made for restless sleep. The weight of the day ahead made it feel almost impossible to put my feet on the floor and stand up. After spending the previous weeks focusing so much on the challenge as a whole, on the morning of September 5th, 2016, it was time to narrow the focus on only the things that mattered each moment. It started with putting some clothes on. Easy. Done. Then eating some food. Then getting in the car and starting the drive. A difficult day is made of a million easy decisions and tasks.
That's how I went about the day. Step by step. Move by move. Enjoying each small success and embracing each failure.
And what I discovered is that when you take the time to learn throughout the challenges, you will find your entire perspective of difficulty begin to shift.