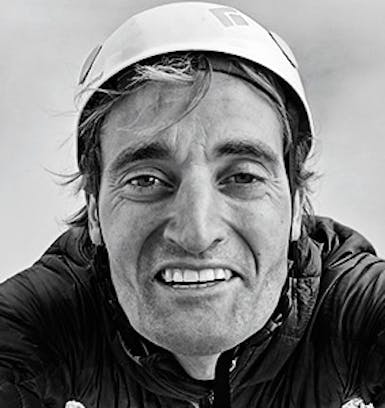 Growing up as a sheep farmer's son in the flat lands of Berkshire, England it appeared that Jon Bracey's future was clearly etched in the stone. A chance opportunity to sample rock climbing whilst at school was enough to completely alter that course. Although lacking any natural talent, he instantly knew that all he wanted to do in life was to go climbing and hang out with other climbers. Some of his best memories are from his early twenties living in a Peugoet 205, cruising from stints of rope access work, expeditions to Greenland and the Himalaya, winter seasons in Chamonix and trad climbing across the UK.
Discipline: Alpinism
Hometown: Lambourn, UK
Currently Living: Les Houches, France
Height: 182 cm  
Career Highlights: 
The first ascent of the North face of Tupilak, in East Greenland. I was quite young and inexperienced at the time. It was a wild and adventurous climb in the middle of nowhere, frickin cold, and I learnt a huge amount from my partner Alun Powell who is the gnarliest human being ever. Snotty's Gully, on Pharilapcha/Dawa peak, Nepal. A great natural line only a few hours walk from a tea house in Gokyo lakes, with mega views across to Everest, Nuptse and Makalu. The Cartwright Connection, on the North buttress of Mount Hunter. An inspirational friend Jules Cartwright pointed me at the line and it was an immense time climbing the line after many years of dreaming.
When did you first start climbing/skiing? 
14 years old.
What do you most enjoy about your sport?
The crazy people you meet along the way, and the extraordinary wild and wonderful places you get to see. 
How do you define success?
Coming home alive with some amusing stories to tell.
What are you most proud of, either in life, your sport or both?
I'm lucky to have a fabulous and understanding wife plus two crazy kids. Proud of renovating our house from scratch, and probably prouder when I manage to finish it someday! The coolest first ascent I've done is 'The Cartwright Connection' on Mount Hunter, Alaska, because that cliff has the best mixed climbing in the world.
Who are your heroes?
Alex Macintyre, Patrick Berhault, Mick Fowler
What inspires you?
A beautiful, thin, and improbable white unclimbed line up an austere 1000m wall, which tops out on a virgin summit.
What are your hobbies outside of your sport?
Renovating my house, gardening, x-country skiing.
What's your guilty pleasure?
Chocolate.
What are your hidden talents?
Sewing—comes in handy for repairing and modifying gear.
As a child, what did you want to be when you grew up?
A sheep farmer.
If you could change one thing about yourself, what would it be, and why?
Wish I didn't need to sleep. There's too much cool stuff to try and fit in every day.
Tell us about a time in your life when you have been scared:
When I was quite young my climbing partner was taken out in front of me by rockfall about 2000ft up an alpine route in the Ecrins. I waited for 2 days to get rescued but realized I would perish myself if I waited any longer. It was a miracle I survived, down-climbing the route and then falling into a crevasse on the way out.
Describe your perfect day:
An early wake up to go climb a wicked new mixed route. Home by early afternoon to go and hang out with my family at les Gaillands.
How would your friends describe you?
Ask them?