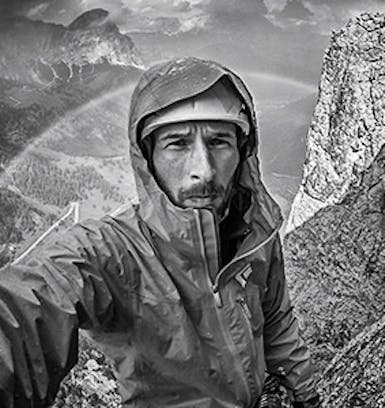 Klemen first tied to a climbing rope at the age of twelve. Soon, he found ice climbing as the most joyful art of climbing, and from that moment on he's been crazy about it. In 1997 he did my first big trip to Canada, searching for some hard ice. He climbed Riptide WI7, which was the hardest ice climb done by Slovenian climbers. In 1998 he introduced mixed climbing to Slovenia by opening the route Bone of Contention (M7). From 1999-2003 he competed in the ice climbing World Cup. After some intense seasons of modern mixed and competition climbing Klemen began to focus on longer ice, mixed and alpine routes. He traveled to Canada and Norway many times, putting up new routes in Canadian Rockies, Lofoten Islands and some other nice places beyond the Arctic Circle.
Hometown: Trzic, Slovenia
Height: 180 cm
Career Highlights: 
New routes and repeats in Helmcken Falls, BC, Canada: FA ofWolverine(WI11), FA ofSpray On...Top(WI10, M9+ 240 m), Spray On(WI10), Overhead Hazard(M12, 240m). Climbing icebergs in Greenland. Climbing in and out of glaciers in Iceland.
When did you first start climbing /skiing?
I started climbing when I was 12 years of old. It's not that hard to figure out that that's pretty long time ago…
What do you most enjoy about your sport?
Being outside, having fun with friends and pushing myself out of my comfort zone.
How do you define success?
Trying something new and pushing myself to give it all in, learning in the process and still having fun.
What are you most proud of, either in life, your sport or both?
We do our sport because we like it, for our self. And the truth is that being a climber it's pretty selfish, so kind of hard to be proud of that. But if I manage to inspire others to push themselves a bit further, try a bit harder, that's for sure something I could be proud of. And yes, for sure I'm proud of my kids too!
Who are your heroes?
Bruce Lee.
What inspires you?
Impossible. Boldness to commit to big and different ideas.
What are your hobbies outside of your sport?
Skiing, mountain biking, kayaking…    
What's your guilty pleasure?
I don't have this concept of guilt. I just treat myself when I feel like it. It might be wrong or illegal for someone, but I don't feel guilty.
What are your hidden talents?
I was thinking hard to come out with a single talent of mine… So, there must be none. But I'm ready to work hard to be good at something I really like.
Tell us about your most favorite place in the world:
Still to be discovered.
As a child, what did you want to be when you grew up?
Pilot.
If you could change one thing about yourself, what would it be, and why?
One thing?! Come on! It's too hard to choose just one. I need to change more than that!

Tell us about a time in your life when you have been scared:
Climbing icebergs was probably the scariest thing I did. At first, I was able to look on climbing icebergs as a matter of finding that fragile balance between a technically and aesthetically pleasing climb and not risking it all. But I soon realized that there is not much to hold on in this theory, so I was forced to bring believing in to a new level, and hold on to that.To make a long story short: Climbing to the top of the iceberg was pretty wild and scary experience. But if I wanted to reach out to my dreams, I needed to take that risk and handled the fear.
Describe your perfect day:
Any day spent out of my office…
How would your friends describe you?
Organized.