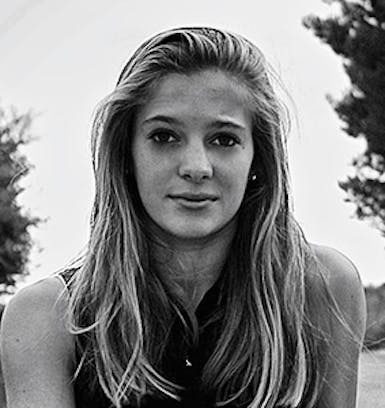 Charlotte started climbing with her grandparents—her grandfather Pops was an 8a climber! When she was 5, he put climbing holds underneath a stairway so she and her cousin could practice. During her first years, she would mostly go outdoor climbing during family trips abroad. Her first route on lead was in Sardinia when she was four years old. She joined a climbing club when she was 10, and since then she's never stopped. Now she does a lot of competitions, which she loves despite the pressure. Otherwise she also loves outdoor climbingand has already been to Madagascar, Australia, Canary Islands, Greece, Malta, Italy and Spain. Climbing for Charlotte is a passion, a pleasure, a spirit, a way to feel accomplished. Sometimes it's a bit hard for her to find the balance between school and climbing but she feels lucky to live a life she loves. 
Discipline: Climbing
Hometown: Marseille, France
Currently Living: A little village called Greasque, 40 km away from Marseille, France
Height: 168 cm
Career Highlights: 
French Bouldering Champion 2014; Winner of the general class of Bouldering French Cup; 8a+ in Sicily.
When did you first start climbing/skiing?
I start climbing when I started walking—my granddad initiated me.
What do you most enjoy about your sport?
First, this sport is for me a way to accomplish myself. I use all my muscles and I love the sensation of feeling my whole body and my mind committed to completing a boulder. When I was a child I would spend more than an hour stuck in the same route because I just didn't want to give up. I would cry, and make the person belaying me totally mad. I most enjoy climbing with different people who I would otherwise probably never meet. I think climbers are some kind of a family for me.
How do you define success?
I don't know yet, hopefully someday!
Who are your heroes?
Sean McColl but that is no surprise since everyone loves him. Adam Ondra of course, he is so talented. On the women's side, Anna Stohr, she is always smiling and looks happy all the time. I love that.
What's your guilty pleasure?
Tiramisu and Nutella cake! In fact, all desserts! Also TV series like Chicago Fire – shame on me.
Tell us about your most favourite place in the world: 
I think, my most favorite place in the world is in Madagascar, a tiny isolated island with beaches and cliffs to climb on, a sea full of amazing fishes, and wonderful sunsets. I also love the south of France, the Calanques, the sun….
As a child, what did you want to be when you grew up?
As a child I would like to become a "professional free rider skier of the extreme" and at the same time a surgeon….I clearly gave up becoming the first one.
If you could change one thing about yourself, what would it be, and why?
My nose, it looks like a trumpet. One of my friends use to call me Michael Jackson…
Describe your perfect day:
My perfect day will be with my friends, and my cousin, Eline. We wake up, eat tiramisu and climb in a beautiful place. A big day of bouldering! We laugh a lot, and achieve many hard boulders. Then, we surf in a wonderful beach at sunset. After we eat a delicious dinner and party during the night.
How would your friends describe you?
Crazy, stubborn, funny, surprising, serious, frank, curious, sometimes a bit shy, motor mouth.