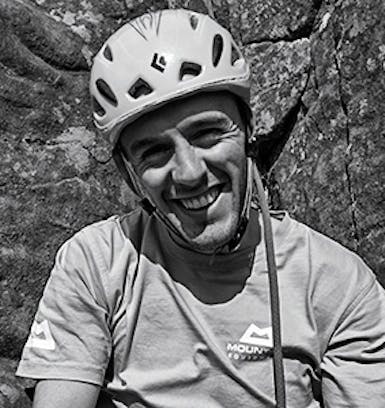 As a Scot, Dave is schooled in both trad climbing and new routing in adventurous places. With mixed weather in Scotland, Macleod is used to mixing up the disciplines in climbing. Although this habit is forced on climbers in Scotland by the weather, he has come to love the variety of moving from bouldering to mixed to sea cliffs to mountain trad in the space of a few weeks. Dave love training too, and tries to climb as hard new routes as he can in every climbing discipline. Aside from his own climbing, he's been involved for years now in sharing the knowledge he's gained about training on his blog and now two books—'9 out of 10 Climbers Make the Same Mistakes' and 'Make or Break: Don't Let Climbing Injuries Dictate Your Success'. The connection this knowledge sharing has brought with thousands of climbers all over the world has been more rewarding than he could imagine. Almost as rewarding as small crimps on a cold day!
Hometown: Glasgow, Scotland
Height: 172 cm
Career Highlights: 
FA Rhapsody E11 (trad 8c+), Dumbarton Rock, 2006; FA Echo Wall E11 (trad 8c), Ben Nevis, 2006; FA Anubis XI (trad M10), Ben Nevis 2010; FA Longhope Route E9 (trad 8b big wall), Orkney Islands 2010; Darwin Dixit (8b+) free solo, Margalef, Spain 2006; A Muerte (9a), Siurana 2007; FA Fight The Feeling (9a), Glen Nevis 2012; FA Seven of Nine (8B+), Glen Nevis 2011; FA Natural Method (8B+), Glen Nevis 2012; New Base Line (8B+), Magic Wood 2013; Mystic Stylez (8B+) Magic Wood 2013; Paciencia (900m 8a) 3rd ascent, Eiger North Face 2013; Bellavista (600m 8b+), Cima Ovest, Dolomites 2013; FA Project Fear (600m 8b+), Cima Ovest, Dolomites 2014; FA MacLeod Muskett (300m Scottish VIII) Aguja Guillamet, Patagonia 2014
When did you first start climbing/skiing?
I started climbing at age 15, when my mum moved to the edge of the city and I discovered the outdoors.
What do you most enjoy about your sport?
It's a tough choice between the basic feeling of pulling hard on small holds and just being in the wild nature of the mountains.
How do you define success?
Leaving no effort on the table unused.
What are you most proud of, either in life, your sport or both?
I've been so happy with many of the first ascents I've done, but I would say that my book Make or Break has been my most important contribution to climbing since it is able to help so many climbers keep climbing. I've had my fair share of climbing injuries and know how precious good information is to keep you going.
Who are your heroes?
I enjoy nearly all the climbing disciplines, so I have many climbing heroes. Patxi Usobiaga always impressed me with his dedication to training.
What inspires you?
Training videos always get me totally fired up, as do big pieces of unclimbed rock.
What are your hobbies outside of your sport?
Writing books, following sports science and medicine, making films and making holds.
What's your guilty pleasure?
Irn Bru.
What are your hidden talents?
I am very determined when I get going. Not always a good attribute in life, but it's certainly good in sport. I guess I'm methodical as well which really helps to get complex tasks completed.
Tell us about your most favorite place in the world:
Glen Nevis is my favourite place in the world. The beauty of the Old Scots Pines and silver birches lining the slopes of the mountains are impossible to tire of. And the rock provides the most unusual and amazing holds. It's mica Schist, which was slowly baked by two big flows of granite on either side of the glen, giving it an amazing rough 'pitted' texture that is just amazing for rock climbing.
As a child, what did you want to be when you grew up?
I didn't really think about it much. I was too scared to be a grown up.
If you could change one thing about yourself, what would it be, and why?
I would probably have an 'off' switch for being driven and determined so I could have some periods of being more relaxed. I am used to my way of being, but it isn't always easy to fit in with others.
Tell us about a time in your life when you have been scared:
The most scared I have been in climbing was as a relative novice, pushing myself on harder and harder trad routes with very poor protection. I was strong, but inexperienced and one day I got myself into real trouble by not making the right decisions at the right time. I committed myself above non-existent gear and the rock turned out to be dirty above and I couldn't climb on or climb down. I hung on to two undercut crimps for about 45 minutes, completely stuck and terrified until my strength finally ran out and I peeled off. I did a 50-foot head first dive, listening to my microwires pinging out of the rock above me. Meanwhile, my wife Claire who was belaying sprinted backwards, taking in the rope as I fell. The rope came tight on a cam that was well below the halfway point to my highpoint. As it took me and I swung in an arc, the grass on the ground just took my hat off. Pretty close! But I have realized as a father of a 4-year-old daughter, that fear for your own life is nothing compared to fear for your child's safety. My daughter Freida fell out of her pram when she was a baby, rolled down some stairs and cut her head (no damage beyond the cut). It was a moment of terror for me that made climbing seem utterly trivial. I'm quite a follower of the Stoics way of looking at fear and worry about things. These days when it comes to personal safety, I don't get as scared as I used to.
Describe your perfect day:
Feeling strong and light on a steep crimpy boulder on a wild Scottish mountainside. Preceded and followed by a good cup of tea.
How would your friends describe you?
Let's not go there.