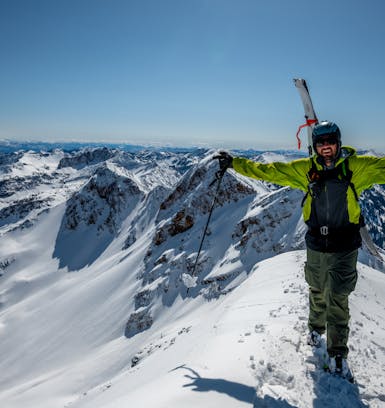 Discipline: Big Mountain Snowboarding 
Hometown: Carlisle, MA
Currently Living: Park City, UT
Height: 6ft
When did you first start snowboarding?
When I was 8 years old back in 2000!
What do you most enjoy about your sport?
The process. I love everything from prepping for a trip to the feeling looking back at a line and everything in-between. 
How do you define success? Success to me is all about going after something and giving it a solid try. The worst thing is bailing before even putting your feet in the snow. You never know what you are going to find. Even if it means riding plan b. 
Who are your heroes? Bjorn Leines has been a major source of inspiration in the mountains. 
What inspires you? Folks consistently getting out there day in, day out no matter what. 
What are your hobbies outside of your sport? I love mountain biking, golfing, and climbing in the off season!
What's your guilty pleasure? Smuckers uncrustables 
What are your hidden talents? I can crochet a mean hat!
Tell us about your most favorite place in the world:
My favorite place in the world is Mount Superior in Little Cottonwood canyon here in Utah. It's a place I learned to push myself in the backcountry and have met the best friends on this peak. I have had so many incredible untracked mornings that I got to share with the SLC community. Its almost a gathering spot for us here in Salt Lake. There are so many classic lines that get you 2-3k of vert all before 9am. It has the best sunrises  and consistent snow.
If you could change one thing about yourself, what would it be, and why?
I don't think I would change anything about myself. Not because I'm not flawed. I have a short attention span, I can be a little unorganized at times, and am impulsive. Those are all things that make me who I am!
Tell us about a time in your life when you have been scared: 
Getting into my first avalanche. It was a few years back doing a line called hell gate couloir. It got warm way faster than we thought. We were off the 350ft rappel and almost done the line. I was down climbing a smaller cliff to get to the apron and a massive wet slide broke off the 350 foot cliff above. I managed to jump to safety watching the entire slide pour over my head as I tucked into a cliff band. Snow piled up around me slowly filling the space I found to hide. I got buried almost waist deep but was able to pull myself out. It was a close call that taught me how important those small details are and how fast things can change in the mountains. 
Describe your perfect day:
Early morning on superior watching the sunrise on the summit after a fresh blanket of snow has fallen. A group of good friends, no rush, and all the opportunities.
How would your friends describe you?
I am a powder addict. I love a blank canvas where I can make my mark. I don't let much get in the way of me making turns if snow has fallen!