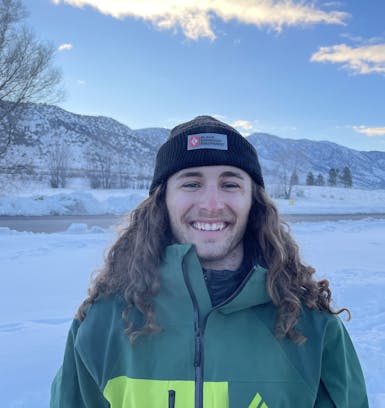 Discipline:
Big mountain freestyle skier 
Hometown:
Spanish Fork, Utah
Currently Living:
Salt Lake City
Height:
5' 6"
When did you first start skiing?
I started out snowboarding when I was 7 and then switched to skiing when I was 13. 
What do you most enjoy about your sport?
I enjoy being outside with good people and friends. 
How do you define success?
I define success by doing the best with what your given. 
What are you most proud of, either in life, your sport or both?
I am most proud of all my friends and family who support me!
Who are your heroes?
Craig Gordon!! And all the other avalanche forecasters!
What inspires you?
Watching others succeed in what they love doing
What are your hobbies outside of your sport?
boating and dirt biking 
What's your guilty pleasure?
Listening to Doja Cat
What are your hidden talents?
I'm pretty good at Karaoke 
Tell us about your most favorite place in the world:
Argentina and Chile! Especially in their winter. 
If you could change one thing about yourself, what would it be, and why?
I would choose to have slightly straighter teeth, but I'd probably end up messing them up skiing anyway. 
Tell us about a time in your life when you have been scared:
One time I lost track of a spider in my room right before I went to bed. 
Describe your perfect day:
A bluebird powder day followed up with a night of karaoke, with good friends. 
How would your friends describe you?
Severely ADHD. But in a good way.