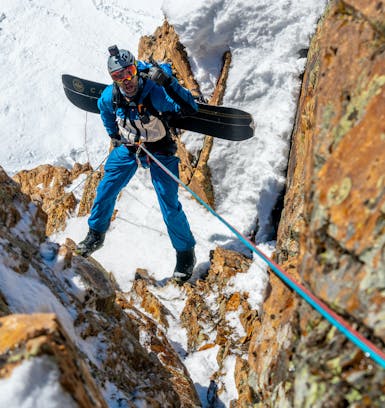 Discipline: Splitboard Mountaineering
Hometown: Thousand Oaks, CA
Currently Living: Salt Lake City, UT
Height: 6'7"
When did you first start snowboarding? 
I first strapped in at 10 years old.
What do you most enjoy about your sport? 
In my view, Splitboarding is the complete package when it comes to adventure. I love that it allows me to seek out and discover new lines and peaks that aren't confined to a resort boundary. I love the solace, silence, and peace that can be found in the backcountry. I love the bonds that are forged with my touring partners. And I love riding untouched big mountain lines.
How do you define success? 
By experiences and relationships. 
What are you most proud of, either in life, your sport or both? 
Having two daughters that are following down the big mountain snowboarding path gives me more satisfaction than anything else. Also, in 2013 I shattered my L1 vertebrae and my neurosurgeon said I may never be able to snowboard well again. After a cage being placed in my back and a long recovery, I'm proud that I was able to come back, complete the Wasatch's Chuting Gallery, snowboard off the summit of Denali, and continue to seek out new and obscure lines. 
Who are your heroes? 
There are so many people I hold as heroes, but my short list would be: Bjorn Leines, Craig Kelly, Taylor Palmer, and my daughters Elle & Emme. 
What inspires you? 
People doing rad things in life and in the mountains!
What are your hobbies outside of your sport? 
Surfing, canyoneering, and traveling. And doing anything with my girls. 
What's your guilty pleasure? 
Sugar Free Red Bull
What are your hidden talents? 
I'm a cornhole Jedi haha
Tell us about your most favorite place in the world: 
It's this meadow near the summit of one of my favorite mountains, with a natural spring running along it's edge. The views go for miles. 
If you could change one thing about yourself, what would it be, and why? 
I'd stop aging! This life is too short and too incredible. I need a few more lifetimes to do and see it all. 
Tell us about a time in your life when you have been scared: 
When I broke my back I was unconscious and when I woke up I was paralyzed from the waist down. I've never been so scared in my life. An hour and 15 minutes later I started to be able to feel my toes. The hope began to return then. But that 1:15 hours scared me to the core.
Describe your perfect day: 
It would be a dawn patrol with friends where we get to watch the sunrise from the summit, drop into an aesthetic couloir in the alpenglow, and then shred the rest of the day with my family. 
How would your friends describe you?
Kind, generous, motivated, but slightly insane.