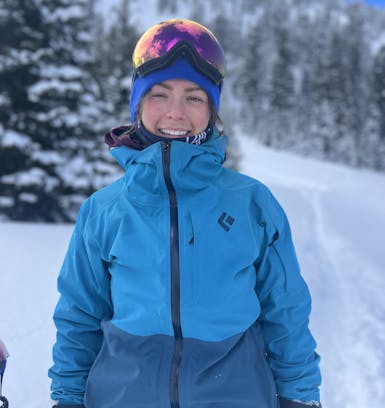 Discipline: Skiing
Hometown: Mattapoisett, MA
Currently Living: Driggs, ID
Height: 4'11"
When did you first start skiing?
I started skiing at a very young age going on occasional trips, but it wasn't until around the age of 12 where I started consistently skiing and actually enjoyed it.
What do you most enjoy about your sport?
The ability to travel deep into big wild mountains and explore beautiful places while also getting to ski powder or next to big rocks! 
How do you define success?
It depends on what the situation is, but for the most part how happy you are, how you treat others, and coming back home safe.
What are you most proud of, either in life, your sport or both?
Being able to overcome a spine injury and still being able to be as active as I am with an autoimmune disease.
Who are your heroes?
Gerlinde Kaltenbrunner and my mom! 
What inspires you?
Seeing other females send, having supportive friends/teammates, wildflowers, mountains, and basically anything nature related.
What are your hobbies outside of your sport?
Mountain biking, painting, any other form of art or crafting, yoga, baking, cooking, backpacking, climbing, taking pictures of wildflowers, swimming in cold creeks, volunteering, and plenty more!
What's your guilty pleasure?
Chocolate and cookies
What are your hidden talents?
I love mountain biking down big slabs and  rocky technical terrain.
Tell us about your most favorite place in the world:
I have a lot of favorite places, Vermont might be my top favorite for the feeling I get when I'm there and the community I have there :)
If you could change one thing about yourself, what would it be, and why?
To be less fearful! I don't think it's that bad of a quality as it does help keep me safe and out of certain situations but I do feel that it holds me back as well.
Tell us about a time in your life when you have been scared:
Transitioning on lines in AK was something that I hadn't experienced or done before. The lines we skied were steep and most of the time there was no place to top out. You'd have to build a platform and an insecure anchor on sugary snow with a lot of exposure below you. It was a cool experience but definitely scary!
Describe your perfect day:
Wake up, drink tea, eat breakfast, go on a ski tour to a place with incredible terrain (preferably couloirs or spines). It's a bluebird day but also cold so the snow is perfect. Film a few lines and then either camp out or go back home and grill hamburgers :)
How would your friends describe you?
Hmmmm creative, adventurous, quiet, motivated?