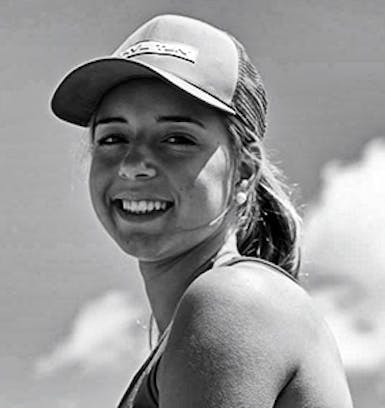 Discipline: Climbing
Hometown: Embrun, Hautes-Alpes, France
Currently Living: Aix-en-Provence, France
Height: 172 cm
Career Highlights:
Member of the Youth and Senior French National Team, 8b redpoint, 8a onsight.
When did you first start climbing/skiing?
I started climbing when I was 7. I loved it, so I registered at the Alpin Club in Embrun where I trained until June 2012. My parents also took me rock climbing, especially during the summer when I could not train with my club.
What do you most enjoy about your sport?
What I really enjoyed is that every route or boulder is either unique, or is a new experience. In addition, I like adventure, traveling, discovering and meeting new friends.
How do you define success?
I would define success as the achievement of my dreams, of my goals. It is the result of a hard and regular training and of a strong determination. If I win the competition my victory is also a moral success.
What are you most proud of, either in life, your sport or both?
I'm still young, but I would assert that my best pride is to have been able to overcome the hardships to get back my best level after two long interruptions because my knee was severely injured after two ski accidents. It was quite difficult to wait for one year before achieving my best performances again.
Who are your heroes? What inspires you?
Women like Daila Ojeda, Nina Caprez or Sasha Diguilian who totally live their passion, travel to discover the world to climb. But I also admire the competitor Kim Jain for her perseverance and the way she masters her climbing.
What are your hobbies outside of your sport?
I grew up in the mountains, in the Alps precisely in the Hautes-Alpes. I have always enjoyed living in that region because of the sports I can practice there. I'm very keen on alpine skiing which I practiced until the age of 13, I even had a lot of competitions. 
What's your guilty pleasure?
Chocolate and cakes! And rock climbing, I can't resist.
What are your hidden talents?
They are so well hidden that I don't know them!
Tell us about your most favorite place in the world:
Céüse of course because it is my hometown. But I also love Spain for climbing.
As a child, what did you want to be when you grew up?
Super strong and proud about what I will achieve!
If you could change one thing about yourself, what would it be, and why?
I would like to get more explosive in my climbing ! Actually I find I have not enough power. I'm working on it every day and I hope that I will get better soon.
Describe your perfect day:
A nice and sunny day of climbing on a crazy cliff, big crush, friends, good ambiance and happiness. Another perfect day could be the day I would become world champion! 
How would your friends describe you?
I asked them and they said, " Lively and cool!"