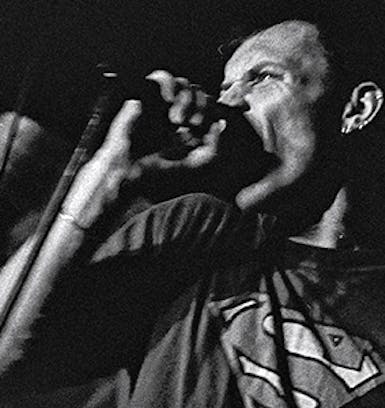 Toni was born in the south of Germany and started to go to the mountains with his family when he was four. He climbed several 4,000-meter peaks with his dad in Switzerland in the early '80s. After a short alpine climbing career, he looked for a new challenge, and discovered rock climbing at age 14. The following years Toni turned into a climbing addict—dreamed, thought and lived climbing every day. He wanted to collect hard sport routes all over Europe, make first ascents and tick off some of the important limestone alpine routes on the northern rim of the Alps. In 1992 a trip around the world changed his focus on climbing for numbers, ratings and competitions to adventure, exploring personal limits and the forces of our nature. His trips led him throughout Europe, North America, Asia, Africa and Australia, and he immersed himself in each culture he visited. Since 2004 he has lived in Munich, where he works with handicapped kids and contiues to plan climbing adventures around the globe. 
Discipline: Climbing
Hometown: Munich, Germany
Currently Living: Munich or on the rocks
Height: 188cm
Career Highlights:
Routes: 1988: Freedom (8b/5.13d), FA (Bavarian Alps); 1990: Baby Basher (8b+/5.14a), FA (Kochel); 1994: Nangijala (8c/+, 5.14b/c), FA (Kochel); 1995: Ramayana  (8c+/5.14c), FA (Kochel); Chaos in Palumbia (8c/5.14b), FA (Kochel); 2001: Die Welle (9a/5.14d), FA (Bayrische Voralpen); 2006: Marsupilami (9a/5.14d), FA (Kochel).
Boulders: 1996: The Power of Landjäger (7C/8A/V11), FA (Hueco Tanks); 1997: The Big Blast (8B+/V14), FA (Kochel); 1999: Muerte (8B+/V14), FA (Voralpen); 2001: Rah, Rant, Plats (8A/V11 flash), (Tessin); 2003: The Dagger (8B+/V14), FA (Tessin); 2009: Bokassa's Fridge: Assassin, Monkey and Man  (8C/V15), FA (Kochel).
Multi-pitch/alpine: 1990: Paranoid Game (9+/10- /8a), FA bolted on lead (Plankenstein); 2001: Easy or Squeezy (9- A4 7b+), 25 pitches, FA without bolts (Los Capitanos, Pamliagdluk, Greenland); 2003: Rock the Casbah (8b/c) 6 pitches, FA bolted in lead; 2004: Ghetto-Boys (7c/5.12), 700m (16 pitches), FA (Greenland); 2007: Manara Potsiny (8a/5.13b), 18 pitches, FA (Madagascar); 2009: Le vieil homme (8a+/5.13c), 6 pitches , FA (Verdon).
When did you first start climbing/skiing?
Alpine climbing when I was 10 years old, sport climbing at 14.
What do you most enjoy about your sport?
Travelling with friends, chasing my personal limits in all the climbing disciplines and having fun on the rocks with the help of the people I'm hanging out with.
How do you define success?
Being really motivated, happy with my climbing and having the flow on a special day!
What are you most proud of, either in life, your sport or both?
In 1990 I began to work with handicapped children and found that learning from other people would give my life a completely new source of motivation. So while still addicted to climbing, I began to focus on studying to teach handicapped children. I finished my studies in 1999.
Who are your heroes?
Spiderman and the Hulk.
What inspires you?
People with passion!
What are your hobbies outside of your sport?
Skiing, surfing, music.
What's your guilty pleasure?
Thinking about unfinished projects all the time.
What are your hidden talents?
Playing an instrument…
Tell us about your most favorite place in the world:
Cala Barca in Mallorca, Quvnerit Island in Greenland.
As a child, what did you want to be when you grew up?
An astronaut!
If you could change one thing about yourself, what would it be, and why?
I would change my weight so I could climb 5.18. But on the other hand that would be boring!
Tell us about a time in your life when you have been scared:
2001: Sitting in the night on top of a 1000m high rock pillar in a storm without a headlamp.
Describe your perfect day:
Wake up late, drive with a bunch of good friends to an empty crag, where everyone finishes his project, going out afterwards until the morning hours…
How would your friends describe you?
"Titan"?