Salt Lake City, Utah (November 18, 2014) - Black Diamond Equipment, Ltd. in cooperation with the U.S. Consumer Product Safety Commission (CPSC), voluntarily announced a recall of a limited number of recently produced Whippet (111536) and Carbon Whippet Ski Poles (111535) because of a possibility that the pick could break during normal use.  This recall is a result of a small quantity of picks receiving an incorrect heat treatment.  While only small quantities of picks are affected, in the interest of customer safety Black Diamond has decided to voluntarily recall all potentially affected units.
The manufacturing run of Whippet and Carbon Whippet Ski Poles produced from May 1, 2013 through January 15, 2014 are affected and should be identified in the following way:
Check to see if there is a combination of a notch in the Whippet pick AND shiny, polished material.  If both of these features are present, this indicates the product falls within the scope of this recall and should be returned.  See "What to do if you have product that is affected" for further information.

The above criteria are enough to identify affected product but it is also possible to check the five-digit date code located under the Flicklock lever. The Flicklock lever must be removed in order to view the date code but use caution as the pole can be damaged during removal.  The first 2 numbers represent the year and the last 3 numbers represent the day of the year. Whippet and Carbon Whippet Ski Poles with the date codes from 13121 to 14015 are affected.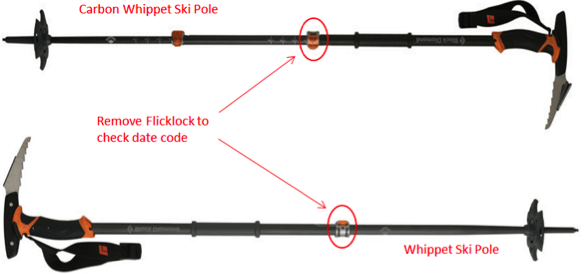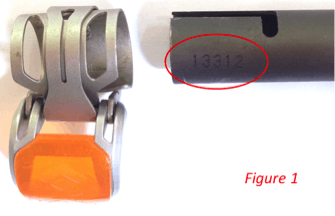 WHAT TO DO IF YOU HAVE PRODUCT THAT IS AFFECTED:
1.    Go to the following website and submit your info:
2.    In step 3, include the phrase "Whippet Ski Pole recall"
3.    Take note of the warranty case number.  A Black Diamond warranty representative will get back to you with the following information:
A return authorization number
An address for return
4.    Return only the pole upper shaft. A replacement pole upper shaft will be returned to the address you provide.