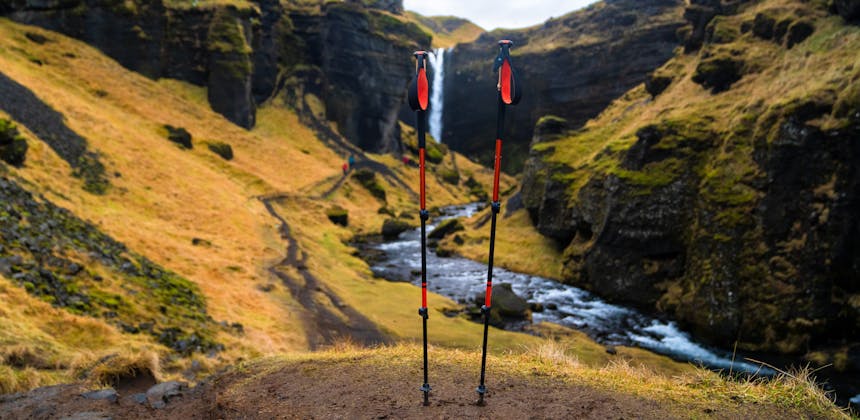 Featuring innovations such as FlickLock adjustability and Z-pole rapid-deployment, Black Diamond has revolutionized trekking pole technology. With a variety of options from our Distance, Alpine, and Trail series, you can choose a trekking pole that meets the specific needs of any adventure, from fast and light missions to burly four-season daily drivers built for the long haul.  
Choosing the Right Trekking Poles:
Each series of our poles is designed with a set of features that cater to specific mountain endeavors. Adjustment technology, pole materials, grip materials, and storage technology are all features that vary between each line of trekking poles. Below, we've outlined which poles are best suited for specific activities, to help you settle on the right pole for your next adventure.
Everyday Hiking - Trail Series
If you're hitting the trails day-in and day-out, the Trail Series trekking poles are for you. No matter the terrain, the Trail poles can adapt—thanks to a variety of features, like SmashLock or FlickLock Pro adjustment options, Control Shocks, and a range of basket options.
Heavy Loads and Mountain Travel - Alpine Series
Long trips in the backcountry with heavy loads are the bread and butter for our Alpine Series poles. These sturdy, durable trekking poles are ready for all four seasons and will help you be prepared for long days in the mountains. With Ergo grip options, Z-Pole collapsibility available, and a Whippet-Ready style, the Alpine Series can handle it all.
Going the Distance - Distance Series
If your goal is to move fast through mountainous terrain and hit the trail running, the Distance Series poles are the ideal companion. With rapid deployment capabilities and an ultralight design, Distance poles are nimble, fast, and effective, making them the ultimate in lightweight detail-driven running-pole technology. They feature our highly packable Z-pole technology and lightweight material options for both the pole body and grips.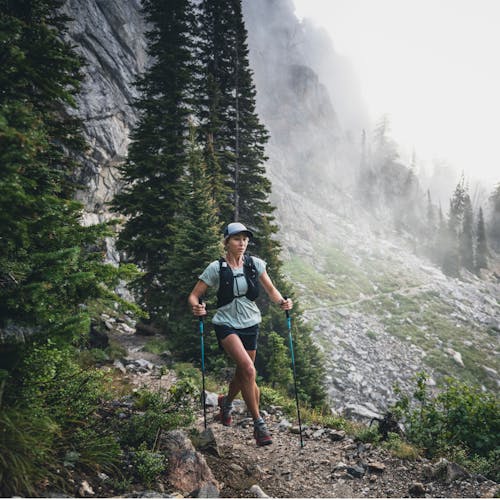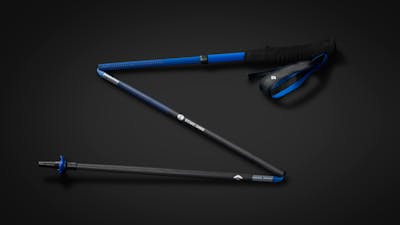 TREKKING POLE TECHNOLOGY
Z-POLE RAPID DEPLOYMENT SYSTEM
Speed Cone technology comes from our expertise in avalanche probe design—a key component of Z-Poles' stiffness and fast deployment. Simply grab the grip and the first shaft section, and pull them away from each other. The pole will snap into place and lock. Each Speed Cone guides a shaft section into place, and stiffens the joint when the pole is locked. Protective, flexible tube ends cover the pole's Kevlar® center cord when folded. Z-Poles' Rapid Deployment System consists  of three key components:
Concealed inner cord
Single push-button release to collapse the pole
One-pull, Speed Cone deployment
TECH TIPS WITH WAVELOCK
Interchangeable Carbide Tech Tips provide added bite on ice and other hard surfaces. Quiet, non-scarring Rubber Tech Tips won't damage trails or rock and feature excellent grip and durability.

FLICKLOCK®
Designed with efficiency, packability and usability in mind, Flicklock is the embodiment of our light-and-fast philosophy. For when you need a workhorse, FlickLock technology offers secure, fast and easy adjustments, making miles on trail easier.

FLICKLOCK® PRO
The most secure pole-adjustment mechanism available, FlickLock® Pro features a forged aluminum construction and a low-profile design for ultimate clamping force when you need it most.
If you're hitting the trails day-in and day-out, the Trail Series trekking poles are for you. No matter the terrain, the Trail poles can adapt.