On November 23, BD Athletes Babsi Zangerl and Jacopo Larcher became the 8th and 9th individuals to free climb the Nose (VI 5.14a). Considering this is Babsi's 5th El Cap free route, and Jacopo's 4th, the Euro duo has once again proven themselves the reigning "power couple" of the big stone. Check out this exclusive interview on their ascent.
Solidifying their place as one of the undisputed best big-wall free-climbing teams in history, BD Athletes Babsi Zangerl and Jacopo Larcher recently topped out El Cap once again, this time having claimed the 8thand 9thascents of the Nose (VI 5.14a) on El Cap. First freed in 1993 by the legend Lynn Hill, the Nose has since become the most iconic big-wall free route in the world. Also, one of the most difficult. For years, the infamous crux pitch, known as the Changing Corners, rebuffed all would be suitors. In fact, because Lynn's intricate sequence on the blank corner seemed so elusive to others, the crux earned the nickname the "Houdini Pitch."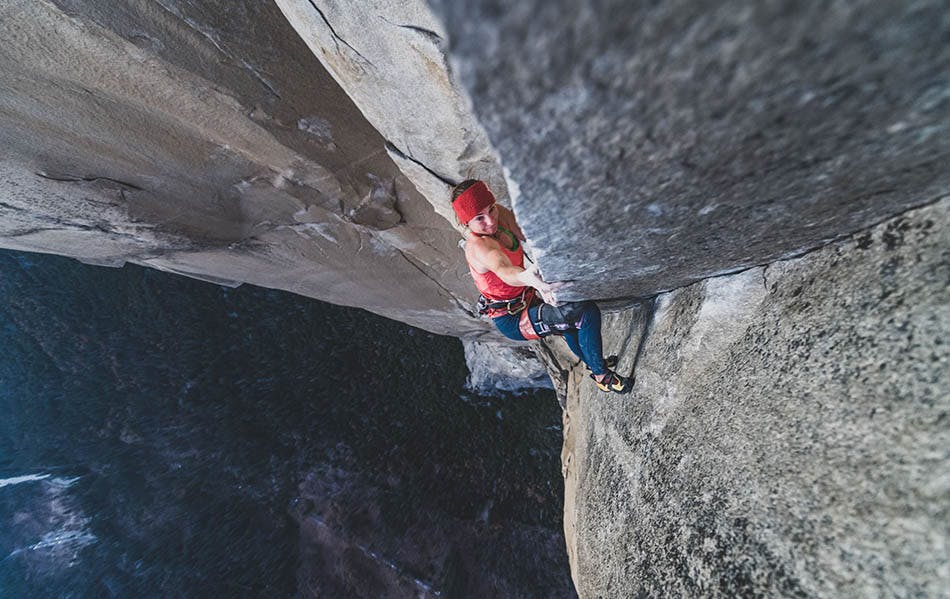 Photos: Alexandre Eggermont, Nina Caprez, Jacopo Larcher, and Babsi Zangerl
But, when you're as strong as Babsi and Jacopo, apparently you can just layback the crux.
"We had the feeling it could be great beta to climb it that way—laybacking all the way," says Babsi. 
Though she admits:
"The Changing Corners was the hardest layback I have ever climbed."  
We caught up with Babsi and Jacopo to learn more about their historic ascent of the Nose and hear what's next for El Cap's ultimate power couple. 
Q&A: 
WHAT INSPIRED YOU TO CLIMB THE NOSE? 
Babsi: 
It was always a big dream of mine to climb the Nose. It's just such a historical climb. I remember when I first read Lynn Hill's autobiography Climbing Free. I got so inspired about this magical line straight through the central section of El Capitan that I've always wanted to try, at least once in my life! KP [BD's climbing category director] was sending us good vibes almost every single day on our ground up push. I got messages that I should smile before I start to climb. Somehow that worked! Thanks, KP—master beta!!! 
Jacopo:  
I think we were both very inspired by its history—it's a real milestone—but at the same time we were also a little bit worried about the traffic it normally gets. That's probably why we kept postponing the project. 
KP definitely made sure that we did not forget about the Nose! Once we committed to it, he was always sending us good vibes and he basically shared the ascent with us, even if he was miles away in SLC. Thanks for all the support!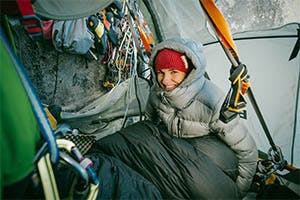 How does the Nose stack up in difficulty compared to your other sends on El Cap?
Babsi: 
The Nose is hard to compare to the other routes we have climbed on El Cap. For example, on the Nose we had to climb two really hard pitches and on Magic Mushroom the amount of hard pitches were around 15. The two crux pitches on the Nose where really challenging to us, however. The Great Roof and the Changing Corners—those, I found really hard. I think the Changing Corners is harder than the Great Roof. Both crux pitches are really insecure climbing. You can slip everywhere, so it is really hard to control.  
Jacopo: 
It basically all comes down to the Changing Corners and the Great Roofs. For example, on Magic Mushroom you have to climb about 15 pitches between 5.13- and 5.14-, which I personally think is more challenging. Zodiac was also sustained. 
The two crux pitches of the Nose are very hard though, especially the Changing Corners; the climbing is very insecure, hard and it's very tricky to find out the right beta. It's impossible to be 100% sure to climb it, even if you get everything perfectly dialed.
HOW DID YOU WORK ON THE ROUTE? GROUND-UP OR TOP DOWN? 
 Babsi: 
We first started to try the Nose in autumn 2018. In the beginning we tried ground-up, but we were forced to wait for four hours on pitch 2. Not the best of starts! We made it to the Sickle Ledge and had to bivi there, which is incredible, because up to this point you've only climbed a few pitches! So, we were already a day behind our schedule. We got to work the Great Roof a little and topped out the next day. We didn't have enough time to work on the hard pitches. So, we decided to rappel in from the top.
After a storm, most of the wall was wet but we thought that the Changing Corners could dry up pretty fast. We spent three days up there to work on that pitch. The first day, it was completely wet and we tried to layback some moves on the edge and didn't use any of those wet pin-scars in the corner. That felt impossible on the first day but on the second day it was dry and we had the feeling it could be great beta to climb it that way—laybacking all the way. 
After that the next snowstorm hit the Valley and the season was already over. In the spring of 2019, we came back but couldn't try because of the Great Roof, which stayed mossy and wet the whole spring.  
Finally, this fall we were super lucky. First, we rappelled in from the top to work on the Changing Corners and on the Great Roof for three days, then we started immediately for the final ground-up push.
BEING A CLASSIC TRADE ROUTE, THE NOSE IS PRETTY BUSY. HOW DID YOU MANAGE TO WORK ON THE ROUTE WITH SO MANY PEOPLE CLIMBING ON IT?
Babsi: 
We wanted to try it years ago, but it's quite a complicated line to climb free. It's possibly the most famous rock climb in the world, and consequently there are always a lot of other parties on the wall. I think about 600 people repeat the Nose each year, resorting to aid here and there. In the past when we looked up El Cap, we always changed our plans and tried different, less popular routes.
In the end, our beta was to come later in the season to avoid the massive traffic on the wall. The only thing is that around mid-November you have to be pretty lucky with the weather. Last year we weren't as lucky and after the first week we experienced a huge storm with a lot of snow; the climbing season on El Cap was basically over before we even managed to give the route a real try. We returned this spring but the Great Roof remained wet. So, we returned in autumn once again. 
Jacopo:  
That's exactly why we kept on postponing the moment to try it. I mean, it would be naive and egotistical to pretend to have such a nice line just for yourself! To avoid this problem, we decided to "gamble" and go really late in the season. 
We certainly weren't alone, but I have to say that it was a very positive experience; of course sometimes we had to wait in line, everyone does, but it was also really nice to get to know so many people on the wall, climbers we would not have met otherwise. You share a belay together and you start to chat about different aspects of life. Let's say it was a more "social" experience than our other big walls.
EXPLAIN YOUR "TEAM FREE" TACTICS. YOU EACH LED THE HARD PITCHES? ISN'T THIS DIFFICULT LOGISTICALLY?
Babsi:
 Our style is always the same. If we are able to onsight a single pitch and it feels easy, then it is OK to climb it follow it free on top rope.
 However, we did all the pitches on El Cap harder than 5.12- both on lead. Of course, that takes more time because after the first sends the pitch, you have to get back down for belaying the other and jumaring up after both have sent on lead.
 I think that style takes more time and can be a bit more complicated but I really want to earn it and do it in the best possible way I can! If I feel scared on a single pitch then I think I should do it on lead because it is more challenging compared to doing it on top rope.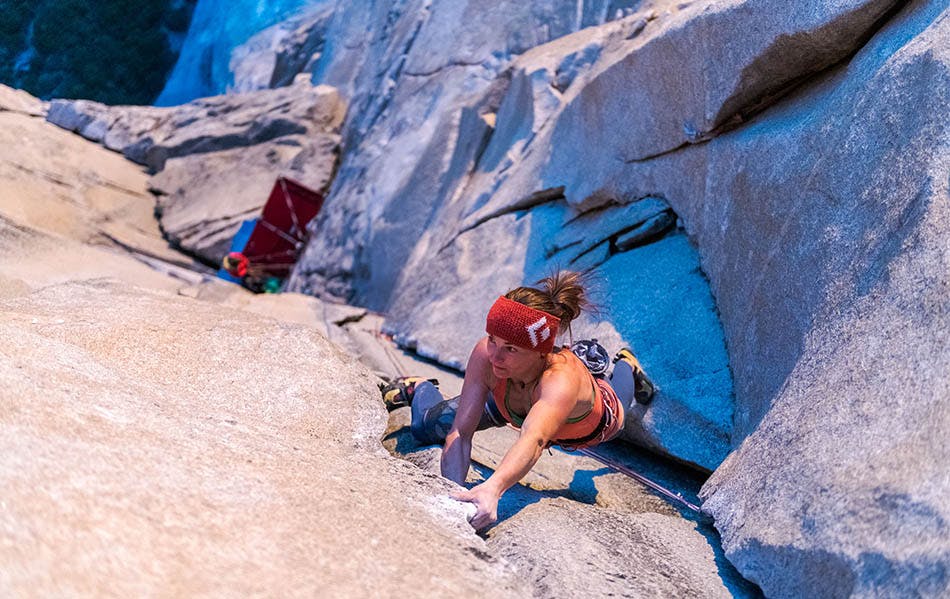 THE INFAMOUS CHANGING CORNERS (5.14A)—HOW HARD WAS THIS PITCH FOR BOTH OF YOU? SO MANY PEOPLE HAVE TRIED AND FAILED ON THIS TRICKY PITCH. 
Babsi:
 The Changing Corners pitch can be a real heart breaker. It is so insecure. You can slip anywhere on the crux and every single fall adds some extra pressure. The key for us was to stay relaxed and enjoy the climbing, do everything right, be in the moment and just think about the next move. We tried to place our feet very precisely! 
 Jacopo:
 Having done it before on top rope and having supplies for three more days gave us some extra confidence, but we also knew that everything could have changed very fast. The footholds are so bad, you can always slip off. I think the key for success was to not stress about an eventual failure, but just focus on the actual climbing and the next move.
AND WHAT ABOUT THE GREAT ROOF (5.13C)?
Babsi: 
The Great Roof is also very hard on the feet. It is a long pitch. The first part is quite easy but still takes some body tension. 
In the roof it is all about bad feet and body tension on quite bad undercling holds. It's a challenge not to run out of power. You have to keep it together to the very end of the roof!
In the end, the Great Roof felt easier than Changing Corners.
The Changing Corners was the hardest layback I have ever climbed.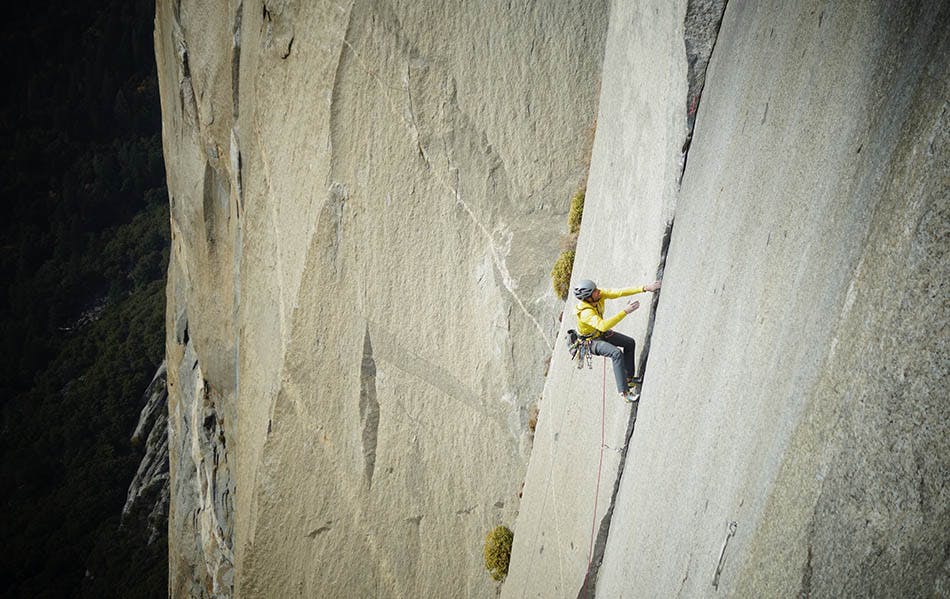 BABSI—WERE YOU TAKING WHIPPERS JUST TO LET JACOPO SEND THE HARD PITCHES FIRST? YOU KNOW … TO MAKE HIM FEEL BETTER?
Hahahaha! That would be a dream!!! I am just not strong enough. 
He has more power and he makes it look easy. It was hard to keep it up. 
WHAT HAPPENED TO MAKE EVERYTHING CLICK ON THIS ASCENT?
Babsi:
We were lucky with the weather. It was definitely the last chance of the year. Right after our ascent it started to snow. On the last two days on the wall it was really windy and cold. All the climbers had already topped out the wall or a few bailed and we were alone up there on the Nose. That was kind of cool. If you want to climb such a route as a team it is always a bit more challenging because you can't take it for granted that it goes well for both of you! You wait for each other and support each other. But when everything clicks so perfectly for both, that's the greatest "happy ending" we could wish for.
BABSI, THE NOSE WAS FIRST FREE CLIMBED BY ANOTHER WOMAN, LYNN HILL. DID THIS ADD ANYTHING TO THE ROUTE FOR YOU? 
Babsi:
Even today it's something quite unbelievable. Lynn Hill is such an inspiration to me. If I watch videos of her climbing on the Nose, it looks so smooth and easy! But it isn't! What she did back in the day was one of the biggest milestones in climbing, ever. Back then many climbers thought she'd done it simply because of her small fingers. But this isn't true. She was/is just incredibly strong!
I always looked up to Lynn Hill and got very inspired by her climbing career. So, it makes me a little proud to have climbed such an iconic Lynn Hill masterpiece.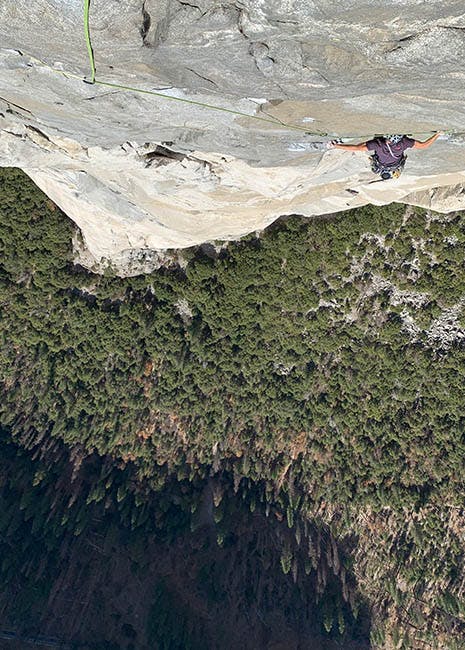 FINALLY, WHAT'S NEXT? 
Babsi:  
So, KP set my next goal—on-sighting the free rider!! Jacopo just doesn't know anything about this idea (until now) haha. I hope we will not slip on the free blast!
I think it would already a big goal just to on sight the Monster!! That would make me happy!!!
Jacopo:
Really? I didn't know that! I would be very motivated for Dihedral Wall (VI5.14a), but onsighting Freerider (VI 5.13a) sounds good too!