As with any good climbing area, sometimes the most dangerous part of a day in Little Cottonwood Canyon can be craning your neck out the window on the drive up, straining to spot the day's objective or a fabled line you've heard about from a friend. A short drive from downtown Salt Lake City, Utah, for nearly three road miles after Wasatch Boulevard banks left and heads east toward the Wasatch Crest, soaring cliffs of quartz monzonite zoom by, covered in an invisible web of climbing history. These crags, from the Bongeater Buttress to Lisa Falls, have provided a healthy serving of adventure to rock climbers for nearly 80 years, and continue to inspire and challenge today.
While not bestowed with the huge, inspiring walls of Yosemite or the immaculate stone of Squamish, Little Cottonwood Canyon's crags harbor over 1,000 routes of all grades and styles. Splitter cracks, blank friction slabs, pumpy face climbs and multi-pitch rambles—even a few necky aid routes. Little Cottonwood offers the full spectrum of granite exploits, and if you're looking to train for bigger climbs and bolder trips, there's no better place to go.
While LCC's proximity to the bustling Wasatch Front has kept it from becoming a true backwater crag, the nearby city and relative obscurity compared to other Utah climbing areas has prevented Little Cottonwood from making it onto most roadtrip itineraries. Storied names like Beckey, Robbins and Lowe have all spent time in the canyon, but Little Cottonwood is at its very essence a local's crag—untold numbers of passionate Wasatch climbers have left their marks over the years, contributing to the incredible volume of climbing that the canyon offers today.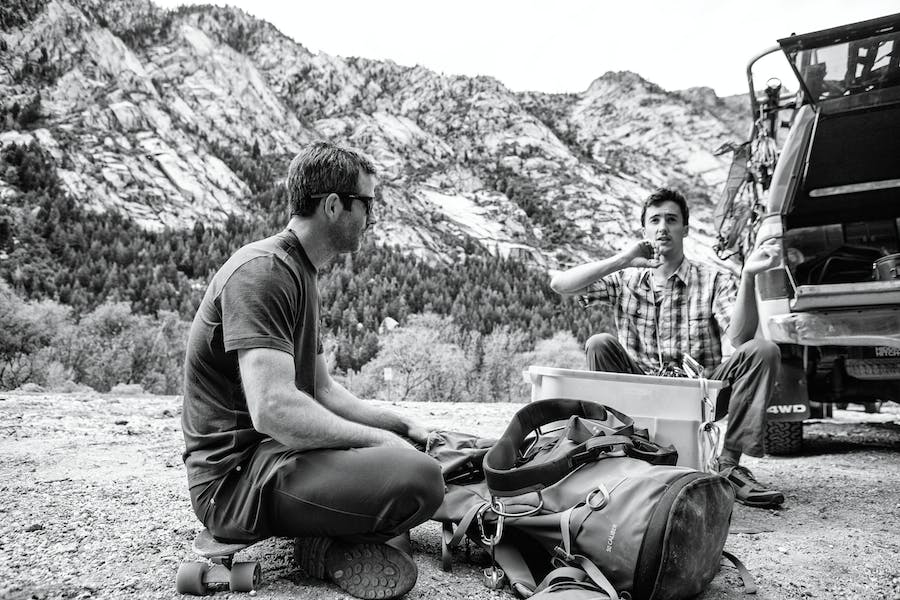 Like many classic climbing areas, Little Cottonwood has experienced the evolution of climbing ethics and culture over time. The earliest ascents were put up by piton-wielding mountain club members throughout the '60s before free climbing took hold in the '70s. Top-down bolting and toprope rehearsal became the hot-button issues in the mid to late '80s, and the ensuing decades have found climbers repeating the classics, sending old projects and scratching out new-wave routes between the obvious lines.  
But climbing in Little Cottonwood is about the place as much as it is about the routes. Hiking along the rushing creek, swollen with snowmelt from Alta and Snowbird. Boulder-hopping down the lichen-splotched talus as the sun melts into the Salt Lake Valley. Lounging on the Sun Deck boulder below the Green A, trying to muster your slab courage. While the canyon's technical climbing and tricky protection will hone your skills for granite areas around the world, a good day in Little Cottonwood is an end unto itself.
Among hundreds of routes, here are three that capture the essence of Little Cottonwood, in the words of a few climbers who call it their home crag.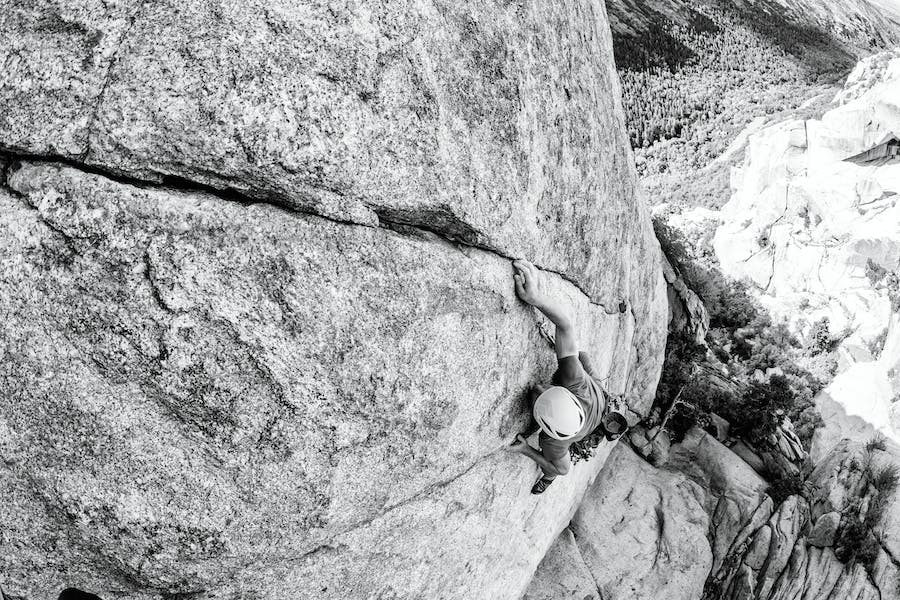 With a stout grade and legendary status, Fallen Arches is the standard-setting test piece for strongmen and women in Salt Lake City. It saw a groundbreaking first ascent by Steve Hong in 1985 and became the first 5.13 flashed by an American when Todd Skinner sent it two years later. If you live in SLC and think you're a strong climber, this 100-feet of left-leaning fingers will show you the truth.
"The first picture I ever saw of Little Cottonwood was of Seth Shaw climbing Fallen Arches. That picture sparked the entire reason I moved to Utah. It was such a cool photo of this guy I'd heard lots about climbing Fallen Arches with this crazy scenic background, and I started looking up other routes in Little Cottonwood. The first time I tried it was about three weeks after I moved here, and it was the middle of August. It was hot.
It starts off with a nice warm-up, .10+ to a good jug, and that lets you set up for what I think is the crux—the rattly .12+ fingers not too far off the ground. You place a piece of gear and then it's game on for a while. Really bad feet. I wore two different shoes, one slipper for the crack and one edging shoe for the face for these microscopic little edges. Then you get a huge jug, place a piece of gear, and then the 5.10 hands that leads to the final boulder problem. If you stick the deadpoint move at the boulder problem, there's no way you're going to fall off after that."
    - Chris Thomas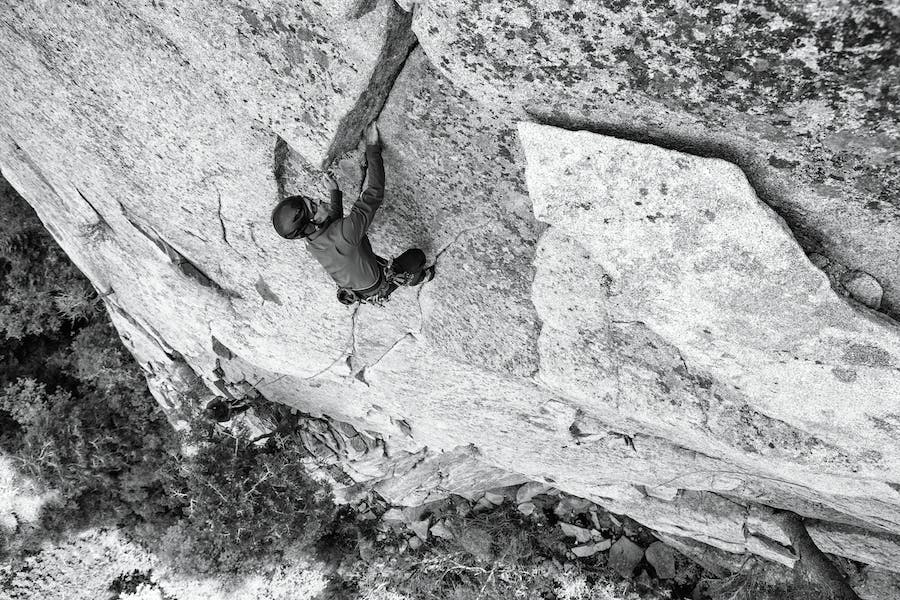 When you ask a Salt Lake climber about Sasquatch, they invariably describe it as "classic" and often reference Yosemite. In a canyon full of flaky, right-leaning cracks that only a local could love, Sasquatch stands out for its clean rock and straight-up splitter crack. When linked with the first and last pitches of Pentapitch, it makes for one of the finest and most popular multi-pitch routes in LCC.  
"It's a super-classic thin finger crack starting with a fun undercling layback. By Little Cottonwood standards it really stands out because it's not a flared crack on flaky rock. Rather than being formed by a flake or some kind of offset it really is a splitter crack. It's laser-cut with little pods for gear and finger locks, and the rock is very fine-grained there, so it's a little more like climbing in Yosemite. I would compare it to Mr. Natural on the Yosemite Point Apron. It's really nice to have a climb like that right here in the Wasatch."
    - Andreas Schmidt
ALL CHALK AND NO ACTION (5.12A)
In a canyon known for horrendously runout slab climbs, All Chalk is unique. A true sport route, it starts off with a razor-sharp, sequential crux before the climbing eases slightly and bolt spacing increases. Afternoon shade and its location among well-traveled crack climbs make it popular as a cool down pitch for some climbers and a first 5.12 attempt for others.
"Two days after I moved here, we drove up the canyon and didn't know there were no dogs allowed, so we hiked up there with Lakota. All Chalk lived up its reputation of credit card holds. I just remember pulling that sketchy couple of moves after the big rest and running it out to the chains. I clipped the chains, turned around and saw a mountain goat on the next ledge. I remember yelling down to my partner 'there are mountain goats up here and they're knocking rocks down, and how the hell did they get up here?' It was my first Little Cottonwood day."
    - Holly Hansen