Mike Barney's fast track to a life of chasing winter relied on one, not-so-fast vehicle.
The beat up, brown, 1982 bread truck had been sitting at the base of Silverton Mountain, collecting snow. In fact, nobody was sure if it even ran.
"You had to shove some fake keys in the ignition," remembers Barney. "You actually had to hot-wire that thing to get it to drive."
But the plan was foolproof, or so thought the then 21-year-old Silverton lifty. All he had to do was drive the truck roughly 95 miles to Nucla, Colorado, and back—crisscrossing one harrowing mountain pass in winter—to pick up and deliver crucial supplies to Silverton Mountain.
Never mind that the load was 10,000 pounds of dynamite.
Barney dusted off the ol' beater, wired her up and slowly wound his way over the mountains.
"I pulled in to Nucla and couldn't believe that they loaded the whole van with explosives," he laughs. "I can't even remember what I did it for. Maybe 200 or 250 dollars. But it was enough gas money to drive to Alaska."
Barney knew he needed to get to Alaska. After spending the 2001 winter in Silverton running the lifts and detonating dynamite to set off avalanches, he was hungry to learn more about mountains. Barney wanted to go big.
He rolled into Valdez on a February afternoon with no credit cards, no cell-phone and 30 dollars in his pocket leftover from his profitable dynamite smuggling trip in Colorado. And since that day, he's been chasing winter ever since.
Growing up in Wisconsin, Barney's love of winter was kindled early during ski races at a local hill, just minutes from his childhood home.
"I practiced three nights a week and went to the UP [Upper Peninsula] to race almost every weekend, so I skied a lot. But it wasn't super glorious," he says.
By the time he turned 18, however, Barney had caught the powder bug.
He moved west and spent a few years at college in Durango, Colorado, before finally landing in Alta, Utah.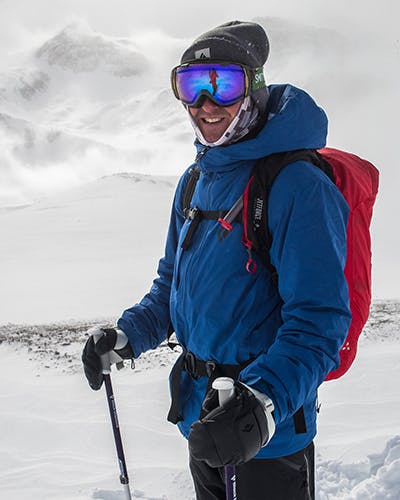 "That's where I met my wife," he says. "We worked at the Rustler Lodge together. You know, it was Rustler love."
The couple spent one winter skiing the infamous 30-inch storm days at Alta before Barney got the urge to push beyond the lifts.
During a Thanksgiving trip to Silverton, Barney ran into Pat Ahern—now the snow safety director of the mountain. They were bootpacking in the early conditions and Pat, recognizing Barney's drive and enthusiasm, suggested he blow off the Rustler that season and stay in Silverton.
The offer was too tempting to pass up.
"I loved the skiing at Alta, but I was craving a normal community," he says. "Well … I don't know if Silverton is a 'normal' community, but I ended up here."
While his future wife traveled back to Vermont to finish her teaching degree, Barney took a crash course in snow safety with Ahern at the helm.
Learning everything from running the lifts, to lighting up a steep slope with explosives, Barney—under the tutelage of Ahern—thrived during the mountain's first season as a bonafide ski resort.
"Pat kind of took me under his wing and totally hooked me up," he says. "And really, he set my path."
The path was to be a ski guide. After Ahern bargained with the owners of some cheap explosives in Nucla, Colorado, Barney took off and never looked back.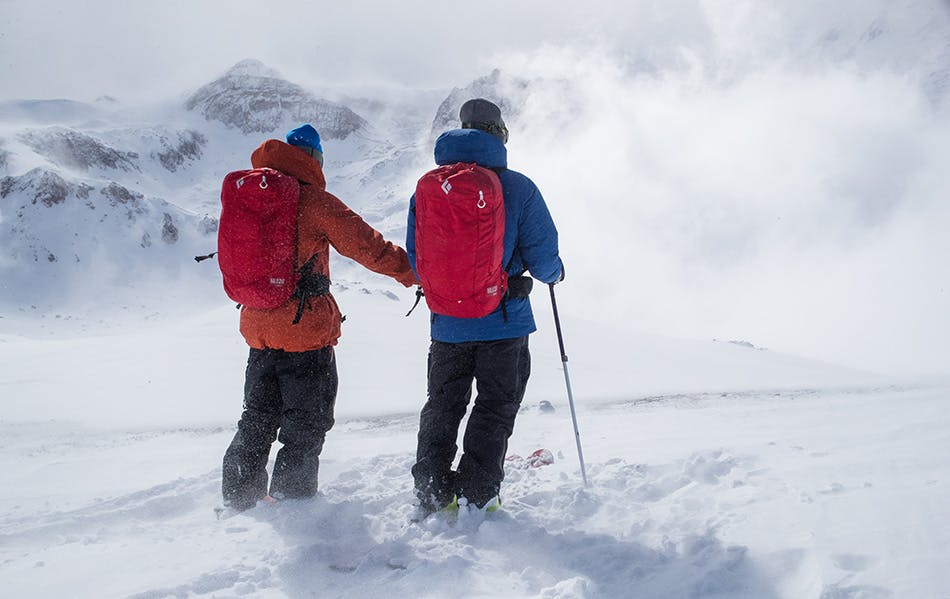 That first season in Valdez, he fueled the helicopters, ran ground support and learned everything he could.
He didn't know a single guide, and had only talked on the phone to the chief operator, Dean Cummings, but to Barney that was the perfect scenario.
"I felt like this was my fast lane to learning about the snowpack and ski guiding," he says. "And whenever we're out of our comfort zones, we just learn more."
That was 2001, and since his first Alaskan trip, Barney has logged 13 seasons and counting.
"I told myself I'd give it 10 seasons and re-evaluate," he says. "Now after 16 years of guiding it's a little bit like, 'where would I go from here?'"
Barney, now 38, is an AIARE level 3 certified guide, and spends nine months a year taking clients into the mountains. And for nearly two decades, he's been living the dream and chasing winter.
He and his wife have two daughters, ages three and five, and their home base is Barney's old stomping grounds of Silverton. During the Colorado winter, he teaches at Silverton's renowned Avalanche school, but when the spring arrives and the snow stops falling, you can bet your twin tips he can tell you (and take you to) where it's good. With a revolving circuit that includes Silverton, Alaska, Iceland, and then Chile, Barney is rarely caught without ski boots on.
With his extensive experience of avalanche control and snow safety—honed from his early days of tossing dynamite and watching the slopes blow—Barney has an innate ability to read mountains. That skill, combined with his undeniable stoke for skiing, is what makes him the consummate ski guide.
"I've just seen a lot of avalanches, which is a very useful tool," he says. "I can look at a mountain and determine where the avalanche is most likely to occur—which a lot of people can—but it's a skill that takes a lot of time and experience—you know, years of seeing avalanches occur."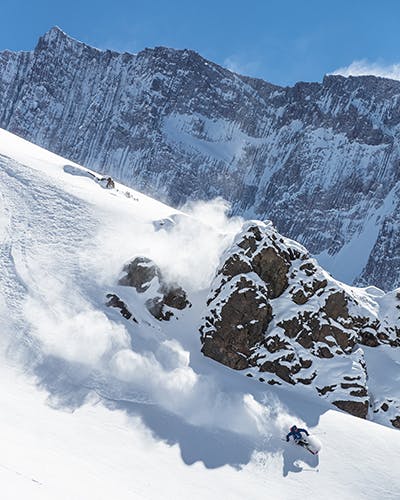 Barney likens his job to that of creating memorable experiences for others, and perhaps his greatest strength as a guide—even more so than his snow safety skills—is his genuine love of sharing the mountains with others.
"You know that feeling when you're standing on top of a mountain about to ski … but you're not even thinking about the skiing, you're just thinking, 'damn, I love where I am right now?'" he asks.
"I want people to have that feeling."
But the constant undertaking of risk and responsibility for others in potentially dangerous terrain is not always easy.
"Obviously I want to give people the best day of their life, but no one signs up to be thrashed through snow or scared shitless," he says.
So, he's learned over the years not to force it when conditions are questionable.
"The mountains are pretty much like my relationship with my wife. They tell me what to do and I just listen and do what I'm told."
Another added challenge is managing time away with his family. When the majority of every year is spent chasing powder, finding time to spend with his wife and daughters is hard.
"It's tough on my wife when I'm away, and it's tough on my girls. I'm trying to figure out how I can be home more. It's a battle for sure."
Luckily, he's able to spend no more than four weeks away at a time. Through the years, he's developed a solid community of guides that all look out for each other. When someone has been away for four weeks, another guide covers while they travel home for 10 days.
The time home, however, is still brief.
"It's a sacrifice, for sure," says Barney.
For now, however, the sacrifice is worth it. Ski guiding is not just what he does for a job … it's his way of life.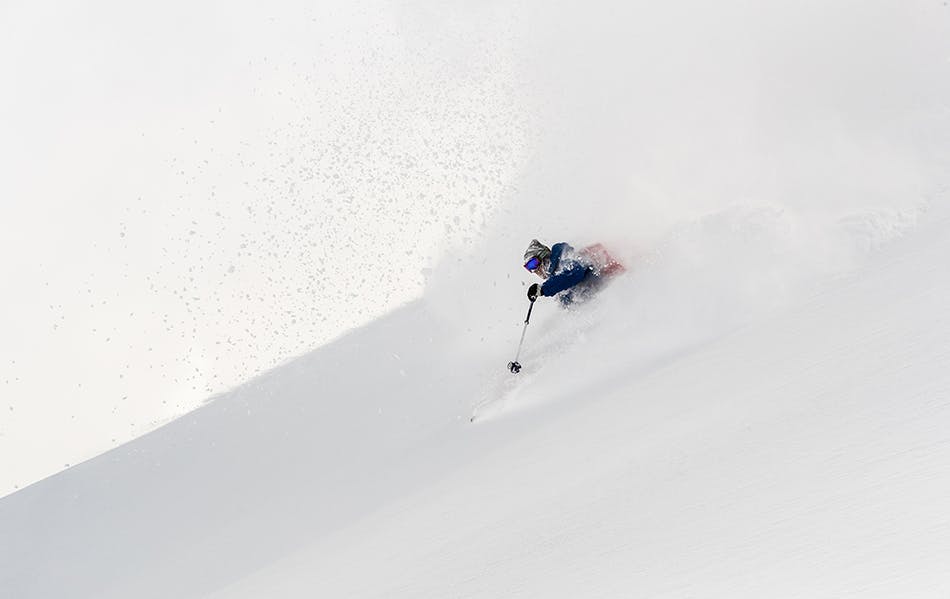 And when asked if he ever misses anything about summer, he laughs.
"Like wearing shorts? You know, I don't. Sure, I love to fish, mountain bike, climb, kayak."
"But honestly, I don't miss much when I'm out skiing."