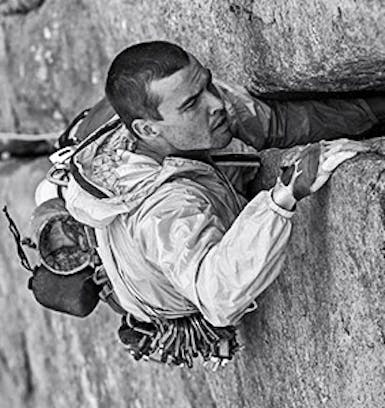 Josh grew up in the woods of southern New Hampshire; exploring, fishing and riding his bike. In high school, partly through the guidance of his father, Josh found climbing, and things have never been the same. Although people probably know him best for his alpine climbing adventures in Canada, Patagonia and Pakistan, he loves climbing in all its various forms, be it obsessing on a boulder's micro beta or questing into a Himalayan alpine wall. Josh particularly enjoys objectives that require him to truly work hard, and push himself to new levels. Josh makes his home in the small mountain town of Estes Park, Colorado, with his wife Erinn and daughter Hera.
Discipline: All-around climber
Hometown: Nottingham, NH
Currently Living: Estes Park, CO
Height: 5'11"
Career Highlights:
A sampling:
First Ascent of The Flame, Pakistan
First Ascent of the Azeem Ridge, Pakistan
Three-peat winner of Ouray Mixed Climbing competition ('09-'11)
First Ascent of The Message or The Money, Kichatna Spire
Free Solo of The Original Route, La Esphinge, Peru
First Ascent of The Wave Effect, Patagonia
2nd Ascent of The North Pillar of North Twin, Canada
300 plus 5.13 redpoints
5.14, V11, M11 redpoints
2nd one day Free Ascent of the Hallucinogen Wall, Black Canyon
First Free Ascent of the Dunn-Westbay, Longs Peak
First Ascent of The Black Sheep, Black Canyon
80 plus different routes in the Black Canyon
When did you first start climbing?
I starting climbing regularly in the mid '90s.
What do you most enjoy about your sport?
The variety of experiences. Climbing has a lot to offer in many different ways, from adventurous travel to extreme physically difficulty.
Who are your heroes?
There are many, but the people I respect most are those that have been climbing for long periods of time and are still just as motivated and filled with love for climbing as they were when they started.
What are your hobbies outside of your sport?
Fishing and skiing
What's your guilty pleasure?
Sportscenter. Lots of Sportscenter.
What are your hidden talents?
Pretty good mountain biker, and I have a mean cast with a spinning rod.
Tell us about your most favorite place in the world:
Black Canyon is a special, quiet place full of many good memories.
As a child, what did you want to be when you grew up?
There was a period when I wanted to be a professional Largemouth Bass fisherman.
How would your friends describe you?
I hope kind, generous and driven.
Photograph: Andrew Burr