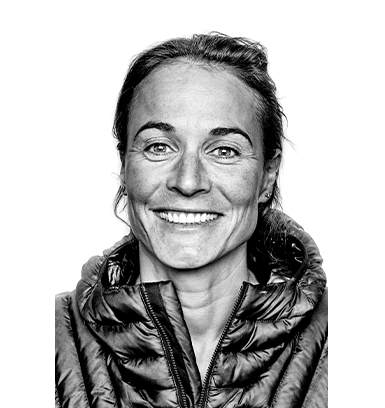 Hilaree Nelson will forever be in our hearts and represent a true depiction of a mountain athlete. From ascending and skiing the highest peaks to raising two wonderful children, Hilaree showed us what living an authentic life looked like. Hilaree was a part of countless expeditions all over the world, pushing the limits of ski mountaineering until her final days. Notably, she was the First Female to link two 8000 meter peaks in a single 24 hour push. Later, her ski descent from the summit of Lhotse is one of the many great accomplishments she acheived in her long career. We will honor her with every dawn patrol, powder day, and mountain summit, because that's what she lived for.
Discipline: Ski Mountaineering
Hometown: Seattle, WA
Currently Living: Telluride, CO
Height: 5'10"
Career Highlights: Everest/Lhotse link; 5 Holy Peaks of Mongolia; ski descent of Cho Oyu
When did you first start skiing?
Age 3
What do you most enjoy about your sport?
The travel and the groveling and the mountain sunrises.
How do you define success?
Coming home alive with an amazing adventure under my belt.
What are you most proud of, either in life, your sport or both?
In life, I'm most proud of raising my two boys. In my sport, I'm proud of the risks I take in choosing the unknown and unexplored places for expeditions. My success/failure ratio over my career is probably about 50/50 because of those choices, but it truly makes my life an adventure.
Who are your heroes?
Peter Croft, Scot Schmidt and Lynn Hill. Also my grandpa, because he knew so many card games and was really, really good at math.
What inspires you?
Mountains, obviously. The ocean. My sister because she is way tougher than I am. My kids because they always say it like it is.
What are your hobbies outside of your sport?
Car camping with my family. Summer and fall mountain biking. I also love to surf, but I'm pretty awful at it.
What's your guilty pleasure?
Chili cheese Fritos.
What are your hidden talents?
Knitting. Tying a cherry stem in a knot with my tongue.
Tell us about your most favorite place in the world:
The San Juan Islands and the Inside Passage in Canada. That's where I have the fondest memories of my childhood and the place that taught me how to be by myself, about adventure and what the word "wild" really means.
As a child, what did you want to be when you grew up?
A big animal veterinarian or a world traveller.
If you could change one thing about yourself, what would it be, and why?
I would like to be more patient and better at managing my time. I would also be a better sleeper.
Tell us about a time in your life when you have been scared:
When I was pregnant with my first child I was pretty terrified. I think that's probably pretty normal for a lot of people, but I put a lot of pressure on myself about how I was going to be when I was a mother: would I still be able to travel, would I be able to still climb and ski as a professional, would I be a good mom and so on and so forth. Normally, I am a big fan of the unknown, but that first pregnancy was very scary.
Describe your perfect day:
Hah—I just had my perfect day yesterday. An amazing morning ski tour with friends that scares the piss out of me but everyone survives followed by a gear swap where I go meet my kids and shred on the mountain for the afternoon. I end the day having a beer with my husband, the whole family watches a movie and then I go to bed by 10 o'clock and read my book.
How would your friends describe you?
I have no idea. Scattered and flustered and a little bit crazy.