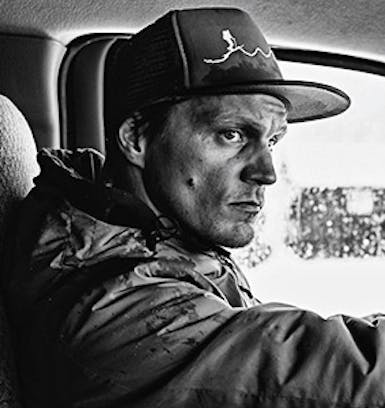 Antte sees skiing as a way of self-expression. It's an innate will that keeps him pushing himself in the search for more. Antte's roots are in Nordic skiing and he competed in Nordic combined before moving into telemark skiing. His father first took him to the mountains when he was little, and he learned to ski on telemark gear, which he credits as the reason for his deep connection to nature. Antte believes telemark skiing is a sensitive way of learning to ski on natural slopes, and it takes a will to learn, but it gives a big reward once you know how to do it. Besides defining himself as a telemark skier, he admits his love for big powder days in Lyngen on his Carbon Megawatts with AT bindings and Factor MX's.
Hometown: Kilpisjärvi, Finland
Height: 178 cm
Career Highlights: 
1st in Scandinavian Freeskiing Championships 2003; 2nd in Röldal Freeride Challenge 2003; 2nd in Swedish Freeride Championships 2004; 9th in US Telemark Freeskiing Championships 2005; Sickbird Award in Swedish Freeride Championships 2004. Learning that competitions are for people but the nature is the greatest challenge. If we respect and challenge nature instead of people we'll become stronger and wiser.  
When did you first start climbing/skiing?
I started skiing at the age of 2. The journey has been blast so far.
What do you most enjoy about your sport?
Freedom of choosing my own line. 
How do you define success?
Being in the right place at the right time. 
What are you most proud of, either in life, your sport or both?
There are people who share the same vision no matter where they come from. Skiers speak same language and I'm proud of it. 
Who are your heroes?
People who have the will and courage to be free. 
What inspires you?
Mountain weather – I've become a weather addict. 
What are your hobbies outside of your sport?
Mountain biking, trail running, Nordic skiing, climbing, flyfishing and hunting. 
What's your guilty pleasure?
Coffee, a lot of it. 
What are your hidden talents?
I used to play trumpet when I was a kid. Don't know if I was much of a talent though. 
Tell us about your most favorite place in the world:
Finnish sauna after a good day in the mountains. 
As a child, what did you want to be when you grew up?
A pilot. 
If you could change one thing about yourself, what would it be, and why?
I would fix my back that got broken back in the day. 
Tell us about a time in your life when you have been scared:
Enough times to understand that being scared is good for your health. 
Describe your perfect day:
The mountains of Lyngen in Norway filled with fresh stable powder with a good group of people. 
How would your friends describe you?
Straight and simple.